Dubai, the flourishing metropolis of the United Arab Emirates, is renowned for its luxurious lifestyle, breathtaking architecture, and limitless adventure opportunities. Although, Dubai is often associated with its arid landscape it also has a beautiful coastline along the Arabian Gulf and offers a variety of thrilling watersports for people of all ages and abilities. Here are some exhilarating watersports in Dubai if you want a unique aquatic experience.
A Roundup of Best Watersports in Dubai
Jet Skiing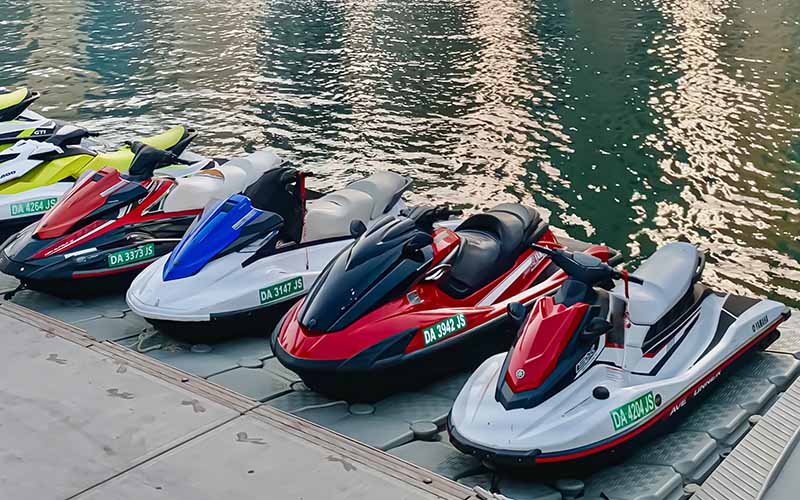 On a Jet Ski, you experience both the exhilaration of being in the open ocean and the power of pure mechanical prowess. A ride on a jet ski is one of the most enjoyable water activities available in the city. There are numerous jet ski operators offering you unparalleled experiences. You will be whisking past the Burj Al Arab, where you can capture incredible photos for your adventure story!
Average Cost: INR 7,000 for 30 minutes, INR 14,000 for 60 minutes, and INR 20,000 for 2 hours.
Speed Boating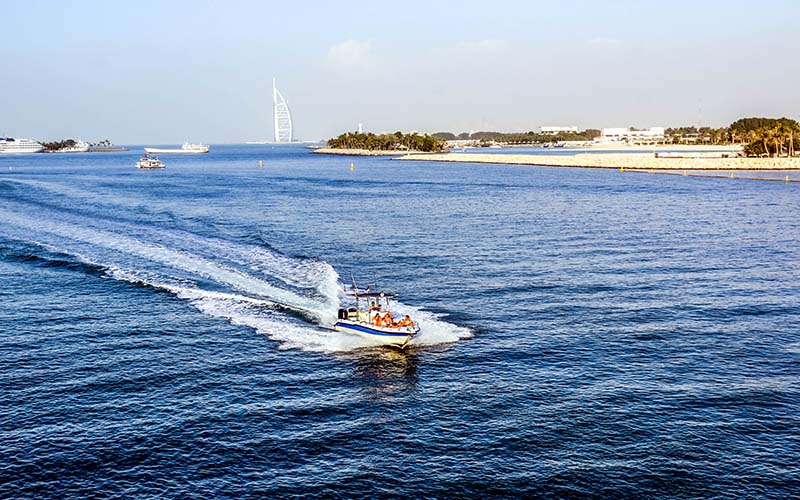 In Dubai, a speedboat is a fantastic method for the entire family to participate in adventure water sports. The speedboat is one of the most popular water activities at Dubai Jumeirah Beach and takes you on a tour of the Dubai beachfront. The speedboat is a safe activity where up to four family members can participate, providing a once-in-a-lifetime shared experience! The tour brings you to the city's most famous landmarks and offers excellent photo opportunities.
Average Cost: INR 3,300 for 30 minutes; INR 6,600 for 60 minutes.
Fly Fishing
The Flyfish is one of Dubai's most sought-after water activities. Just off the JBR shoreline, you can see speedboats guiding enormous airborne inflatables. This E-shaped inflatable allows for the secure attachment of up to two individuals. Feeling the wind on your face and gliding past the Dubai skyline in a safe inflatable is an out-of-this-world experience. It is one of the least expensive water activities without sacrificing the zest of adventure.
Average cost: INR 3,800 for 15 minutes
Flyboarding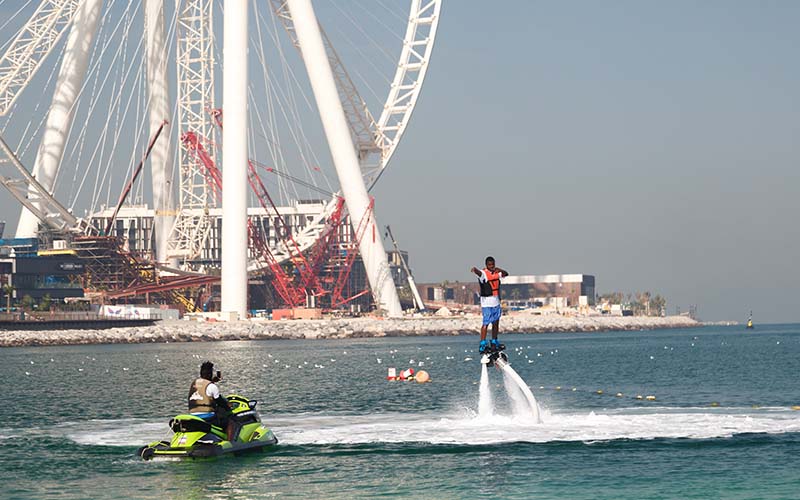 This water sport will give you the feeling of possessing superpowers! Flyboard Dubai is an incredible water activity that consists of standing on a jetpack with a powerful motor that propels you into the heavens. An instructor will guide you and help you understand the mechanism in a few minutes. With the magnificent views of Dubai as a backdrop, you can imagine yourself as a superhero attempting to save the world!
Average Cost: INR 7,200 for 30 minutes
Swim With Dolphins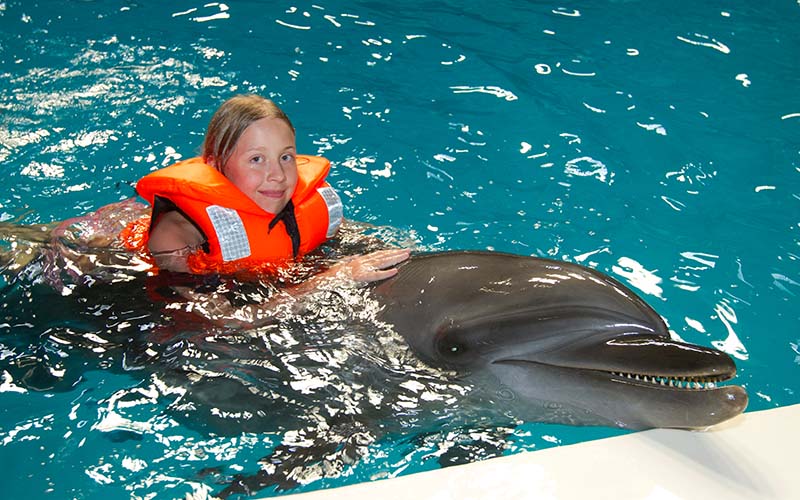 The Dubai Dolphinarium is one of Dubai's many thrilling entertainment venues, where you can witness stunning performances by dolphins and seals. Located in Dubai's Creek Park, it is home to bottlenose dolphins, fur seals, and twenty exotic parrot species. However, what truly distinguishes it is the opportunity to interact with dolphins through the 'Swim with Dolphins program. Even though it is not one of the ádrenaline-rushing Dubai water activities, it is still an incredible experience for children and adults.
Average Cost: INR 950
Parasailing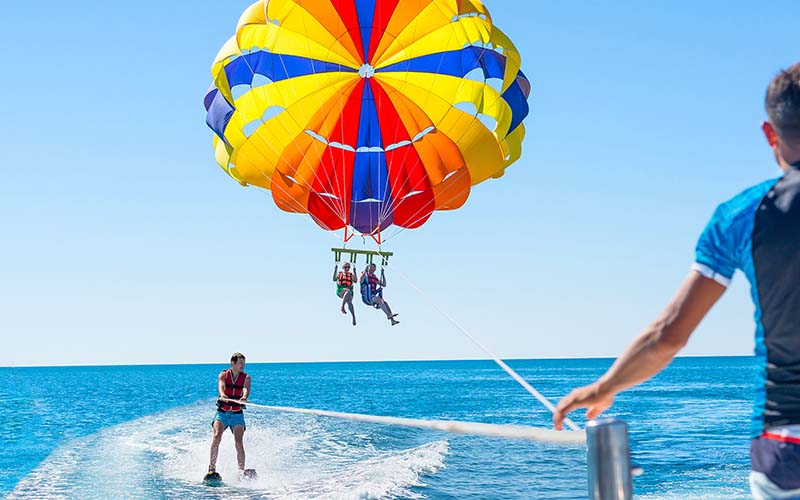 Want to fly in the sky while still connected to water? Then parasailing in Dubai may be the ideal water activity for you. In reality, parasailing and paragliding in Dubai are both must-do activities that you cannot miss. A parasail is a special parachute guided by a boat; it rises with speed and floats in the heavens, providing panoramic views of Dubai. As the parachute leaves the water's surface, you may experience an adrenaline surge, but once in the air, you will feel like an eagle soaring through the sky.
Average Cost: INR 9000
Seabreacher
Is it a shark or an adventure vehicle? The Seabreacher's distinctive fuselage resembles a metallic shark and is best described as a two-seater aircraft. This adventure pod will transport you on an exhilarating ride at 55 miles per hour on the water's surface before plunging to a depth of five feet. In addition, it will instantaneously fly up to 18 feet in the air, making it one of Dubai's most unique water sports. This water pastime is only for the courageous!
Average Cost: INR 9,600 for 15 minutes and INR 15,400 for 30 minutes.
Kitesurfing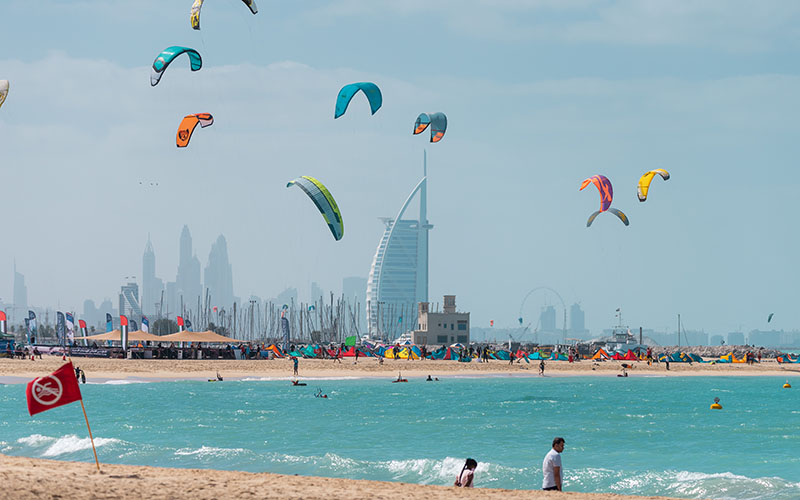 Kitesurfing is one of the most popular water activities in Dubai Marina, and you can frequently observe surfers on waterboards attached to large parachutes that carry them over the waves. You will experience full force of the wind and be able to utilize it – thanks to the wave board. Kitesurfing is one of those activities that can be mastered with minimal instruction. Kite Zone offers the only Tandem Kitesurfing suitable for children.
Average Cost: INR 4,800
Scuba Diving Dubai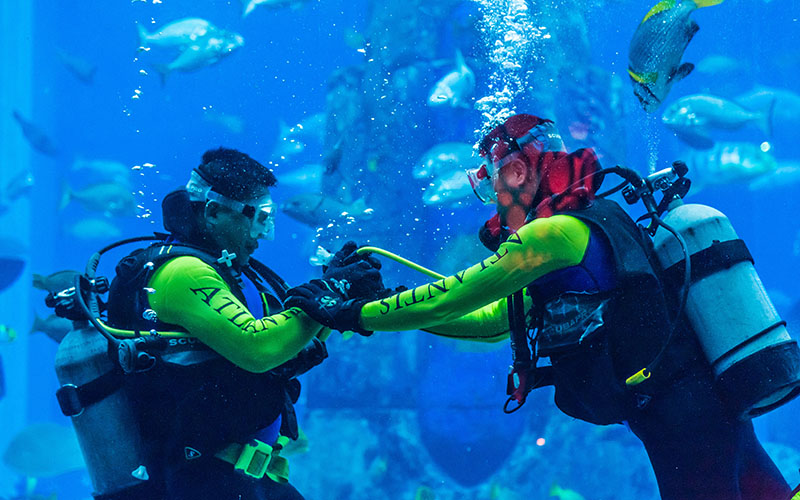 Atlantis The Palm is among Dubai's finest hotels and attractions, and its Aquarium Diving is Dubai's most extraordinary aquatic adventure. There are over 65,000 marine animals at the aquarium, including manta rays, sharks, and fish. It is one of the largest aquariums in the world and is gorgeously themed for a once-in-a-lifetime experience. Numerous scuba diving packages are available for novices, experts, and even non-swimmers. Swimming alongside the graceful manta ray and standing in a maelstrom of colorful fish is a unique and exclusive experience!
Average Cost: INR 5,300
Water Skiing
Suppose you could only participate in one water sport activity, we would recommend you must go for water skiing. A water ski ride is one of the most enjoyable JBR water activities. The water ski is a powerful vehicle that flies across the water's surface, providing a thrilling ride. Like skiing on snow, water skiing is a sport of speed, making it one of the finest water activities in Dubai for speed enthusiasts. Here, the ski board's pace is determined by the speedboat that tows it.
Average Cost: INR 8,100
Wakeboarding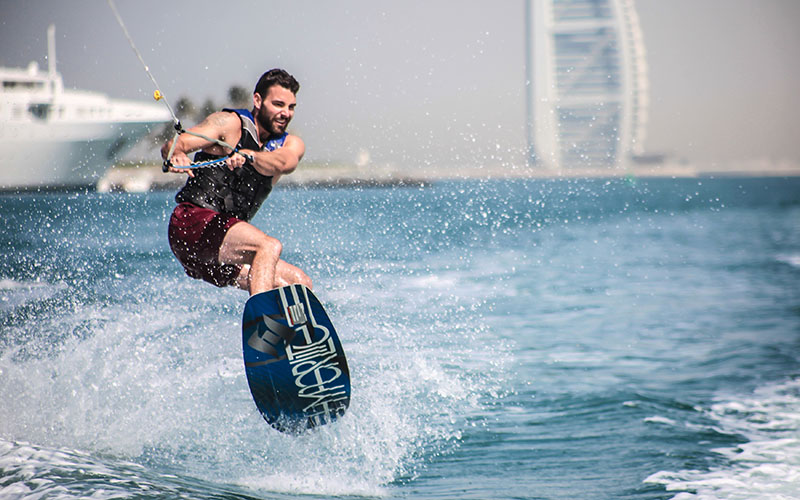 If you are tired of water skiing in Dubai and are looking for a more difficult challenge, try Wakeboarding. A wakeboard resembles a skateboard; in that the rider's legs are secured to the board, propelled by a motorboat. Wakeboarding is more complex than water skiing, which makes maneuvering on the water more thrilling. Unlike waterskiing, you can perform stunts and other acrobatics on a wakeboard, making it one of the finest watersports in Dubai.
Average Cost: INR 5,800
Windsurfing
In Dubai, windsurfing is one of the most popular pursuits. It is an exciting recreational activity available at Jumeirah Beach. This exhilarating water activity is a combination of sailing and surfing, and it functions as an ideal sport for the residents and visitors due to the abundance of charted water resources and top-notch facilities for trying such water sports in Dubai.
Average Cost: INR 5,000
FAQs for the adventure buffs:
1. Are these watersports fun activities in Dubai for adults?
Yes, many watersports in Dubai are beginner-friendly and feature expert instructors who will guide you through the activities. There are options available for all skill levels, whether you are a novice or an experienced enthusiast. Always begin with beginner-friendly training and progressively advance as your confidence and ability grow.
2. What safety precautions I should take for these watersports?
Dubai is committed to the protection of adventurers, and watersport operators adhere to stringent safety regulations. All utilized equipment is routinely inspected and maintained. Before each activity, qualified instructors provide safety briefings and instructions. Life jackets and other essential safety equipment are provided to guarantee a safe experience. Paying attention to the instructors' instructions and adhering to all safety guidelines is critical.
3. What is the ideal season for watersports in Dubai?
Dubai has a hot climate, particularly during the summer months. The perfect time to engage in watersports is between October and April when temperatures are more favorable. During this time, the weather is conducive to outdoor activities, and watersports can be enjoyed without extreme temperatures. Nonetheless, examining the weather conditions and considering any seasonal factors that may impact specific watersports is essential.
4. Do I need to carry any specific equipment?
Most watersport and deep dive Dubai provide all the necessary apparatus and gear. This includes life vests, helmets, harnesses, paddles, and other watersport-specific equipment. However, appropriate swimwear and sun protection such as sunscreen, a hat, and eyewear are recommended. Some participants may bring their own wetsuits or personal equipment, but it is not required because rental equipment is typically available.
5. Can non-swimmers participate in watersports?
A few watersports in Dubai can be enjoyed even if you are not a proficient swimmer, despite the fact that basic swimming abilities are highly recommended for safety reasons. Jet skiing, parasailing, and flyboarding typically necessitate life vests and proximity to instructors and guides who prioritize safety. However, it is always a good idea to inform the instructors of your swimming abilities so they can guide and teach you with the necessary guidance and assistance.
Conclusion
The extraordinary variety of water adventures in Dubai ensures something for everyone. Whether you are an adrenaline junkie or a nature enthusiast, these watersports will provide you with unforgettable experiences and the opportunity to explore the breathtaking littoral of Dubai. Prepare for a once-in-a-lifetime aquatic adventure and create enduring memories in this captivating city.