Dubai is regarded for providing the most incredible shopping experience, where sheer glitz and grandeur meet limitless entertainment possibilities and an unlimited budget. However, beneath the pomp and posh of Dubai's best malls, such as The Dubai Mall, lies another world of undiscovered retail outlets away from the mainstream. So, if you are tired of Dubai's glitzy, gargantuan shopping destinations, it is time to check out some of the region's lesser-known but most fabulous alternative malls, such as Al Barsha Mall.
Inception Of Al Barsha Mall
The Al Barsha neighborhood is well-known for housing the Mall of the Emirates, but with the recent building of the Al Barsha retail mall, the population is overjoyed to have another shopping option.
This little mall thinks that having a lovely day includes more than simply shopping and includes a beautiful dinner and superb entertainment with your family. So, take a break from the glamour and learn all about food, entertainment, and shopping at Al Barsha Mall!
Taste Joints at Al Barsha Mall
Shoppers wishing to relax with a delicious lunch will find Al Barsha Mall's food court stocked with Dubai's favorite cuisine restaurants. There are also a few independent cafes and eateries.
Let us have a look at a few of the eating joints:
Nations of Sushi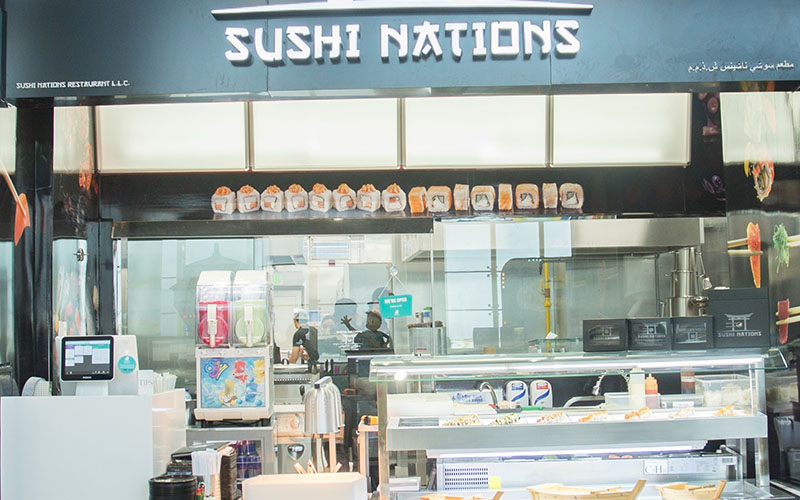 Sushi Nations, a prominent Asian restaurant in Dubai, serves infinite dishes of maki, sushi, and other delicacies at moderate costs. The colorful line-up of sushi, loaded with rich flavors and given a bright Brazilian flair, will undoubtedly tickle the fancy of any Japanese cuisine aficionado.
AED 105 on average for two people
Food Court Little Greece
Discover the authentic flavor of Mediterranean food at Little Greece, a café and deli where only high-quality, natural ingredients are used to prepare meals. Greek salad, moussaka, spinach pie, classic tzatziki, and other menu items are famous.
AED 130 is the average price for two people.
Dip and Dive
This Al Barsha Mall café is a well-known coffee shop that serves a delightful selection of desserts and beverages. However, it is most renowned for its chocolate fondue dishes. Their triple chocolate waffle, fettuccini crepe, and chocolate pancakes will satisfy your sweet taste.
Below is a list of Al Barsha Mall eateries for any additional cravings.
Al Farooj
BurgerFuel
Krispy Kreme
Papa John's
Harrods
Pizza Hut
Shakespeare and Company
Sandella's Flatbread Cafe
Starbucks
Katrina Sweets & Confectionery
Shoppers Delight Stores at Al Barsha Mall
This mall is home to various local brands, foreign labels, and specialty retailers, ranging from baby shops and home-ware stores to perfume dealers and fashion chains. We have listed a few of them:
Asana and Kata
Kata & Asana, a major active-wear store in the region, is the perfect destination for yoga outfits, gym gear, sports equipment, and other fitness goods. This shop at Al Barsha Mall sells popular fitness brands such as Zensual, Manduka, Infinity Strap, Beyond Yoga, and Nux Active.
Mothercare
Mothercare, one of the top international companies in Al Barsha Mall, is a popular destination for maternity and baby accessories shopping. It has exclusive products, like Maclaren bags, Stokke strollers, Maxi Cosi car seats, and Philips and Avent infant feeding devices.
Daiso
Japan Shopping at Daiso Japan, a cheap retailer, is usually a pleasurable experience that does not break the bank. It sells Japanese novelty items as well as everyday home items. You may stumble across a one-of-a-kind thing at an affordable price among the large selection of toys, stationery, DIY projects, costumes, and homeware.
A few other outlets are mentioned below for your consideration:
My Perfume
The Body Shop
Ulla Popkin
Mikyajy
Lapis Jewellery
Blue Pink Fashion
Al Mesk Al Arabi
Nazih Cosmetics
Al Mesk Al Arabi
Nazih Cosmetics
Entertainment Joints at Al Barsha Mall
Taking your children shopping might be enjoyable if the store has indoor play facilities. Fortunately, the mall offers numerous entertainment alternatives, including multiple activities for children.
Cheeky monkeys
Cheeky Monkeys in Al Barsha Mall is an edutainment center where parents can spend quality time with their children while having fun and learning. Little ones can be entertained in an indoor soft play area with many rides suitable for toddlers. The two-story Monkey Clubhouse encourages imaginative and interactive play, while arts and crafts activities promote creative thinking in children.
Cheeky Monkeys is open from 9:00 a.m. to 9:00 p.m. from Sunday through Thursday and from 9:00 a.m. to 10:00 p.m. on Fridays and Saturdays.
The price of Cheeky Monkeys is AED 55 for the first hour and AED 30 for each extra hour.
Kiddie Town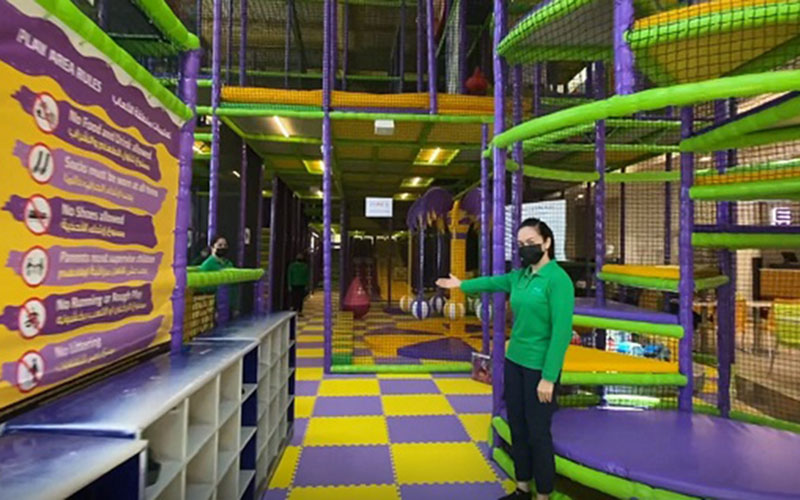 Kiddie Ville, a giant indoor play area, provides a full day of smiles, laughter, and family fun. With seven attractions, a three-level soft play area, and a plethora of arcade games, this recreational center in Al Barsha shopping mall keeps children aged 2 to 10 occupied in a family-friendly, weather-proof atmosphere.
Kiddie Ville is open from 10:30 a.m. to 11:30 p.m. on Saturdays and Thursdays and from 14.00 to 23:00 on Fridays.
Kiddie Ville ride prices start at AED 11 per ride.
Other Amenities at Al Barsha Mall
Various amenities are available to guests, ranging from salons and fitness centers to banks and exchange facilities.
The Gold's Gym
Gold's Gym is one of the significant gym businesses in Dubai, providing constant fitness support. This Al Barsha Mall fitness club has both a ladies-only and a mixed facility. It is completely outfitted with the Pure Strength fitness line and other cutting-edge exercise equipment. Body combat, belly dance, HIIT, cross gym, pilates, Hatha yoga, Zumba, and other training classes are available at Gold's Gym Al Barsha Mall.
Belhasa Driving School
Belhasa Driving Centre, equipped with highly trained driving instructors and a large fleet of new automobiles, offers basic and advanced learning courses that include tutorials, lectures, and practical sessions for various types of vehicles, such as motorbikes, buses, and trucks. They are also regarded as one of the recognized driving institutes in Dubai that grant driving licenses. They also provide a variety of educational plans and timetables to accommodate everyone's convenience and learning needs. You can learn more about their costs and courses at the Al Barsha Mall shop.
Salon de Juice
Juice Spa Salon, an award-winning beauty center in town, is always on top of the latest manicure, hair, and beauty trends. Ladies can get a luxurious appearance by utilizing one or more of their services, which include haircuts, keratin treatments, and acrylic nail extensions, as well as eyebrow grooming, makeovers, and anti-aging facials.
Union Cooperative
Union Coop, an anchor store and huge supermarket in Al Barsha Mall, is a paradise for regular consumers shopping for everyday things at excellent prices. The hypermarket, a favorite among Al Barsha inhabitants, is well-stocked with fresh fruits and vegetables and various grocery and home utility items. Al Barsha Mall Union Coop is a convenient stop for the entire neighborhood, whether for your thorough monthly shopping or immediate purchase.
Saturday to Thursday: 06:30 a.m. – 02:00 a.m.; closed on Fridays
FAQs
1. How to reach Al Barsha Mall?
It is situated in the Al Barsha neighborhood, on Al Asayel Street (D72), close to Al Barsha Pond Park. It will take approximately eight to ten minutes to reach residents of neighboring residential areas such as Al Sufouh.
2. Timings of Al Barsha Mall?
From Saturday through Wednesday, the Al Barsha Mall is open from 10:00 a.m. to 10:00 p.m. The mall stays open till midnight on Thursdays and Fridays.
Conclusion:
Al Barsha Mall gives you all that the family wants to come out of the routine life and enjoy a few moments minus the grand, which sometimes can be overwhelming. Enjoy your day here to the fullest.
All Image Credit: albarshamall.ae/