The 9th month in the Islamic calendar is sacred to the Muslims as it is the month of 'Ramadan' in which they observe a day long fasting. This year it starts from 18th June 2015. The ritual of Ramadan starts with 'Suhoor' – the early morning breakfast that has to be taken just before the sunrise, then the entire day goes without eating or drinking water, and once the sun sets, it is the time of 'Iftar'- the occasion to open the fast with dates and water along with a light meal.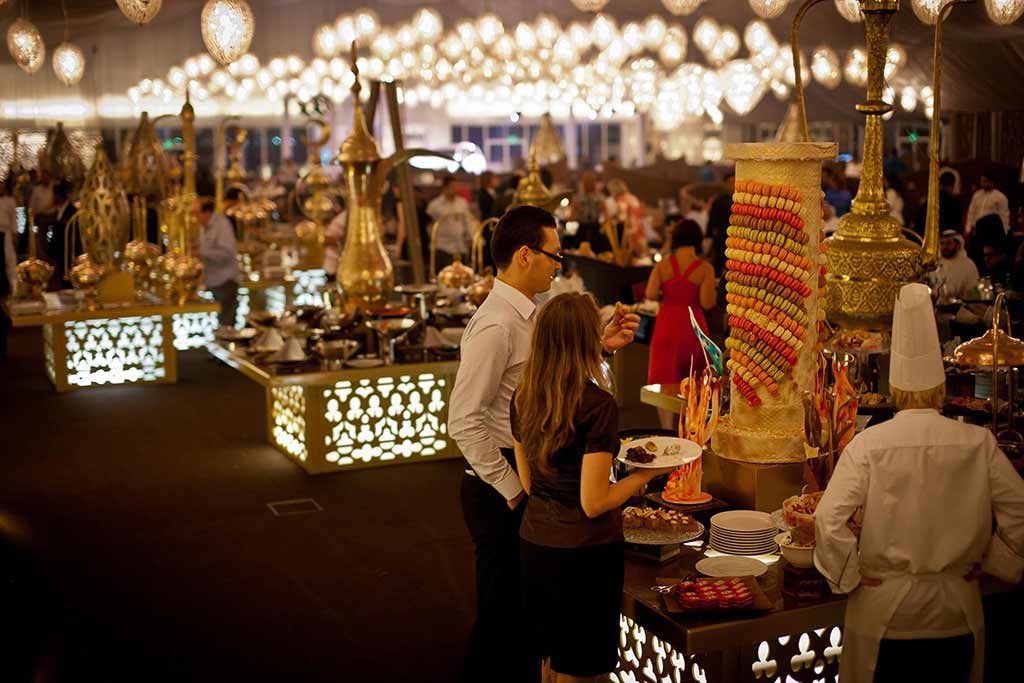 Dubai celebrates the holy month of Ramadan with much fanfare. The whole city is in a sacred mood during this period and a host of Ramadan celebrations is organized such as Ramadan night market, Holy book of Quran reciting competition and Forum of Ramadan etc. People from different nationalities come together in Dubai to celebrate the holy spirit of Ramadan followed by Eid.
A sheet of calmness and serenity covers this glittering tourist city of the world during the month of Ramadan. The otherwise famous city for its hospitality alters its rules a bit exclusively just for this one month, and all the citizens, including the tourists have to abide by the rules at public places.
Tips For Visiting Dubai During Ramadan
1.Rules and Regulations during Ramadan
Ramadan is the period when Muslims abstain from drinks and food along with the use of tobacco. The citizens not observing fast or the tourists are simply not allowed to eat, drink or smoke in public places. They are, however, allowed to eat inside the hotel premises.
Although it is not a law, but you are expected to greet any Muslim during Ramadan by saying' 'Ramadan Mubarak' or 'Ramadan Kareem' which means 'may you have a blessed Ramadan' or 'may you have a generous Ramadan'.
You are expected to be respectful towards those who are not drinking or eating anything the entire day by not eating or drinking in front of them.
Many businesses change their business hours as per the 'Suhoor' and 'Iftar' hours for their employees.
Many shops and malls are closed during the day, but remain open until late night to allow people to shop.
Almost all the restaurants host special 'Iftar' dinner during the month of Ramadan. Some restaurants also host 'Suhoor' that adds to the experience of being in Dubai.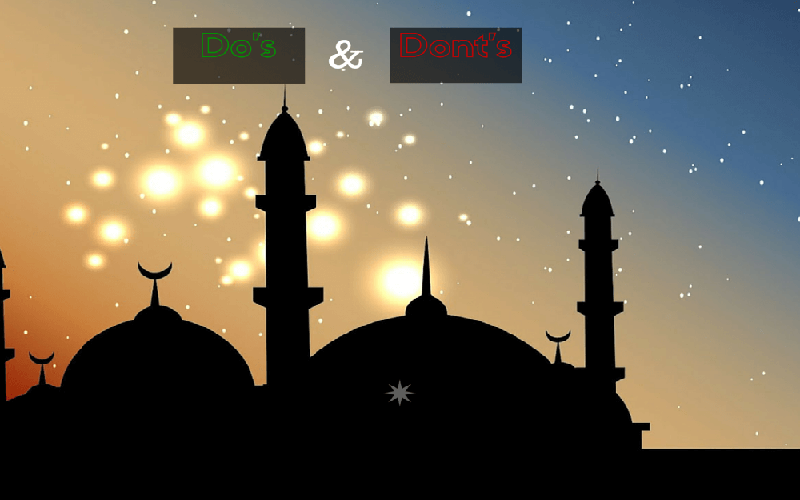 2.Dos and Don'ts during Ramadan in Dubai
a.Dos
It is imperative to dress appropriately in Dubai for both men and women. No skin show is allowed and during the month of Ramadan special care should be taken not to wear indecent clothing.
The holy month of Ramadan encourages charity and to be generous to those who are less fortunate than you. While Muslims are expected to offer 2.5% of their annual savings called 'Zakat' to the less fortunate, it is expected from the tourists as well to not shrug the needy and help them out.
Be patient with those who are working without having food or water for the entire day. It is difficult to function. In situations which can make you angry or irritable, control yourself and be considerate to the person in front. A smile would be just the best cure for any unpleasant issue.
Use the time of Ramadan to quit the bad habit of smoking as you are not allowed to smoke in public places anyways during the month.
Even if you are a tourist, take a break from your lifestyle and indulge in the local life with celebrations during 'Iftars'. Blend with the people celebrating their holy month and you'll feel a part of them in no time.
If you are invited to an Iftar party, do not go empty handed. If you don't want to invest a lot of money on gifts, a small packet of dates would be just perfect.
b.Don'ts
Don't dance, sing or roam under the influence of alcohol in public places during Ramadan. Most of the nightclubs are closed during this time and the liquor shops serve liquor only after Iftar.
Make sure you keep your surroundings quiet and calm. Do not play loud music in your car, home or the beach. If you have to play music at home, then ensure the sound is audible only to you.
Ensure not to swear in public. While Blasphemy is a practice frowned upon always, during the month of Ramadan it is specially considered offensive.
Do not hug, kiss, or become cozy with your friends or partner in public places of Dubai, especially during the month of Ramadan. Otherwise also, any kind of intimacy in public is not allowed in Dubai.
Don't leave reservations for dinner for the last minute. During the month of Ramadan, families meet to break their fast together and therefore, almost all the restaurants are overcrowded at the dinner time.
One of the busiest tourist and business center of the world- Dubai moves at a relaxed and slow pace during the month of Ramadan. With most people fasting and maintaining a spiritual mood, these essential Do's and Don'ts can be really helpful to be able to easily blend with the local culture while you are in Dubai.