Winter is almost here, and it's the most ideal time to admire the breathtaking skyline of Dubai from one of its incredible standpoints, rooftop bars! As the cool salubrious wind begins to sweep over Dubai, there is nothing as alluring as climbing one of its many sky-high sanctuaries and throttling some refreshing drinks down with wow-inducing views all around you. So for an elevated sipping experience in Dubai, consider checking out these open-air retreats.
Ultimate Guide to the Best Dubai Rooftop Bars
1. Uptown Bar, Jumeirah Beach Hotel
24 floors atop the Jumeirah Beach Hotel, this classy rooftop bar features the endearing sights of Burl Al Arab and Arabian Gulf, along with the much of the ever-growing skyline of Jumeirah, Downtown Dubai, and Sheik Zayed Road. The elegant setting seamlessly fuses beautiful sea views with cosmopolitan vibe. Indulge in a variety of expertly crafted cocktails and beverages, as you relish beautiful sights. It includes both indoor and outdoor seating options.
Location: 24th Floor, Jumeirah Beach Hotel
Telephone: +971 4 406 8897
Opening hours: 18:00 hrs to 2:00 hrs
We recommend it for: Perfect theme nights & astonishing views
2. Above, Sofitel Dubai Downtown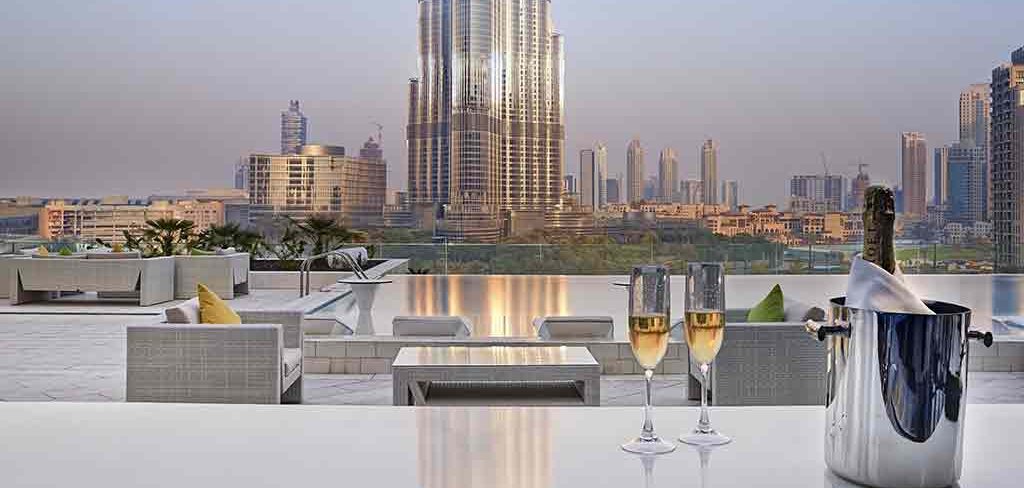 Make your way up to Sofitel Dubai Downtown's 'Above' for a VIP drinking experience in a contemporary yet laid-back ambience, with a lounge area, terrace, and cabanas. This luxe rooftop lounge provides a great menu comprising an extensive selection of wines, spirits and cocktails. Here, you can also groove to cool music styling of DJs and look out for the up-close views of Burj Khalifa as well as other dazzling sights of Downtown Dubai.
Location: Level 5, Sofitel Dubai Downtown
Telephone: +971 4 5036666
Opening hours: 18:00 hrs to 03:00 hrs
We recommend it for: Great wine and spirit menu &late-night partying
3. The Rooftop Terrace, The One & Only Royal Mirage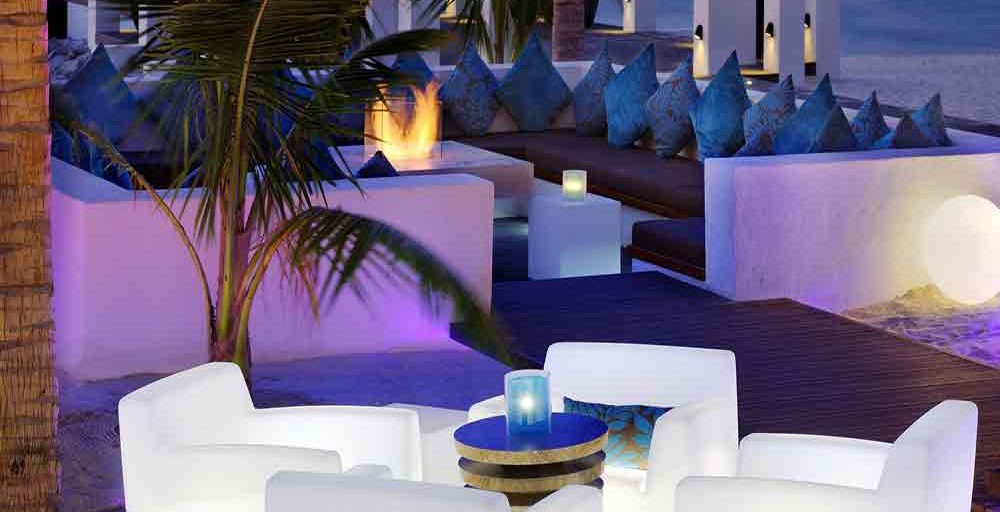 Head over to this rooftop sports lounge at One & Only Royal Mirage to experience refined Arabian setting that comes in understated luxuries. Its circular bar serves refreshing cocktails and sumptuous mezzehs. For unobstructed ocean views, move out to its atmospheric outdoor terrace where the Majlis-style seating is beautifully arranged around the central dome.
Location: One & Only Royal Mirage on the Al Sufouh Road, Dubai
Telephone: +971 4 399 9999
Opening hours: 17:00 hrs to 01:00 hrs
We recommend it for: Good drinks and welcoming service
4. Level 43 Sky Lounge – Four Points by Sheraton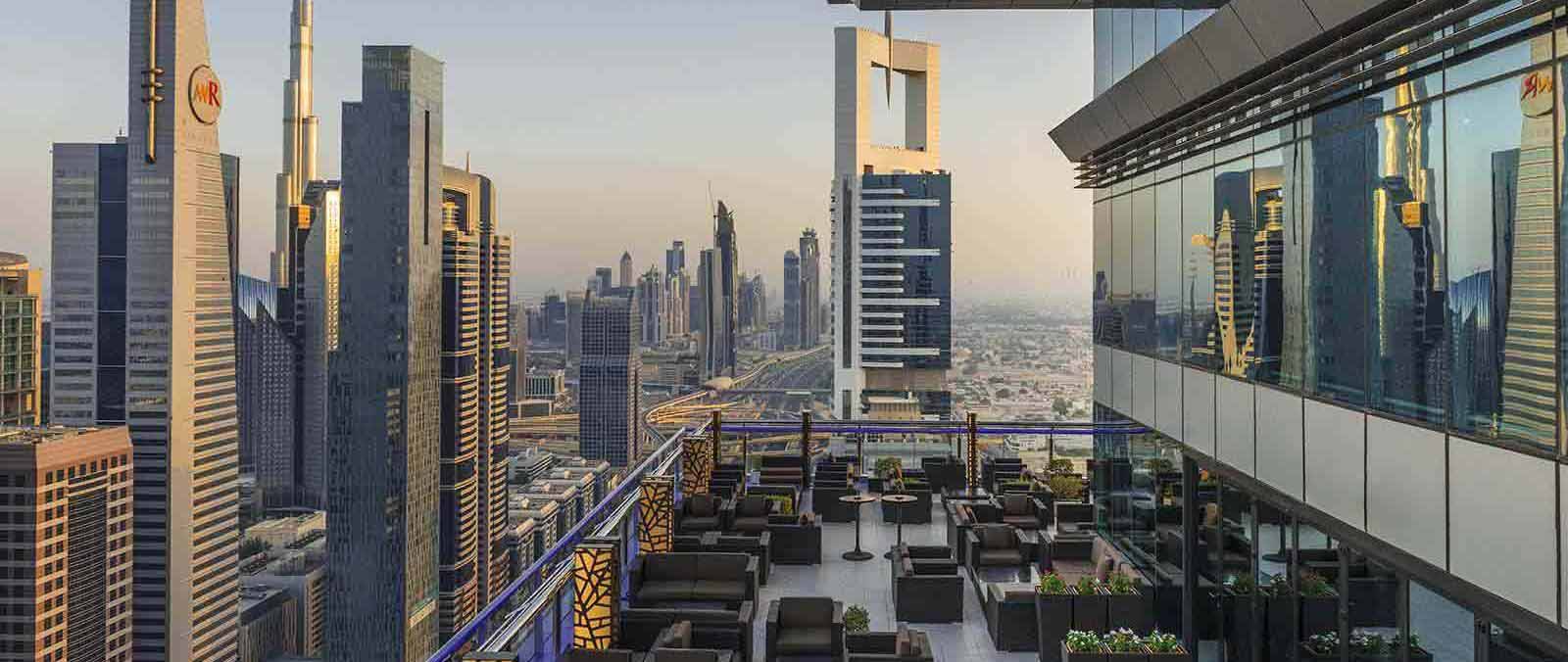 This posh venue on the 43rd floor of Four Points by Sheraton is one of the Dubai's best rooftop bars. As well as coming here for a great menu consisting of cocktails, tapas, and cigar, you can enjoy the incomparable views of Burj Al Arab, Jumeirah coastline, Burj Khalifa and other iconic attractions in a single frame. It boasts of both indoor and outdoor seating areas.
Location: Four Points by Sheraton, Sheik Zayed Road
Telephone: +971 4 3230333
Opening hours: 18:00 hrs to 02:00 hrs
We recommend it for: Superb food and drinks with awe-inspiring views of Dubai's skyline
5. 40Kong – H Hotel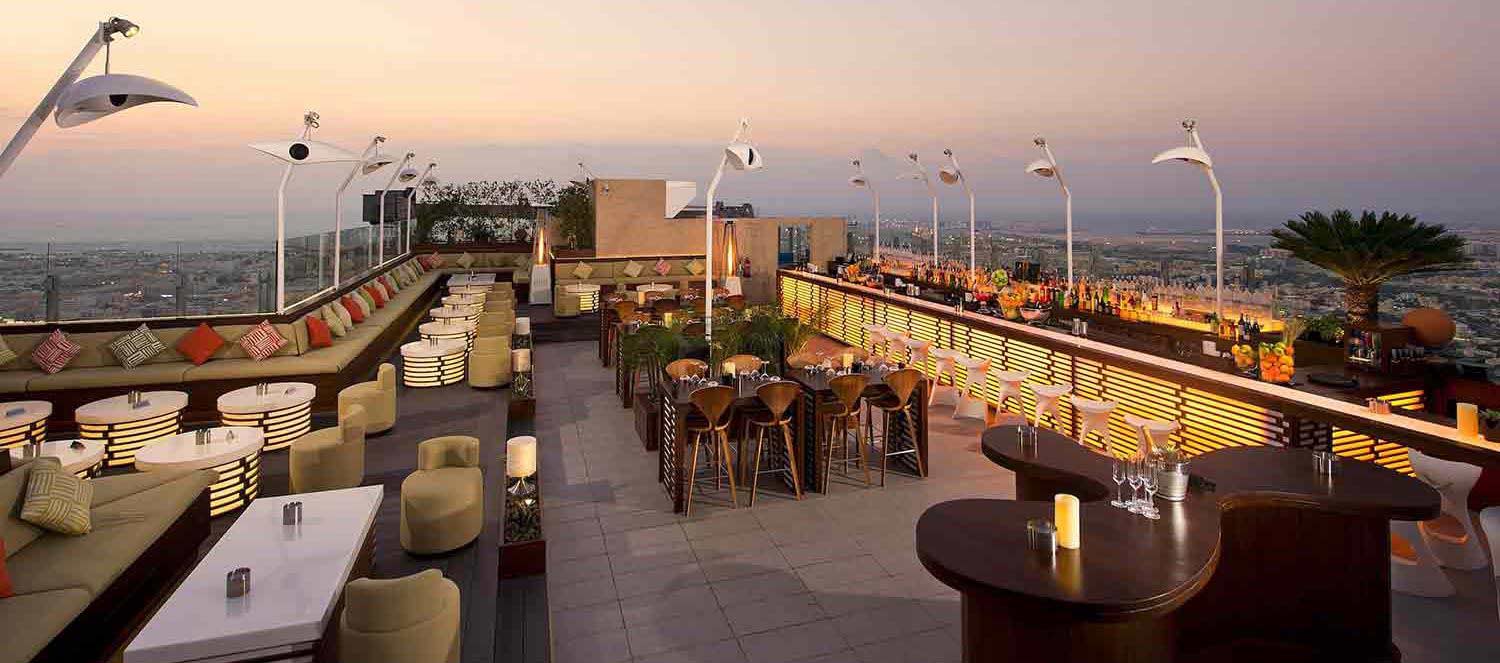 40Kong from the Crystal Group is one of the latest to join the bandwagon of top-notch rooftop bars in Dubai. Offering fabulous views over the metropolis from the 40th floor of H Hotel, this cocktail lounge with stunning décor is often frequented for its outstanding food and bar menu made up of a long list of champagnes, sparkling wines, rose wines, and cocktails such as The Kong, Mexican Coke, and Dubai Bliss. Not to mention, this place goes well with those looking for an uber cool and funky venue to chill out in the evening.
Location: 40th floor, The H Hotel, Sheikh Zayed Road
Telephone: +9714 3558896
Opening hours: 18:00 hrs to 03:00 hrs
We recommend it for: Nice views, sleek ambience and signature drinks
6. Atelier M Pier 7 Development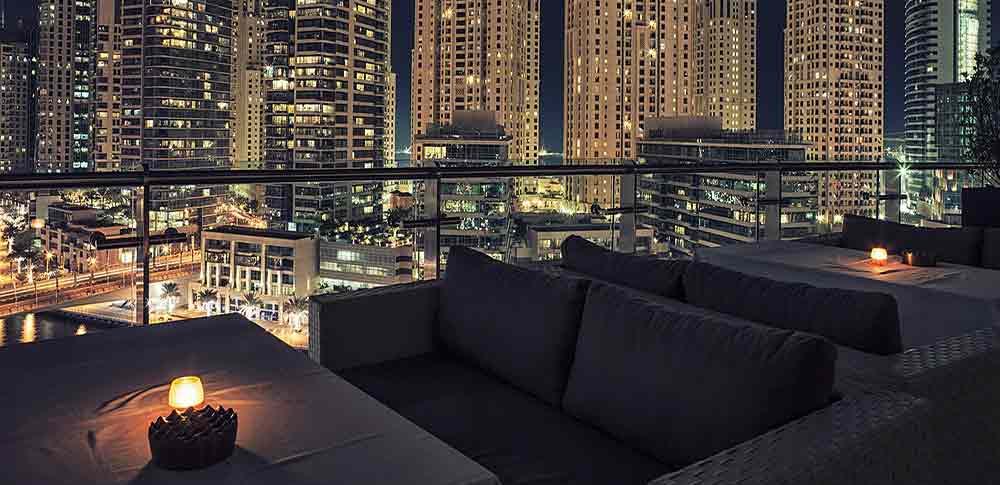 Mainly a restaurant providing French cuisines with an Asian twist, Atlier M – placed in Dubai Marina's Pier 7 Development – is equally exceptional for its super-elegant outdoor rooftop bar. With a nicely curated drinks menu served against the backdrop of unrivaled panoramas, this venue boasting an art-deco inspired lounge is popular with guests craving for both after-dinner drinks and astounding vistas of Dubai Marina.
Location: Pier 7, 7 & 7M Floor
Telephone: +971 4 450 7766
Opening hours: 19:00 hrs to 02:00 hrs
We recommend it for: Solid selection of drinks, enchanting views, and old world allure with fun vibe
7. Shades, Address Dubai Marina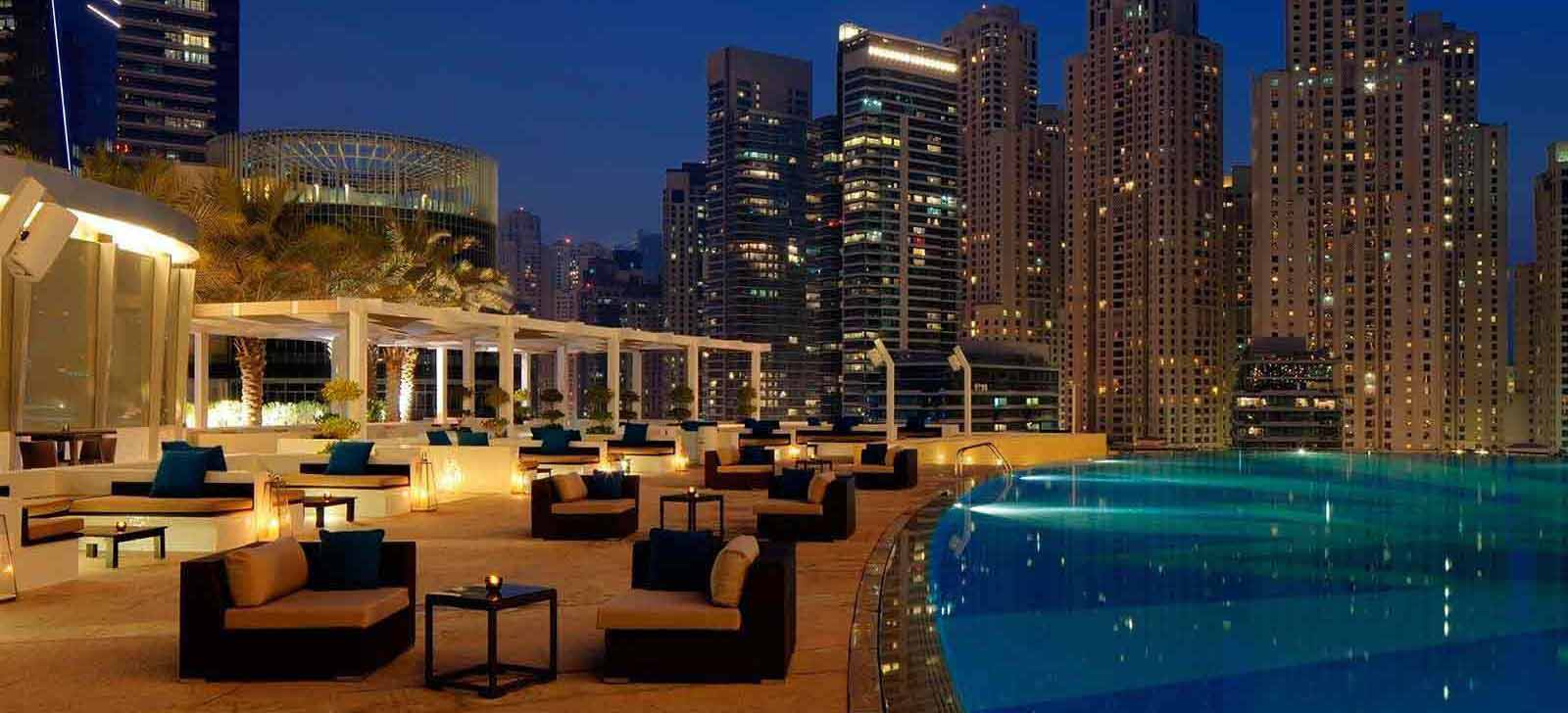 It may lack the height of most other rooftop bars in this list, but it is one of the favored spots for a stylish nightcap. With an alfresco setting, this social haunt – facing a gorgeous infinity pool – offers some of the finest food and drinks in Dubai. As for the views, it boggles your mind with the sweeping views of Dubai Marina. Apart from the superb performances of resident DJ Enigma8, Shades is also remarkable for its Shisha facility.
Location: 4th Floor, The Address Dubai Marina
Telephone: +971 4 436 7777
Opening hours: 9:00 hrs to 1:00 hrs
We recommend it for: Great ambience
8. 360°, Jumeirah Beach Hotel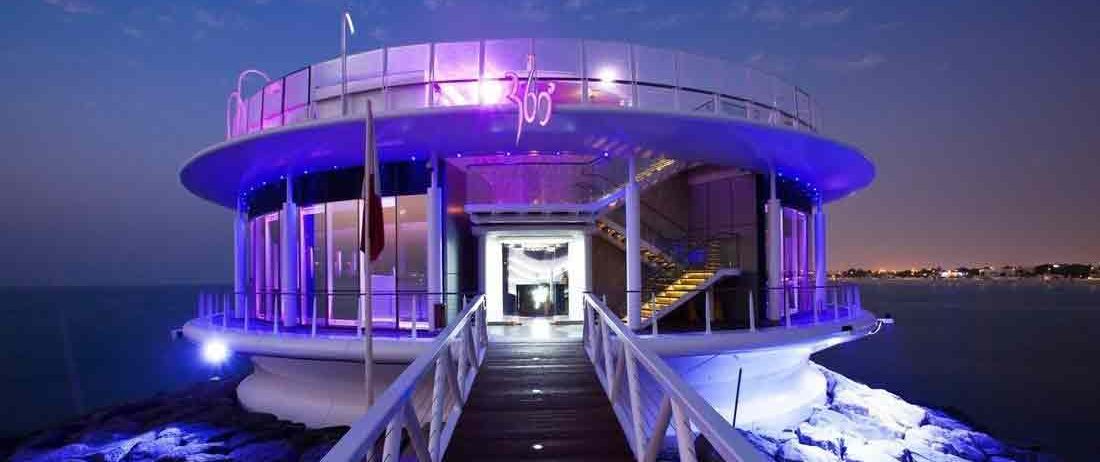 This sophisticated circular rooftop lounge on the Jumeirah Beach Hotel's impressive Marina Walkway does complete justice to its name by offering unequaled 360 degree views of the sea, golden shores, sunset over the Arabian Gulf, and of course stupefying Burj Al Arab. A highly sought-after nightlife spot, it is worth visiting for its modish white décor, quality music nights, and also Shisha as well as refreshing drinks.
Location: 360° – Jumeirah Beach Hotel Umm Sequim, Dubai,
Telephone: +971 4 4068741
Opening hours: 17:00 hrs to 02:00 hrs
We recommend it for: Classic nightlife and finest drinking experience amidst unrivaled oceanic backdrop
9. Cu-Ba – Jumeirah Creekside Hotel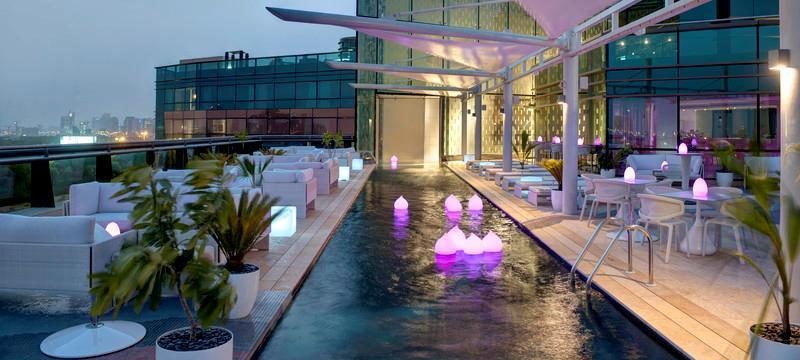 This hotspot atop the magnificent Jumeirah Creekside Hotel focuses on perfectly created cocktails and tapas menu complemented by Latin hospitality. Featuring a large outdoor terrace, it's however more than just its incredible dining and drinking experience and also throws down splendid views of Dubai's soaring architectural fineness.
Location: Jumeirah Creekside Hotel
Telephone: +971 4 230 8459
Opening hours: 12:00 hrs to 01:00 hrs from Saturday to Wednesday & 12:00 hrs to 02:00 hrs on Thursdays and Fridays
We recommend it for: Daily Cu-Ba Happy Hours from 18:00 hrs to 20:00 hrs
10. Pure Sky Lounge – Hilton Dubai Jumeirah Residences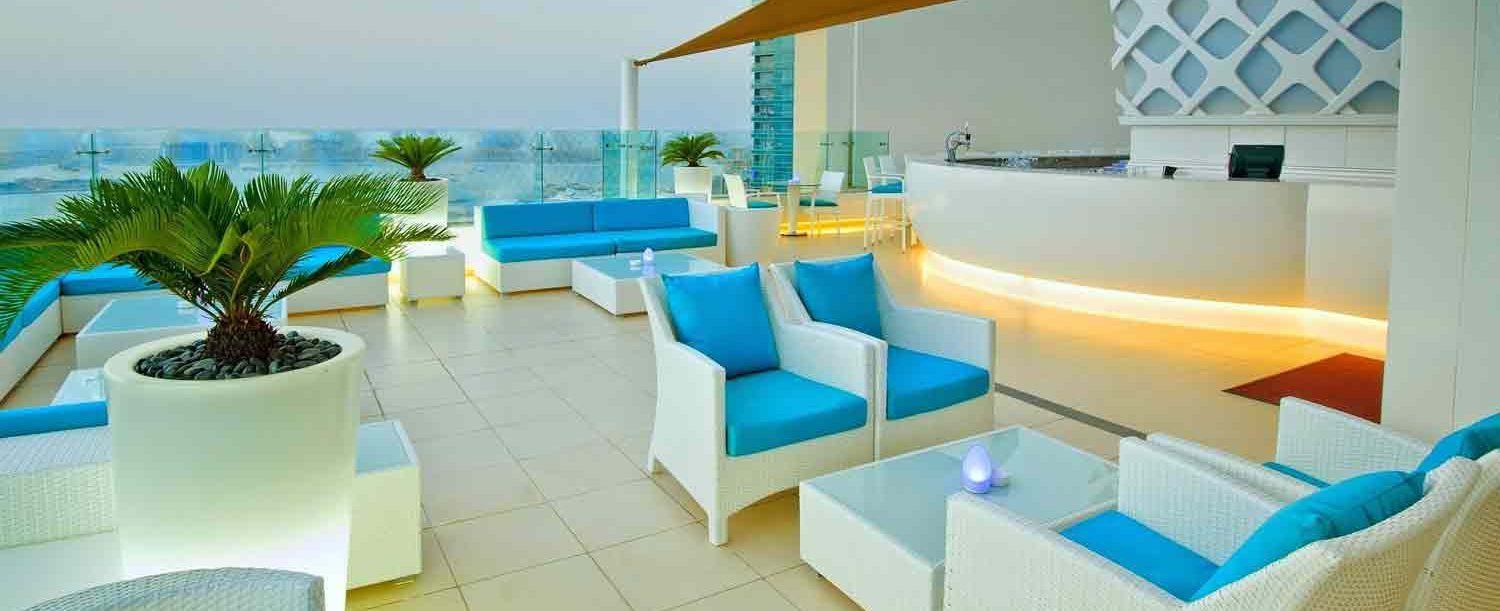 On the 35th level of the JBR's Al Bahar Tower, Pure Sky Lounge comes with all elements to ensure a pleasant retreat, from minimalist yet ultra-stylish white décor and mind blowing sunset views over the Palm to a killer Pan Asian inspired menu and an exclusive drinks menu with a wide spectrum of wines, champagnes, spirits, and cocktails.
Location: Hilton Dubai, The Walk, JBR, Dubai
Telephone: +971 4 3747888
Opening hours: 17:00 hrs to 02:00 hrs from Sunday to Thursday & 14:00 hrs to 02:00 hrs on Fridays and Saturdays
We recommend it for: Specialized Sunset Brunch
A night out in Dubai is incomplete without experiencing the emirate's much-admired scenic rooftop bars. So head up to these venues and enjoy all the breeze and best views that await you.