Bur Dubai's Al Fahidi Heritage District (formerly known as Al Bastakiya) is a hidden treasure among the city's glittering skyscrapers and floor-to-ceiling glass.
It is like going back in time to a simpler, more relaxed era, with its winding streets and classic architecture. It is located in Bur Dubai, the oldest portion of Dubai, and is a tribute to the city's rich history.
Highlights of Dubai's History
Dubai was founded in the 18th century on the creek's banks and swiftly evolved from a quiet fishing village to a major port town, owing largely to its location near Iran. Dubai expanded in size and importance as its commerce and pearling industries grew.
Sheikh Rashid bin Saeed Al Maktoum initiated the groundwork for the city's development, and it grew steadily even as the world economy slumped in the early 20th century.
Sheikh Rashid's plans received a major boost in the mid-1960s when oil was discovered, and the metropolis as we know it expanded at an unparalleled rate.
Bur The Al Fahidi, or the Bastkaiya quarters neighborhood, the oldest in Dubai, was saved from destruction in the 1980s and rebuilt to preserve the area's legacy and history.
Things to Do in Al Fahidi Historical Dubai
The Historic Al Fahidi Fort and the Museum of Dubai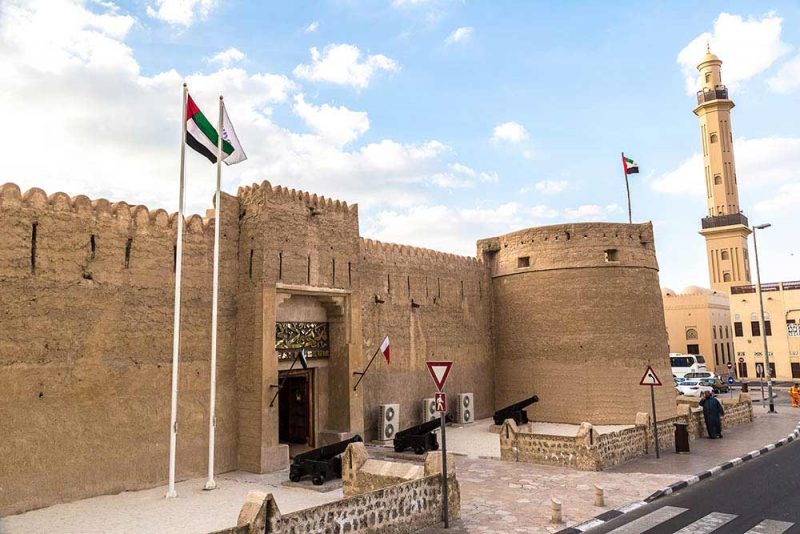 The Al Fahidi Fort, Dubai's oldest structure, was built in this location in 1787. The Dubai Museum first opened to the public in 1971. The museum is closed for renovations at the moment, but it is definitely one of the best things to do in Dubai as a tourist.
Nonetheless, there is a great deal of the city's past to discover in this storied neighborhood. The following are some of the best spots in all of Al Fahidi, but there are many more to discover.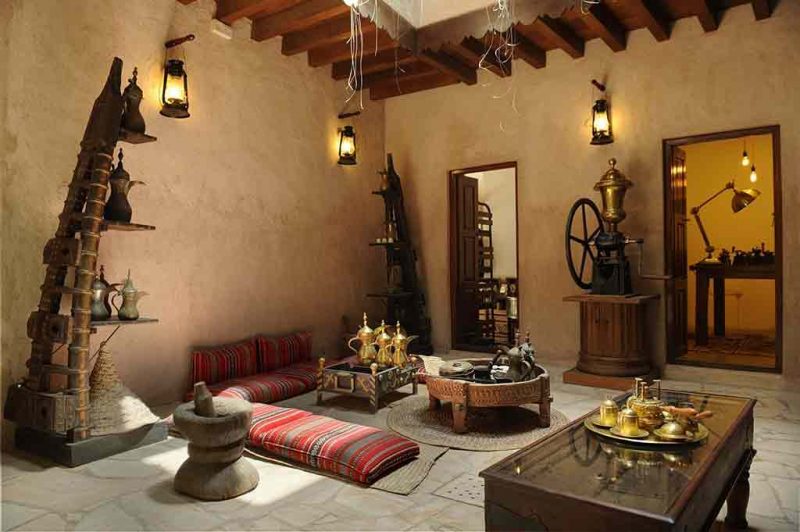 This museum is a must-see for coffee enthusiasts. Discover the history and significance of coffee in the Middle East and the Emirati culture.
Learning about the origins of coffee, the methods used to produce it, the numerous bean kinds available, and the various coffee-drinking cultures around the world are all possible here. Also, while you are there, stop by the café for a cup of joe and the museum store for a new set of coffee-making tools.
Weekends and weekdays (excluding Fridays): 9:00 am – 5:00 pm
An exhibit of Rare Coins in a Museum
Those interested in regional history will also enjoy a trip to the Coin Museum, which is a must-see for coin collectors.
Over 500 coins, mostly from the Arab world but also from other historical periods and regions, are on display in the museum's small but impressive collection. A close look at each coin is made possible by the display, which also includes information about the coin's mintage year, profile, and composition – making it one of the must-visit museums in Dubai.
The collections are housed in an eight-room structure made of coral, stone, and sandalwood.
Its business is open Monday through Thursday from 8:00 am – 3:00 pm, Friday from 8:00 am – 11:30 am, and on the weekends from 8:00 am to 5:00 pm. Closed
Learn About the Past in the Old Al Fahidi Dubai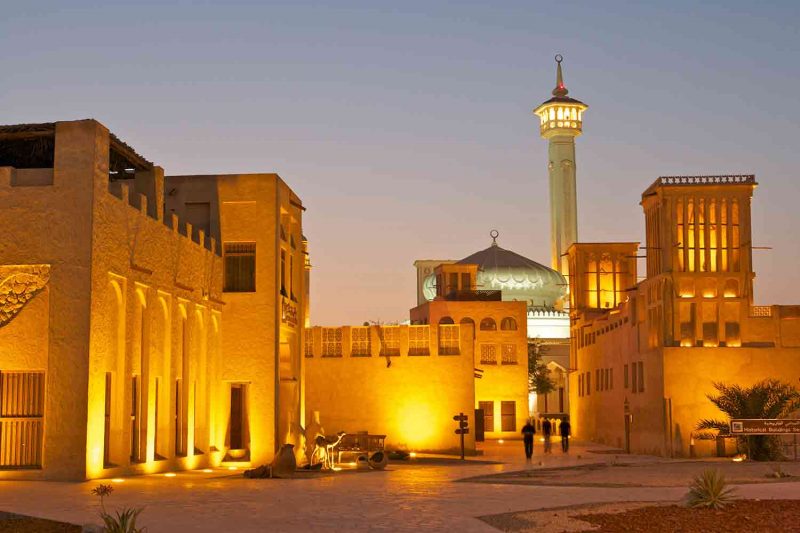 You can discover a lost Arabia by wandering down its maze of backstreets. The characteristic wind towers atop the buildings are a testament to the indigenous technical prowess, and the structures are fashioned from traditional materials like coral, stone, mud, and wood.
This section of Abu Dhabi is devoted to showcasing and honoring Emirati heritage. Cultural centers and small museums may be found all across Dubai, providing several possibilities to learn about the city and its surroundings.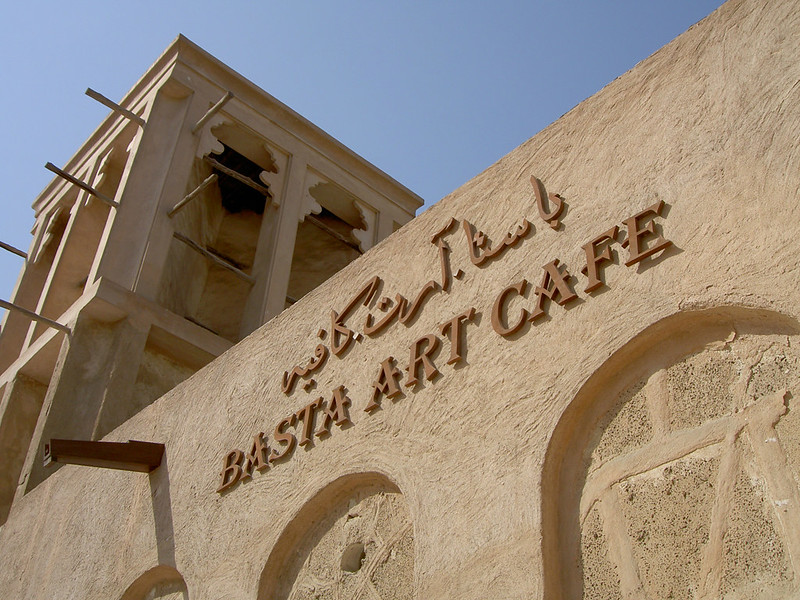 In 1997, while Al Fahidi was still known as Bastakia, the doors to what is now known as Basta Arts Café opened. Since then, it has expanded to become something of a cultural institution, with locations all around the United Arab Emirates and beyond.
This original location is nestled within a quiet courtyard. Cool off with a drink or a cup of old-fashioned coffee in the shade. Middle Eastern and Emirati dishes are also available in abundance. Remember that the café does not take reservations on the weekends (Friday through Sunday) and that it can get very crowded. Hours of operation are from 7 am to 11 pm.
The XVA Art Hotel and Café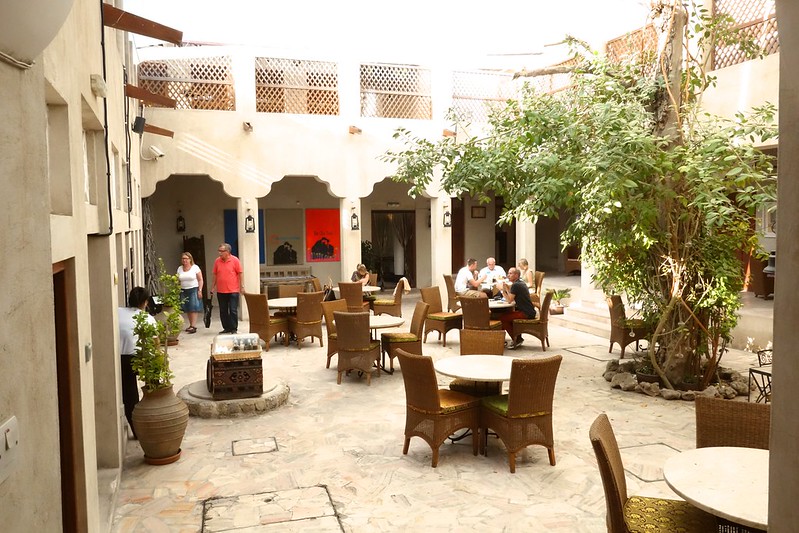 It is a one-of-a-kind establishment where modern art and local history collide. The atmosphere exudes peace, and there are plenty of secluded nooks and crannies to enjoy the vegetarian fare in the café. Al Fahidi is one of the best places for affordable vegetarian restaurants in Dubai.
The gallery's focus is contemporary art, with an accent on showcasing and supporting artists from the Middle East. There are 15 lovely guest rooms spread out throughout the courtyards and a little boutique selling various goods. This café is open from 7 am to 10 pm every day.
This souk is among the most visited in all of Dubai. Perambulate the crowded alleys in search of vibrant new threads. As you visit these exotic souks in Dubai, you should polish your haggling abilities and keep cash on hand, as many stores still accept it over cards.
The souk is usually open from 10:00 am until 10:00 pm. From Saturday through Thursday, many shopkeepers close for siestas in the middle of the day. Regular business hours on Fridays begin at 4 pm.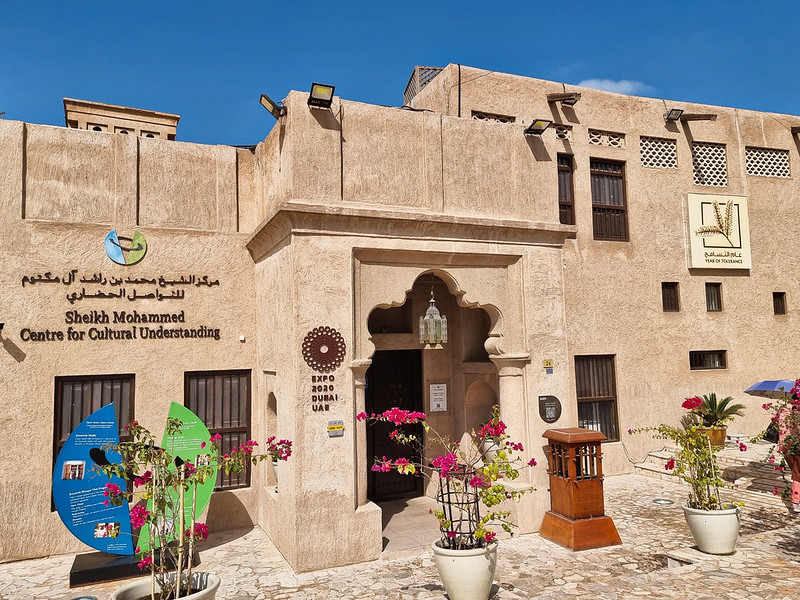 The Sheikh Mohammed bin Rashid Al Maktoum Centre for Cultural Understanding (SMCCU) was established in 1998 to foster familiarity with Emirati traditions and customs among Dubai's diverse population. Here, local volunteers teach foreign residents and tourists about Emirati heritage.
Heritage excursions, in which you are led on a stroll through the winding alleys of Al Fahidi, are just one of several options. The center also serves native cuisine, and the guides are happy to share their knowledge of Emirati history and customs over a meal.
The store is open from 8:00 am to 3:00 pm Monday through Thursday and from 8:00 am to 12:00 pm on Fridays, Saturdays, and Sundays.
Due to high demand and the small number of spots available, tours must be reserved in advance. Patrons of the center can take advantage of valet parking services.
Rather than winging it, why not prepare in advance:
Go Through Al Fahidi's Past: a Historical Experience (Duration: 1.5 hours Timing: 10:30 am Tuesday & Thursday)
The SMCCU Culture Lunch (Duration: 1.5 hours Timing: 1:00 pm Monday to Thursday). Visit Dubai during Ramadan, and you can take advantage of their exclusive iftar program.
Transportation to the Ancient District of Al Fahidi
You can get to the area conveniently via public transportation. Nearby is the Al Ghubaiba bus stop, and the closest Metro station is Al Fahidi. For those who would rather drive, there is convenient RTA parking available.
The "Heritage Express" crimson trolleys are easy to notice if you are in the Al Fahidi Historical District.
Privately conducted excursions with SMCCU depart daily from Al Fahidi Historical Neighbourhood, and they provide a wide variety of options, such as The Emirati Hospitality Experience (from 230 AED pp, 4 hours); Culture on Wheels (from 150 AED pp, 2.5 hours); and VIP tour (from 500 AED pp, 4 hours)
Al Fahidi Accommodations
The XVA Art Hotel is a beautiful boutique hotel for those who remain within Al Fahidi.
The Al Seef Heritage Hotel Dubai Curio Collection by Hilton is a short distance down the road. At the same time, the Radisson Blu Hotel, Dubai, Creek, offers breathtaking views of the historic district across the Creek and is one of the best places to stay in Old Dubai.
Conclusion:
If you are interested in Dubai's history and culture, you should visit Al Fahidi Heritage Neighborhood. There are several museums and cultural institutes where you may learn about the history and customs of the Emirati people, and the city's traditional architecture, wind towers, and tiny passageways give a window into the past. Al Fahidi Heritage Neighborhood is a must-see Dubai attraction if you are a history nerd or want to immerse yourself in a different culture. Continue your hunt with our guide on the other amazing things to do in Dubai in 2023.