In Dubai, United Arab Emirates, you can visit the botanical park known as Dubai Miracle Park. Millions of tourists flock there every year because it is one of the most amazing and unique places to visit in Dubai. It is the most extensive flower garden covering an area of 72,000 square meters and containing more than 45 million blossoms worldwide.
A. Overview of Dubai Miracle Garden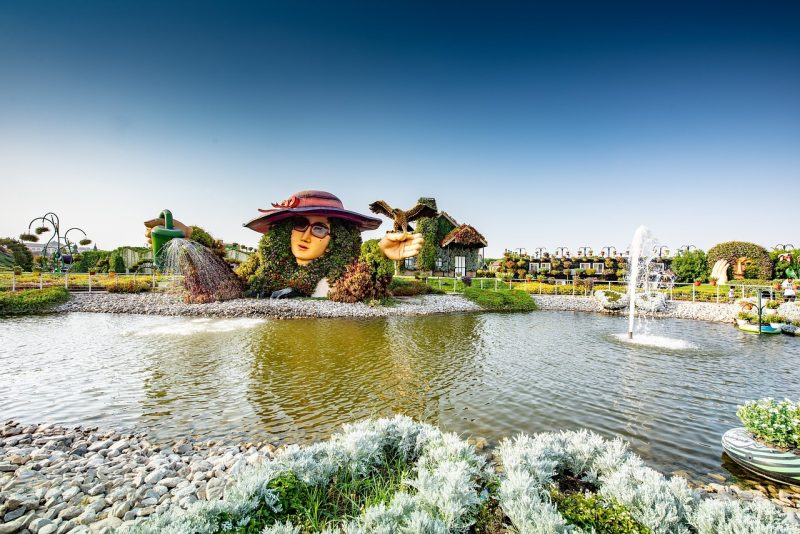 The garden first welcomed visitors on Valentine's Day in 2013, and since then, it has received a flood of visitors from all over the world. The garden's famed floral displays are updated seasonally to keep visitors interested throughout the year.
B. Attractions in Dubai Miracle Garden
The A380 Emirates airliner, which was completely recreated out of flowers, is one of the most photographed features of the park. The structure is one of the world's largest floral structures at over 80 meters in length and 100 tons in weight. The plane's floral decorations, which include flowers arranged in the shape of the Emirates emblem, are a sight to behold.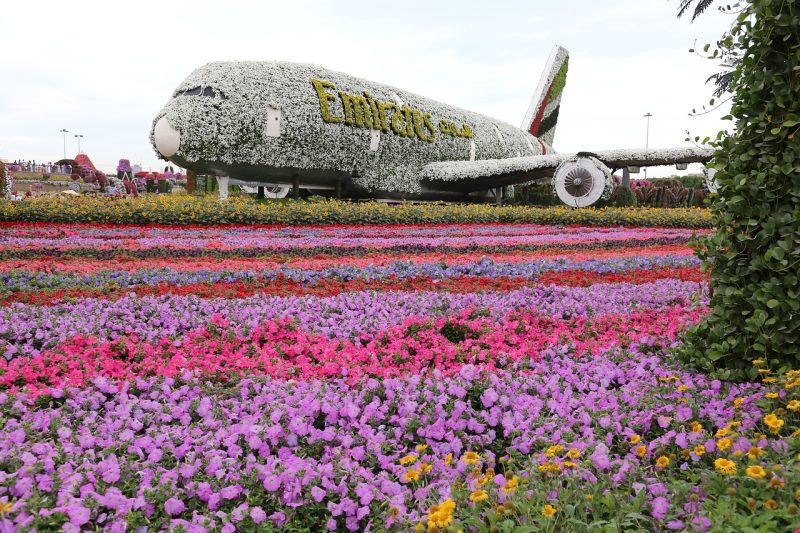 The garden is a fantastic place to visit; it also serves a vital purpose in raising people's consciousness about environmental issues. The garden has a one-of-a-kind irrigation system that reuses wastewater to irrigate the plants sustainably and effectively. A crew of devoted horticulturists works tirelessly to keep the garden's blooms in tip-top shape.
The Guinness World Record for the most prominent floral arrangement is just one of many accolades for Dubai Miracle Garden's innovative and artistic floral displays. The International Garden Tourism Awards also named the garden one of the top five gardens in the world.
Flower Dome
The Flower Dome at Dubai Miracle Garden is the largest man-made edifice dedicated solely to flowers. More than a hundred million flowers were used to create the dome, which takes the form of a massive floral heart. It is nearly 18 meters tall and 80 meters across, making it a breathtaking sight.
Butterfly Garden
The Butterfly area, home to more than 15,000 butterflies of more than 100 different species, is just one of the many attractions in the area. The garden also features a large flower clock, a Mickey Mouse that stands four meters tall, and other flower sculptures of varying sizes and designs.
C. Best Time to Visit Dubai Miracle Garden
Due to the pleasant temperatures and dry heat that characterize the months of October through April, the garden is open throughout those times. Early morning & late afternoon are ideal times to visit the garden because of the pleasant weather and smaller crowds. The park is near several of Dubai's most popular tourist spots, including the Dubai Mall and the Burj Khalifa.
Opening Hours of Dubai Miracle Garden:  9 AM to 9 PM on weekdays and from 9 AM to 11 PM on weekends.
D. Things to Know About Dubai Miracle Garden
Exploring the Seasons of Dubai Miracle Garden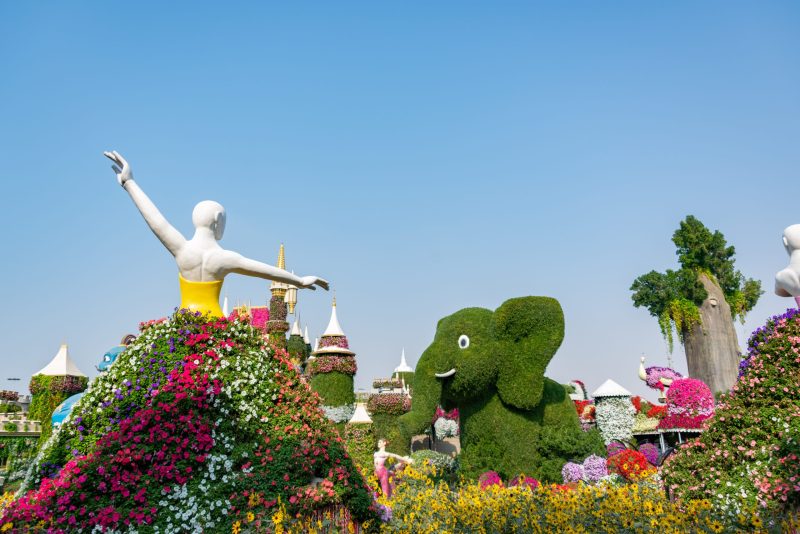 The Dubai Miracle Garden is a unique tourist attraction featuring seasonal flower displays. There are seasonal changes in the garden and the corresponding flower arrangements. You can tailor the garden experience to your interests and preferences, from the spring's brilliant tulips to the winter's festive decorations.
Miracle Garden Irrigation System Brings New Dimension to Sustainable Gardening in Dubai
The Dubai Miracle Garden is an innovative leader in efficient water use and ecological landscaping. The garden's cutting-edge irrigation technology makes use of wastewater recycling to water the blooms in a sustainable and efficient manner. Garden sustainable tourism and its efforts to raise environmental consciousness.
Dubai's Miracle Garden is a Dream Location for Photographers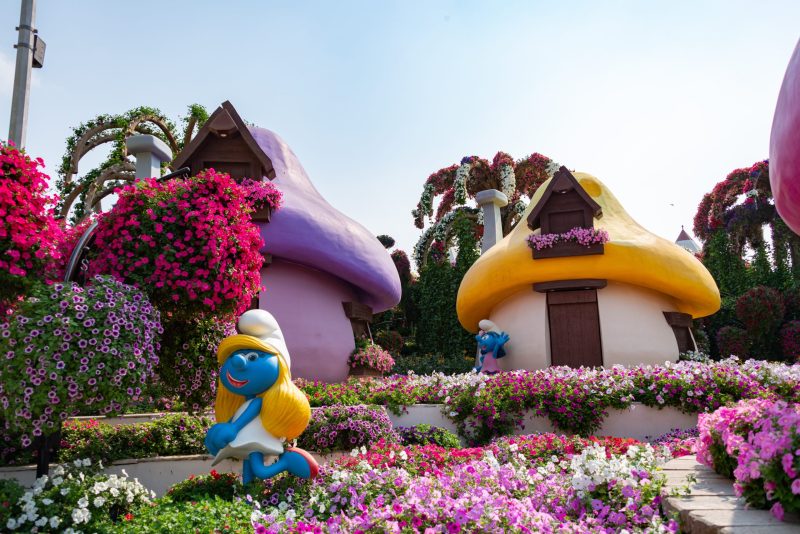 Photographers in search of unusual and beautiful settings will find a feast in Dubai's Miracle Garden. As you explore and take a closer look at the floral renditions,  you will find this is a visual feast for photographers. Also indulge in macro photography of individual flowers and aerial photography of the garden's exquisite floral arrangements.
There is something for the entire family to do in Dubai's Miracle Garden
The Dubai Miracle Garden is one of the kid-friendly attractions in Dubai, There are many attractions, from its butterfly garden to its trampoline park and play area. There are also enjoyable activities offered at the garden, from face painting to balloon twisting, for both children and adults.
The Dubai Miracle Garden is a Beautiful Location for a Wedding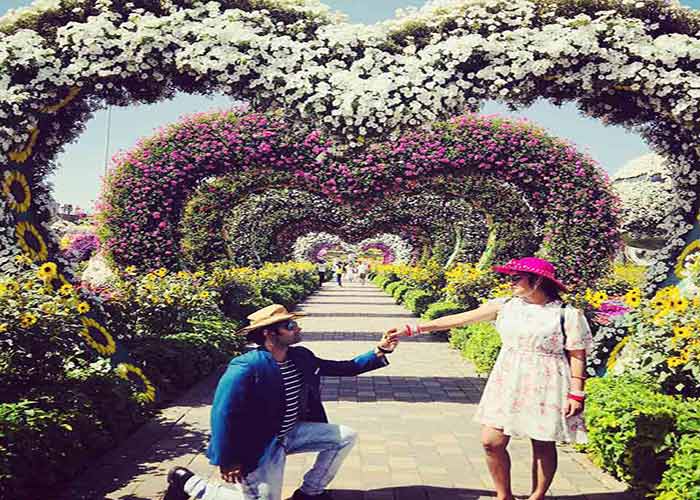 The Dubai Miracle Garden is a beautiful and one-of-a-kind wedding destination for those who want their wedding to be both memorable and romantic. Different wedding packages, such as the Floral Wedding Package and the Butterfly Wedding Package, Thanks to the gorgeous flower backdrop and the romantic mood, Dubai Miracle Garden is also one of the romantic places in DUbai for proposal.
E. Hotels Near Dubai Miracle Garden
Near Dubai Miracle Garden, you can pick from various hotels that range from inexpensive to opulent. Find the top five hotels close to Dubai Miracle Garden below, with rates and descriptions.
The Park Inn by Radisson Dubai Motor City is an affordable alternative conveniently located within a 10-minute drive of the Dubai Miracle Garden. The hotel has cutting-edge conveniences like a gym, an outdoor pool, and complimentary Wi-Fi. A typical room will run you about $300 AED per night.
Best Western Silicon Oasis Hotel in Dubai The Premier Inn Dubai Silicon Oasis is an excellent alternative for large groups, and it is only around 15 minutes from the Dubai Miracle Garden. The hotel has large rooms, a rooftop pool, and a restaurant serving a variety of cuisines. The lowest available price for a regular room is about $400 AED per night.
The Ghaya Grand Hotel, located 20 minutes from Dubai Miracle Garden, is an elegant choice for vacationers. The hotel has luxurious rooms, a spa, and an outdoor pool. The lowest available price for a regular room is about $500 (AED).
Hotel JA Ocean View, The JA Ocean View Hotel, is a beachfront property around 25 minutes from Dubai Miracle Garden, and it features breathtaking panoramas of the Arabian Gulf. The rooms are large, with a pool on the roof and a gym. The lowest available price for a regular room is about 600 AED per night.
In Dubai, the Ritz-Carlton Dubai is a beautiful and iconic hotel only around a half-hour drive from the Dubai Miracle Garden. There are luxurious accommodations, a spa, and a beach at this hotel. The cheapest rooms start at about 1,500 AED per night.
Conclusion
The Dubai Miracle Garden is a breathtaking and one-of-a-kind attraction that no visitor to Dubai should miss. The garden's exquisite flower arrangements, eco-friendly watering system, and commitment to environmental stewardship show how tourism can be both aesthetically pleasing and ecologically sound. If you are in Dubai and you love nature, take pictures, or are just looking for a beautiful place to visit, the Dubai Miracle Garden is a must-see. Also, visit the best attractions in Dubai in 2023.