Dubai being the present and futuristic hub of the tourism industry, is always bustling with energy. This fast paced city never comes to a halt. Amidst this continuously demanding lifestyle, the beaches of Dubai offer a fresh change and serve as the places where you go to take a break from the maddening race and enjoy a leisure day out with friends and family.
This desert city enjoys some of the most exotic shorelines of the Arabian sea in the Middle East. All the Dubai beaches are clean, nicely maintained and possess the amenities you would need to relax and refresh.
Though not all the beaches of Dubai are free and you might have to pay a small fee to enter your favorite beach, but with the world class maintenance and amenities provided, it all feels every bit worth it.
7 Dubai's most beautiful beaches
1. Jumeirah Beach Park
Running along the Jumeirah road, this beautiful beach park is your idea of fun for the entire family including kids. Along with the white sandy clean beach you get a line of green shady palm trees to relax in the shade, a kids play area where you can see them enjoying, and various barbeques and cafes to make your outing a perfect success.
Entry fee: Dhs5
Timings: Saturday to Wednesday- 7am till 11pm, Thursdays to Fridays- 7am till 11.30pm
Women exclusive days- Monday and Wednesday
Awards: Awarded the blue flag status
[Check Out: Best Parks in Dubai]
2. Mamzer Beach Park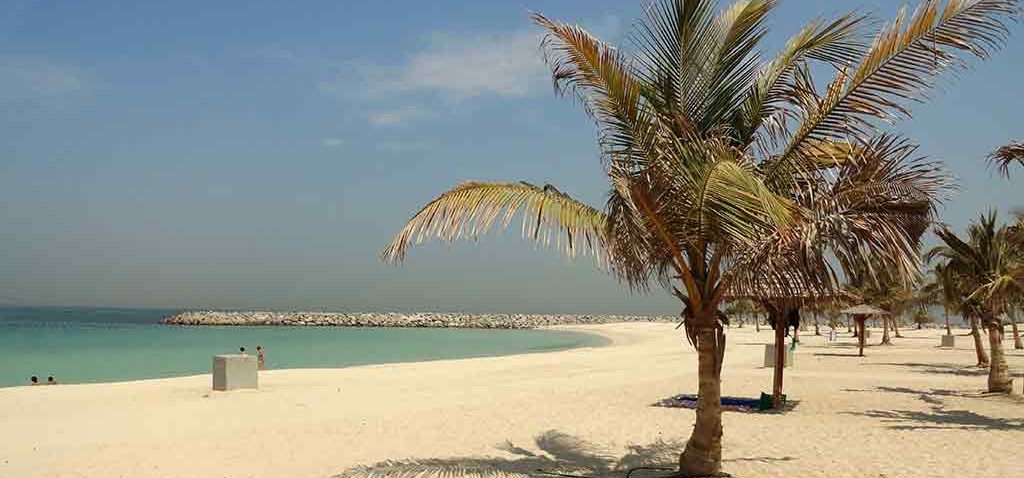 One of the most populates beaches in Dubai, Mamzer is a long stretch and offers various activities to ensure you entire day is filled with happenings. The entire stretch of coast is divided in five beaches and is equipped with every amenity including the shower rooms and changing rooms for the swimmers. While part of the area offers free access to the visitors, for the better part of the beach, you will have to pay a small fee. It has barbeques, 2 swimming pools, play area, cafes and even a grocery store.
Entry fee: Dhs5 if you walk in and Dhs.40 if you drive in
Timings: Sunday to Wednesday- 9am till 9pm, Thursdays to Saturdays- 9am till 10pm
Awards: Awarded the blue flag status
3. Kite Beach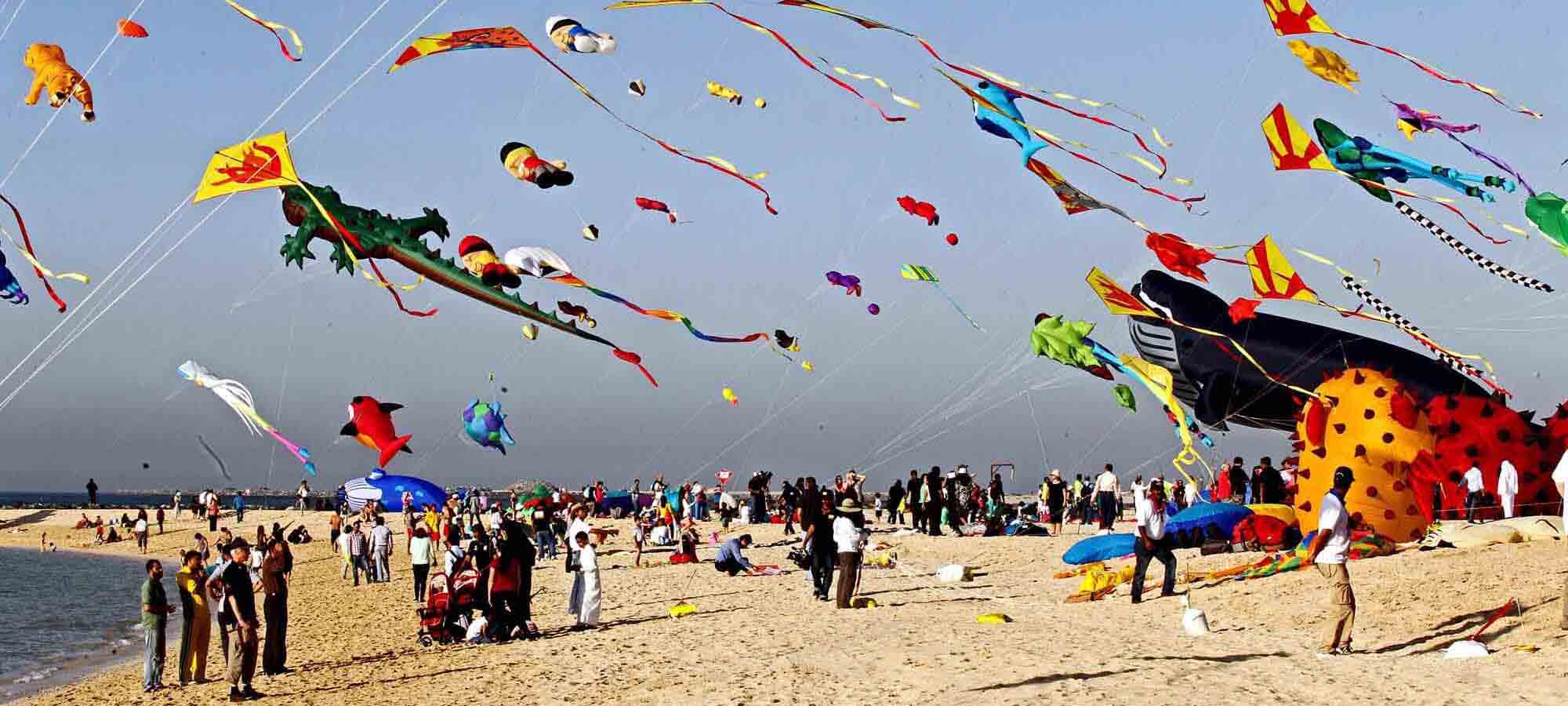 Watersport lovers populate this beautiful beach almost every day. The crystal sandy beach with clear water attracts tourists and locals alike. As the name suggests, kite surfing is the most loved sport at the beach along with volleyballs, and more. The shaded area offers a great place to relax after a good sunbath. But while you come here, ensure to bring along eatables and water as there are no shops and cafes around the place, only unadulterated views of Burj Khalifa and a quiet coastline.
Entry: Free
Location: 2D St., Umm Suquiem 1
4.Jebel Ali Beach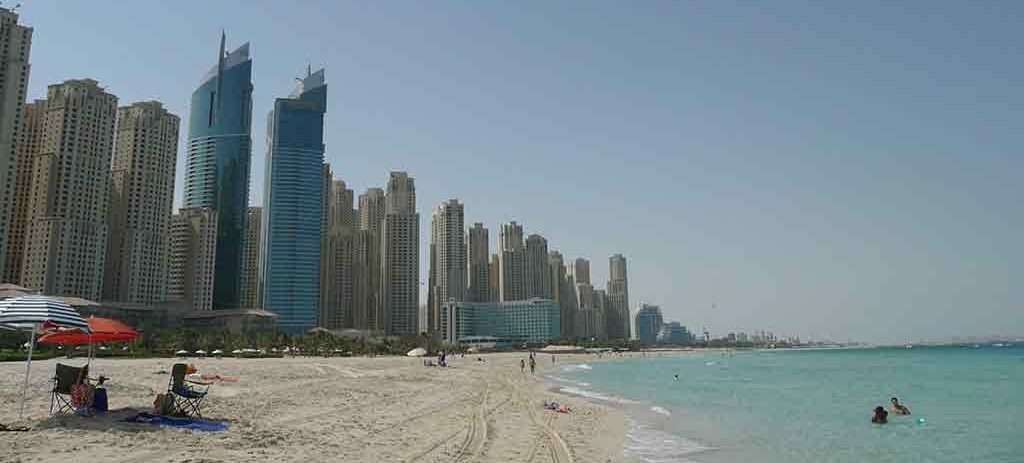 Encompassing a wide stretch, a bit out of the city, Jebel Ali beach is the perfect idea for an outing. Drive on the outskirts of the city, for a quieter experience. You can spot many kite surfers enjoying at the Jebel Ali beach's quieter coastline. Till some time back, the authorities were also allowing overnight camping at the beach to add on to your adventure experience, but due to the changing Dubai laws, it's always better to check it whether they allow it or not anymore.
Entry: Free
Location: Exit No.13, Sheikh Zayed Free Zone
5. JBR Beach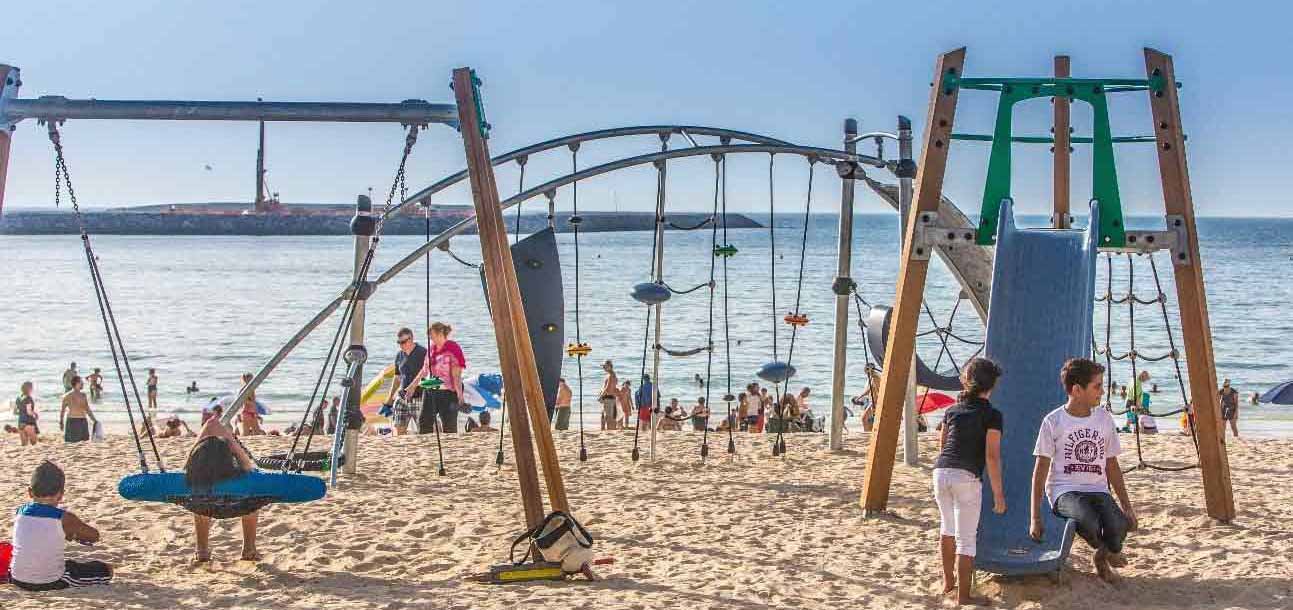 Amongst the few free beaches of Dubai, the JBR open beach is relatively cleaner and you can enjoy various adventure activities such as volleyball, surfing, jogging, cycling and more. Changing and toilet rooms are also available here along with a line of famous cafes and restaurants to satiate your hunger. This beach is also known as the Russian beach.
Entry: Free
Location: Al Sufouh Road, Jumeirah Beach Residence
6. Burj Beach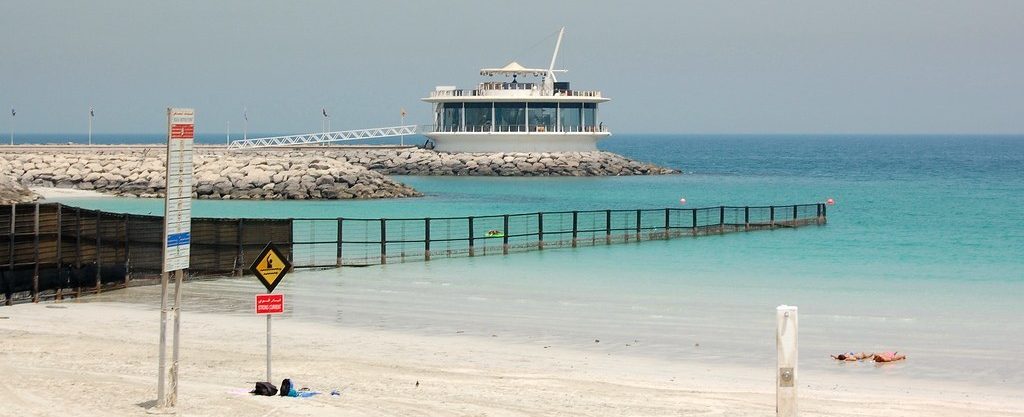 As the name suggests, this sandy beach offers a panoramic view of the Burj Al Arab. Loved by the sport lovers for its sandy stretch and open space to play beach volleyball and enjoy other activities, you can always spot a lot of young crowd at the beach. From the last information received, the beach area is getting upgraded and new eateries and amenities are being installed. A jogging track too is being made here along with other developments to make the beach more exciting for the visitors.
Entry: Free
Location: 3 Jumeirah Road
7. Ghantoot Beach

This is a very famous private beach managed by Golden Tulip hotel. Those who do not mind paying a bit higher fee to enter the beach, love this place. Located in the outskirts of the city, the beach is very beautifully maintained with various volleyball nets, barbeque amenities and a lot more. You can also access a number of pools, cafes and bars around the area. An exclusive watersports club at the beach offers banana boating, wakeboarding, waterskiing, and host of other activities. Team it up with an overnight stay at the Golden Tulip resort and you can spend an entire weekend in the bliss of relaxation.
Entry: Dhs100
Location: Ghantoot Exit 399, 2628
Tips for a great beach fun in Dubai
The beaches of Dubai are unlike the beaches of any other country. The free beaches here observe a strict code of moral conduct as per the Muslim laws and culture of the city. Here are few tips for a great beach fun in Dubai.
Refrain from extra skin and cleavage show.
Tiny and sexy bikinis are not advisable here and garners unwanted attention. You may also get fined.
Wear as modest bikinis on the beach as possible. For Muslim women, a special burqa bikini ( BURQINI) is readily available at the sports shops in Dubai.
However, private beaches allow the regular and tiny bikinis, as most of the private beaches are ruled by expats and foreigners.
Nude and topless sunbathing is a strict NO in Dubai, even on the private beaches.