Dubai may have an extreme and harsh climate, but thanks to the efforts of the Dubai Municipality, there are plenty of green spaces and parks available and open to the public, starting from inner city sanctuaries to sprawling parks where you can be driven around. We have prepared a list of parks in Dubai. It is a bit difficult to cover all the parks in Dubai in just one article, but this can surely give you a detailed insight into what you can expect in the parks mentioned below. Living in the desert is definitely not an excuse to miss out on the greenery.
Explore Most Beautiful Parks in Dubai
1.Al Safa Park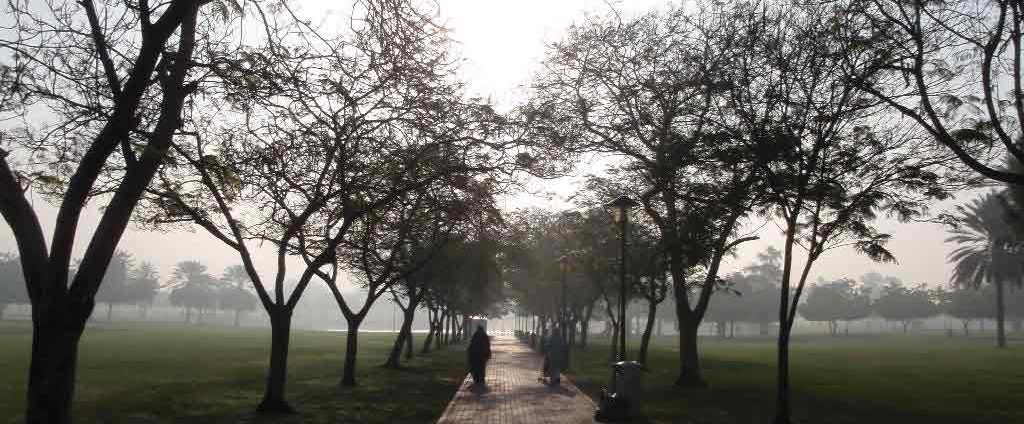 Created as early as 1975, this 150 acre is one of the urban parks in Dubai which are bordered by Sheikh Zayed Road, Al Hadiqa Street, 55th Street, and Al Wasl Road. The gate has 4 entrances from each border. The facilities are world-class which include playgrounds, fun fair, and washroom amenities, etc. It is an ideal picnic spot for families to spend their lazy Sunday afternoon/evening. It is also home to over 200 species of birds, and 16,924 types of trees and bushes. Grassy lawns which cover more than 80% of the park, coupled with a hill and a forest offer panoramic views of the park.
The park is also home to a waterfall which falls out of the hill and turns into one of the largest lakes where tourists and guests can enjoy a boat ride or you can jog along the perimeter of the park. Being one of the oldest parks still existent in Dubai still makes it to the hotlist of the best Dubai parks preferred for its greenery and relaxation amenities for guests and tourists.
2.Mamzar Beach Park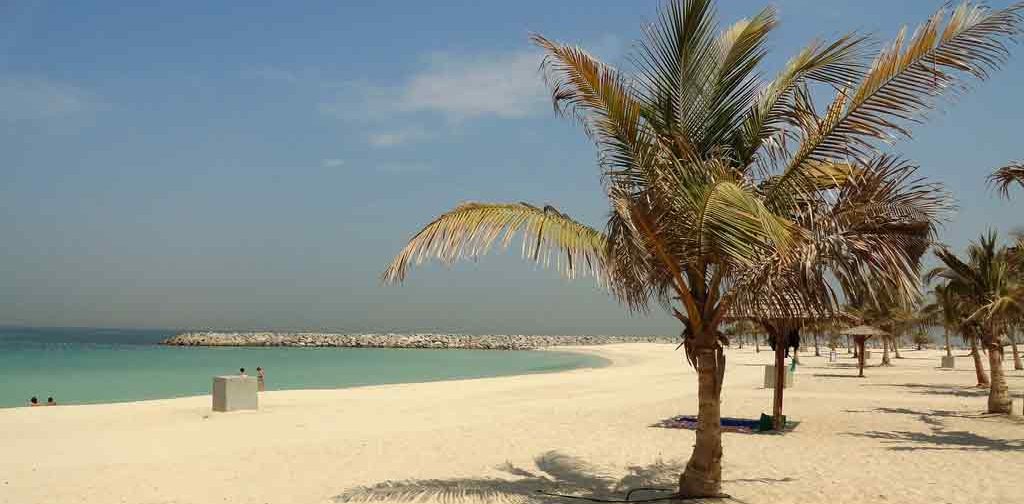 Sometimes also referred as Mamzer, it is one of the best beach parks in Dubai. The park is gigantic which plenty of open grassland and 5 beaches as well and a huge outdoor swimming pool. An ideal location for barbecues and picnics. Blessed with great facilities such as a small grocery store, wash facilities, small cafes, changing rooms, bikes for hire, children play areas and mesmerizing views over the Sharjah Lagoons. Trust us, the trip may be on the way to Sharjah, but it would be worth every effort you spend. It is quite famous among locals and it does get a bit crowded on the weekends, and sometimes even full. A small fee of 5 Dirhams is charged as an entrance fee and 40 Dirhams if you come along with your car. There are an additional 10 Dirhams for using the swimming pool.
One of the landmarks of this park is the five beaches along with 6000 cultivated plants, 1600 palm trees, and 300 coconut trees making it one of the lush and greenest parks in Dubai. One of the best locations for spending a chilled out weekend.
3.Al Barsha Park

A part of the Dubai Pond Parks project and one of the latest additions to the green environment in Dubai. The Al Barsha Park is very popular among locals in Dubai. There are giant ponds along with a walking or running track surround the boundary of the park which make it ideal for fitness freaks. You can even cycle around the perimeter. There are plenty of open spaces for kids to play and for you to relax and enjoy outdoors. There are tennis courts, football pitch, basketball courts, volleyball courts, and fitness machines and much more, etc. The park is built around the perimeter of the man-made lake which is visited very often by tourists and guests. So if you are looking for a weekend party or picnic, then you need not go beyond the Al Barsha Park, your search for a perfect weekend destination ends here. In addition to that, every Saturday evening, the park hosts a night market which attracts a lot of people around the city.
4.Mushrif Park
Located on the Khawaneej Road, this is one of the parks in Dubai which is worth a visit. Home to acres of woodland mainly because it was originally a ghaf forest – which is one of the finest bird watching parks in Dubai. The park is home to a small zoo with goats and you can go around the park on camels or ponies. There are train rides and swimming pools which can be used at a nominal rate. There are small houses, replicas from all around the world. Sounds exciting and crazy right? Do check out the English house and the Red Indian Teepee House. There is a nominal fee associated with entering these houses. But it is a great place for family picnic spots or just strolling under the warmth of the shady trees. There are several areas allocated for barbecues, so you can be rest assured of spending a perfect Sunday brunch. The collection of trees and indigenous plants is quite unique in this park as found mostly in the city. It is approximated that more than 100 species of trees are planted. Other amenities include sports courts, tracks, equestrian center, etc. giving you a comprehensive park experience.
5.Creek Park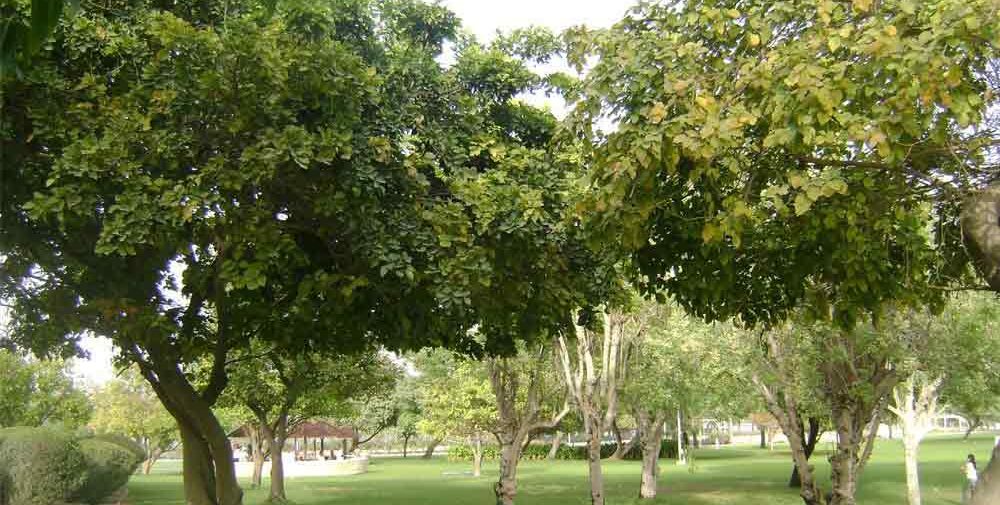 Located in the heart of the old city on the shores of the Dubai Creek. It is definitely one of the oldest Dubai parks and is as popular as it was in those times. The best part of the park is that the cool breeze from the creek will be a big benefit in the hot climate. You will find loads of greenery and plants coupled with mazes and a nature trail. There are barbecue allocated areas, children play areas, children city center, and the Dubai Dolphinarium. The other amenities in the park include the cable car ride, miniature train ride; you can even rent a bike or visit one of the small cafés. The park authorities permit you to bring your own food. A walking strip is built along the shores of the creek which is ideal for roller skating as there is a large stone amphitheater area. You will have to pay a nominal fee for entry even though you may have booked tickets to other entertainment areas in the park.
6.Safa Park 2

This park is a much smaller, quieter, and a cute little park in comparison to the gigantic safa park. Blessed with amazing and beautiful lush green spaces and a play area for kids. Located near the Kangaroo Kids Nursery near the 22nd street on Al Wasl Road. This is definitely one of the smaller parks in Dubai, but you can surely not get a lush green background with a small crowd anywhere else in Dubai.
7.Za'abeel Park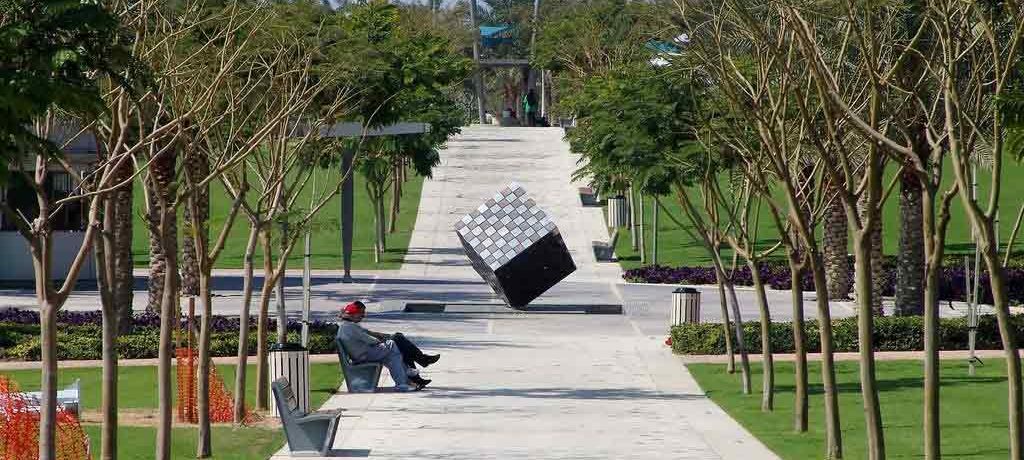 Za'abeel Park is one of the largest parks in Dubai. It is placed between the Za'abeel area and the Karama. The park is very busy during weekends mainly due to proximity to the residential areas in Dubai. The park is split into two halves by the Sheikh Zayed Road and is connected by road bridges. There are various activities such as the StarGate children's entertainment zone, open area for kids to play, a lake with boat ride facilities, giant sculptures, a large amphitheater, allocated areas for barbecue and beautiful flora and fauna. It is also home to over 10,000 trees including 3,000 palms. The weekend is the best time to visit this park and your family would definitely have a great time considering the numerous activities to indulge in. This park was selected as the first location for the installation of a Smart Palm keeping in mind the Dubai Expo 2020's theme of "Connecting Minds, Creating the Future". Being a technology driven world, the park is equipped with Wi-Fi facility and a speedy phone charging point. So you can relax and chill out in the park and enjoy your weekend.
8.Dubai Miracle Garden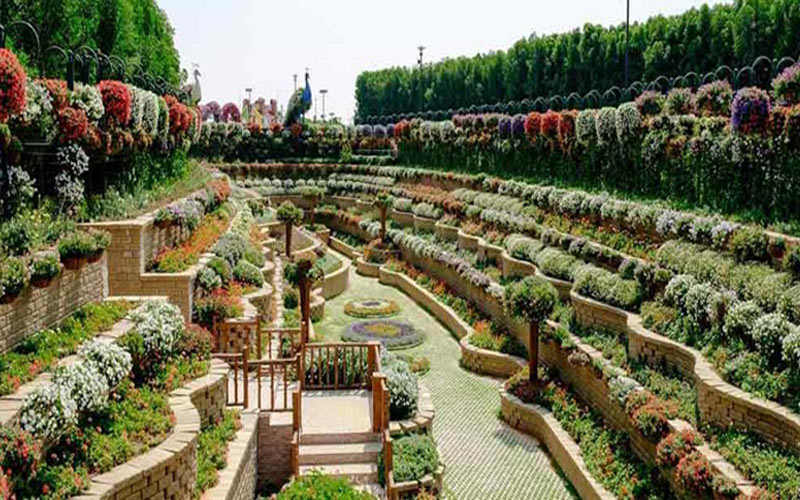 This 72,000 sqm flower garden is one of the best exhibitions of flora in Dubai. You will feel a different world when you go for early morning strolls. You will have to search really hard to find a bee in spite of having close to 45 million flowers. Yes, you heard it right. These 45 million flowers will surely enlighten any mood and are you are surely going to be blown away by the color. The park has been voted in a poll in the UK's Daily Telegraph as one of the modern alternatives to the Ancient World Wonder – The Hanging Gardens of Babylon. This is definitely one of the must-see attractions in Dubai. The use of colors is extensive and you would surely feel being in a different world once you visit this park. The park has a nominal entrance fee. The Dubai Butterfly Garden is right next to the Dubai Miracle Garden and is also one of the recommended places to visit.