Cafes have become the new hotspot for the next generation, and with the boom in social media and its influence, these cafes have made a mark not just in the food but also the ambiance. Dubai is a hot spot for tourists worldwide; there, you will find some must-try cafes that will soothe your taste buds and give you the best experience to showcase to your social followers.
Here is a roundup of the cool cafes in Dubai; do read for more information.
1. Panini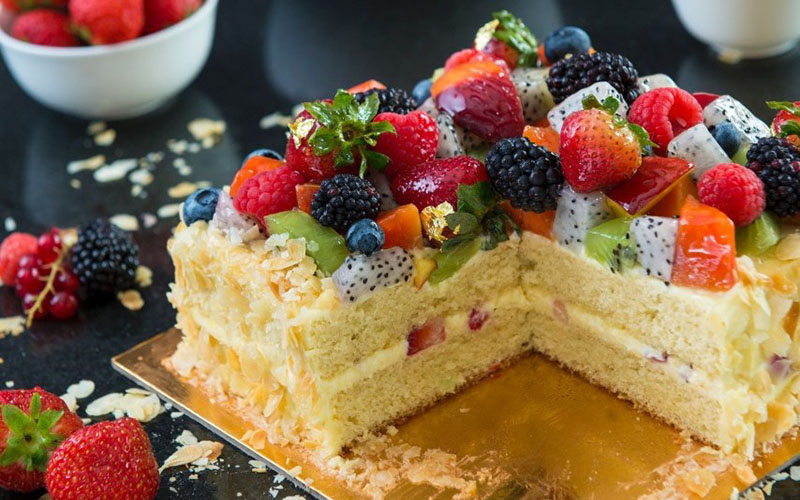 Image Credit: hyattrestaurants.com
This traditional delicatessen features indoor waterfalls and tropical plants and serves up coffees, juices, pastries, and gelato, among other treats. Panini offers various delicious gourmet foods, including their famous strawberry cheesecake, chocolate truffles, Italian olive oil, premium chocolate spreads, holiday goodies, and more. This café entices all kinds of eaters by adding gluten-free meal options and vegan delicacies to the menu. The cuisines cover European, Deli, Mediterranean, and Café.
Timings: 8.00 AM- 12.00 AM
Location: Sheikh Rashid Rd Grand Hyatt Dubai, Dubai 7978 UAE.
2. Sikka Café- City Walk
Image Credit: jumeirah.com/
SIKKA Café, the first café in Dubai, features a menu that combines traditional Emirati fare with Indian and international flavors. The menu was designed to go well with the signature Karak tea and highlights tasty but not overpowering pairings, paying homage to Dubai's diverse ethnic heritage. The cuisines offered here range from Middle Eastern, Arabic, and café styles. Special diets like Halal, Gluten-free meals, and vegan options are also available.
Timings: 9.00 AM- 12.00 AM
Location: City Walk Unit 12-02, Dubai, UAE.
3. Forever Rose Café
This 2D monochromatic space is an aesthetic feast hub, making it a delight to take a picture there. Their colorful sweets pop against the stark white and black decor. The café is straight out of a fairytale and many of the dishes on the menu take names from the flowers. Go for the high tea, which is presented in a miniature dollhouse and includes a variety of bite-sized sweet and savory delights; be sure to have your cameras ready for the moment of reveal. There is only one other splash of color here, and it is not even necessary! Every table has one red Forever Rose centerpiece!
Timings: 8.00 AM- 12.00 AM
Location: Boxpark, 467 AL Wasl Rd- Al Wasl- Dubai UAE
4. Lounge Café Italiano
Food and hospitality are two of our greatest joys; this café sees them as a way to honor and share many different cultures. An innovative take on the flavor of Italian, Arabic, Indian, Japanese, and Asian fusion cooking, prepared with a focus on using the freshest ingredients and presentation. Crisp, delicious, and of the highest quality. Sample five uniquely delicious cuisines and let your taste buds take you on an adventure. The cuisines for food lovers are Italian, Mediterranean, European, Central European, Romana, Lazio, and Sicilian, among many others. Vegan and Halal foods are also available.
Timings: 8.00 AM- 1.00 AM
Location: 7 Academic City Road, Ground Floor, Arenco Tower Dubai Media City, Dubai UAE.
5. Brambles
The Citadines Metro Central Hotel & Apartments in Barsha Heights is home to Brambles, a charming bohemian café. Whether you are in for a light breakfast, some organic pastries, or a hearty dinner, you will find it all here. The Avocado Pizza and the legendary Kale Brownie, found at Brambles, are soon to become local favorites. Brambles will revolutionize your dining experience with its straightforward, high-quality fare. The café offers vegan and gluten-free foods for its patrons.
Timings: 6.30 AM- 9.00 PM
Location: Citadines Metro Central Hotel Apartments Barsha Heights Entrance, Dubai, UAE
6. Saya Brasserie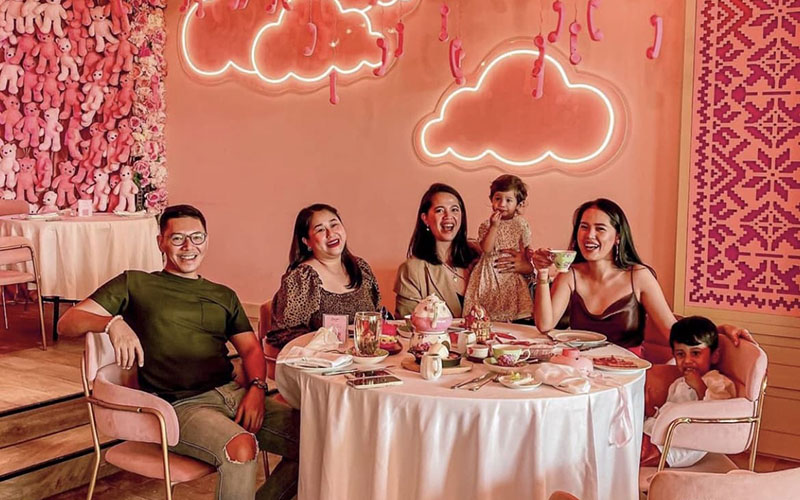 Image Credit: sayacafe.ae/
Saya Brasserie, which has multiple locations throughout the city, is awash with feminine pinks and floral fancies. Maximalist rooms with flower-filled canopies provide a lively setting. Dine on a pink burger, a lavender bubble tea, or a blue Spanish latte while striking a pose next to plastic flamingos. This trendy cafe even offers a milk cake with dripping frosting, perfect for Instagramming. There are regular customers here due to its monochrome illustration setting.
Timings: 9.00 AM- 1.00 AM
Location: Wasl 51, Al Wasl Road, Jumeirah, Dubai, UAE.
7. The Choco Monarch
The Choco Monarch Coffee Shop is both a café and a chocolataria; it is a concept establishment. Since 2017, Choco Monarch has been the go-to spot for those in search of delicious and beautifully presented French crepes, waffles, pancakes, freshly baked cakes, and an assortment of hot and cold beverages. The café has vegan options available too.
Timings: 10.00 AM- 10.00 PM
Location: Al Rigga Road, 2nd Level, SC-34, Al Ghurair Center, Dubai, UAE
8. Revo Café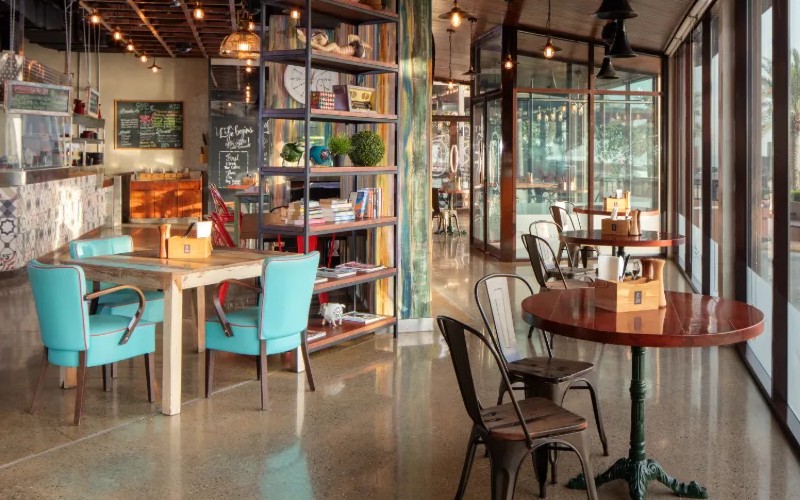 Image Credit: anantara.com/
If looking for a spot to eat with stunning views over the water and excellent service? Look no further than Revo Café. Their philosophy is to provide a comfortable and familiar setting to enjoy delicious, freshly prepared food. Their coffee is organic, locally roasted, and brewed to order, and all the other ingredients are of the highest quality. Pastries, gourmet sandwiches, and other small warm nibbles are plentiful. The café is known for European cuisines and offers vegan and gluten-free options.
Timings: 8.00 AM- 10.30 PM
Location: Al Sufouh Rd, East Crescent, Anantara The Palm Dubai Resort, Dubai, UAE
9. Daily Dose
High-quality handmade coffee, delicious cuisine, friendly service, and a contagious spirit are the cornerstones on which DailyDose Coffee Lounge rests. Every cup and serving of DailyDose is an opportunity to spread joy and reimagine the café experience for the consumers. Because who does not need a little cheering up now and then? This café also gives options for vegan and gluten-free patrons.
Timings: 8.00 AM- 12.00 AM
Location: 170 Jumeira Road, Dubai, UAE.
10. Seva Table
The atmosphere at Seva Table, a vegetarian restaurant in the heart of Jumeirah's tranquil green park, is peaceful and zen-like. Seating is at rustic wooden tables with colorful cushions and a culturally diversified atmosphere; from there, you may peruse the vegan menu. This unassuming jewel is also a therapeutic haven, with gong healing and yoga offerings.
Timings: 8.00 AM- 10.00 PM
Location: Villa 5-1 B 27 B St- Jumeirah- Jumeirah 1- Dubai UAE.
Conclusion
Dubai has become a global hotbed for every attraction that any tourist might seek; get indulge in the numerous cafés that offer a variety of cuisine options with great ambiance.