It is no secret that Indian food is among the world's most varied and adaptable cuisines. One of the most popular and mouth-watering Indian delicacies is the Biryani. In 1398, a Turkic-Mongol conqueror brought it to India. It is often discussed how biryani is more than just a dish; it evokes a specific emotion in those who like it. Some of the best biryani can be found in Dubai, not just at the world-famous Hyderabad eateries. Rice, chicken, vegetables, and spices create a deliciously fragrant dish popular in Dubai.
Let us indulge in some of the best biryani houses in Dubai.
1. Jaffer Bhai's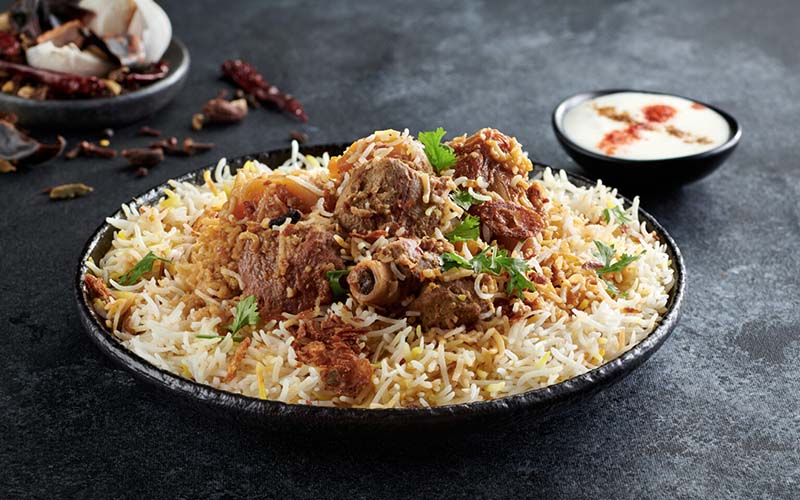 The best biryani in Dubai can be found at Jaffer Bhai's in Al Karama; the restaurant imports its ingredients from Mumbai. An exquisite combination of onions, spices, chicken, dry fruits, and long rice, this dish will take your breath away. The Biryani at Jaffer Bhai, which costs AED 25 and above, is delicious and well worth the price. There is plenty of parking for vehicles of all sizes, and its convenient location just adjacent to the Dubai Healthcare City Metro Station makes it a top choice for visitors. The restaurant's service is just as excellent as the quality of its food.
Timings: 11.30 AM- 12.00 AM
Location: 19th Street- Zaa'beel St- Al Karama- Dubai UAE.
2. Salkara Restaurant
This Malabari eatery serves some of the best dishes from the '70s and '80s. Salkara, a restaurant in Al Quasis, is regarded as having finest South Indian food in all of Dubai. The Biryani at Salkara, is just as well-liked as the restaurant's south Indian flare. Even if you are not a fan of heat, you will like the silky consistency of Salkara's biryani. Biryani at Salkara is the best, especially when traveling with kids. The restaurant's signature dish is a succulent biryani, available at numerous locations across Dubai.
Timings: 7.00 AM- 12.00 AM
Location: Food Court, Lulu Hypermarket, Qusais, Dubai UAE.
3. Pak Liyari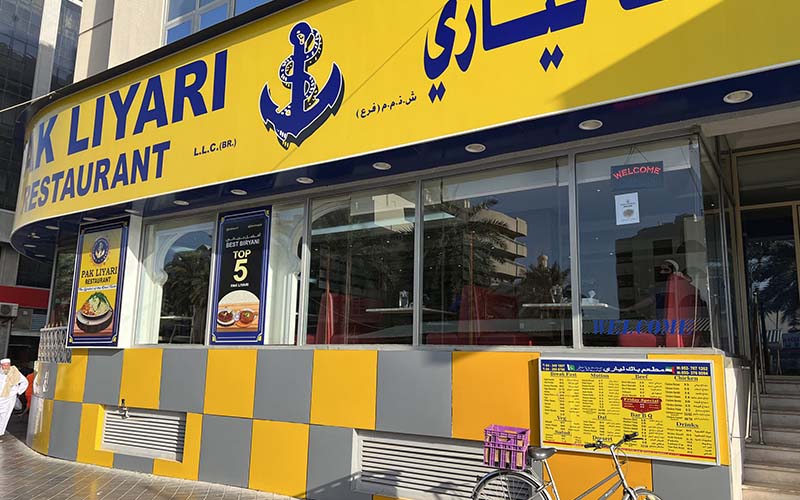 Image Credit: pakliyarirestaurant.com/
Pak Liyari, a Pakistani restaurant in Dubai's Meena Bazar, is famous for its Mutton Biryani. This restaurant is excellent for a cheap, cheerful night out with the family. There is no doubt that Pak Liyari is the best biryani restaurant in Dubai and deserves to be ranked first. The restaurant has comfortable seating and an energetic atmosphere. If you have biryani, make it Pak LIyari's Mutton Biryani with additional masala, the restaurant's signature dish. You can also get chana daal, brain masala, keema, mutton tikka, and bhindi in addition to the Mutton Biryani.
Timings: 11.00 AM- 1.00 AM
Location: Opp Astoria Hotel, BDB Building Near Al Fahidi Street, Bur Dubai, Dubai, UAE.
4. Grub Shack
Has anyone here ever heard of Rubber Biryani? This also sounds strange to us. This Rubber Biryani from Grub Shack in Dubai is a fan favorite. Grub Shack offers a unique alternative to the eateries above by serving a wide variety of Goan cuisine. If you like biryani, you must try the GS Special Biryani. Other types of Biryani that you can have at Grub Shack include the Peri Peri Biryani and the Tawa Tandoori Biryani. You will not find another restaurant like Grub Shack in Dubai, and you will have a great time there – thanks to the laid-back atmosphere and varied menu.
Timings: 12.00 PM- 11.30 PM
Location: Building no. 41, near Mediclinic City Hospital- Umm Hurair 2- Dubai Healthcare City- Dubai UAE.
5. Saif Restaurant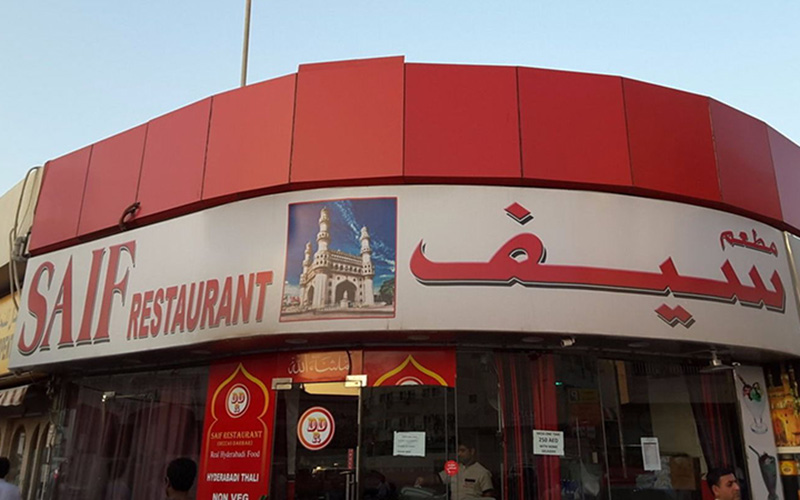 Image Credit: hidubai.com/
In search of a Hyderabadi eatery in Dubai? The most excellent place to have authentic Hyderabadi cuisine in Dubai is, without a doubt, Saif Restaurant. Call the restaurant ahead of time to avoid disappointment in confirming your reservation. Even if you have a reservation, you may still have to wait for a few minutes – all due to its extreme popularity. There is a large table with seats of seven to ten people and comfortable seating around the restaurant. Saif Restaurant's Hyderabadi Chicken Biryani is a must-eat dish. Chicken Curry, Talawa Ghost, and Mutton Biryani are just a few other options on the menu. Make room for Quabani Ka Khala, a delicious dessert. Although the service and wait times are ordinary, the fabulous array and taste of cuisine will cover up for the rest.
Timings: 5.00 AM- 1.00 AM
Location: 18 42 A St– Hor Al Anz- Deira, Dubai, UAE
6. Student Biryani
Adding to the list of great biryani joints in Dubai is this Pakistani restaurant. In many parts of the world, the biryani at Student Biryani is often regarded as the most flavorsome. This spot is popular with young people because of its breakfast offerings. Even the service and facilities at the restaurant will keep you gleeful. Chicken and lamb biryanis are two of Student Biryani's most popular options. They have Haleem and Mutton Paya, which are just as good as the biryani. Every dime you spend at this restaurant is well-spent due to the generous portions.
Timings: 11.00 AM- 12.00AM
Location: Kuwait St, Al Karama, Dubai
7. Sthan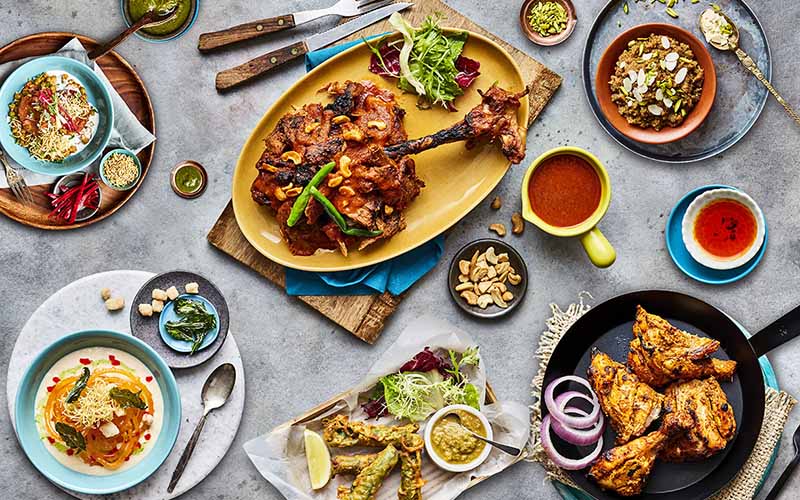 Image Credit: sthan.com/
As one of the premier fine-dining establishments in Dubai, Sthan always receives high praise from patrons.. Visitors can sample dishes from India, Pakistan, and Afghanistan. Since it's an upscale restaurant, you can expect excellent service and delicious food. The restaurant's must-try specialties include Sindhi Biryani, Chicken Tikka Lababdar, Machi Ambarsari, Kadak Palak Chat, and Chapli Kebab.
Timings: 12.00 PM- 11.45 AM
Location: 68W5+WF- Al Karama- Dubai- UAE.
8. Arsalan
Arsalan is one of the best locations to have biryani in Kolkata, and it is worth the trip from anywhere in the city. Arsalan Restaurant & Caterers, once located in Dubai's Bur Dubai neighborhood, now has a location in Al Karama, where they serve delicious biryani with an Awadhi twist. They have a high-end eatery where you may bond with loved ones over excellent meals. This is the place to try when craving food more typical of Kolkata and not just any food. This milder, more aromatic version of Awadhi biryani will leave you with a lasting impression. Chicken Chaap, Egg Rolls, and Kebabs are all available, in addition to the Biryani.
Timings: 10.00 AM- 12.00 AM
Location: Shop no. 3 &4, Shamma Building Behind Park Regus 6A St, Al Karama, Dubai, UAE.
9. Biryani Pot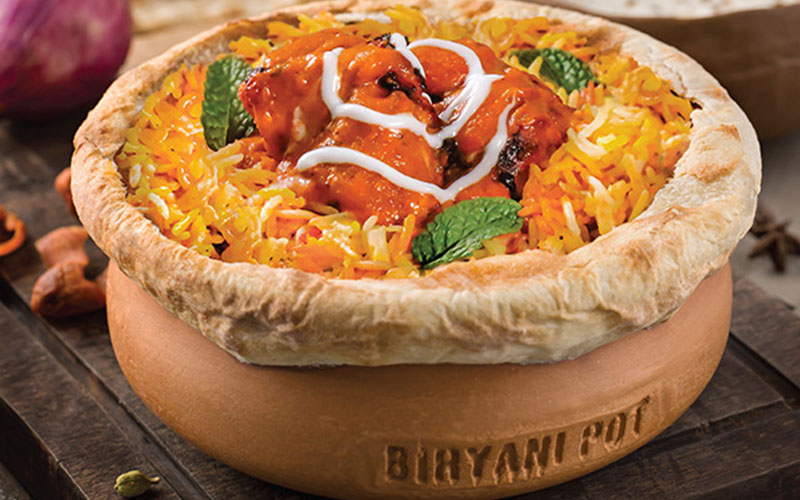 Image Credit: biryanipot.com/
Finally, the wait for handi biryani is over at Biryani Pot!. You can find the fantastic Biryani Pot restaurant adjacent to the convenient Irani Supermarket. Everything, from the quality of service to the cuisine, is maintained at the highest level. The restaurant will give you a welcome drink as you walk through the door. When you visit, take advantage of the restaurant's ongoing dining specials. Customers will not have to wait long for their food because it is provided swiftly. Not only is the food fantastic at Biryani Pot, but also the atmosphere, the service, and the general vibe of the place.
Timings: 11.00 AM- 12.30 AM
Location: Jumeirah Street, Next Irani Supermarket- Dubai, UAE
Conclusion
We have listed nine of the most happening biryani places in Dubai to satisfy the taste buds of locals and tourists. There are plenty of more restaurants in Dubai that have the perfect balanced-out biryanis and other dishes to fulfill your appetite.