You have been roaming around the streets of Dubai the whole day, fascinated by the lofty buildings, grand monuments and the grandeur of the whole place. But is it time to wind up and go to sleep? No, Dubai looks even better during night time as it gets illuminated with the sparkling lights. What's more there are several things that you can do during night time.
Here is a list of the 5 best places to visit in Dubai at night
1.Overnight Desert Safari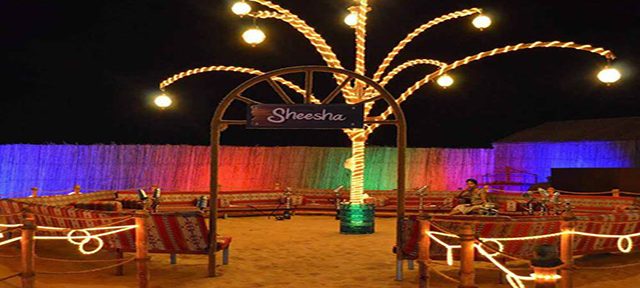 Desert safaris usually begin during the evening time and extend for 3-4 hours. This means you are back in your home or hotel room by night. But if you want to try something different, you must go on an overnight desert safari. Enjoy barbecue while watching the sunset and take a tour of the desert on a camel. Apart from these activities, you also get the chance to enjoy shisha, watch some graceful belly dancing movements and savour traditional Arabic as well as international cuisine. The best part of the desert safari tour is that you will get the direct experience of the ancient Arabic culture while staying at the Bedouin styled tents. However, do not worry about comfort. Although you will be staying in traditional Arabic camps, you will receive every luxury that you would receive in a hotel. This safari ends with a scrumptious breakfast while enjoying the warmth of the rising sun.
2.Yachting Dubai
Yachting Dubai is a place where you get luxury yachts for rent. Yachts are great places to have a party or perhaps a romantic dinner night. So, if you are on a honeymoon, take your wife for an overnight yachting trip. You can arrange for a lovely candlelight dinner and also enjoy the various sights of Dubai all night. But cruising at night is not just for romantic couples. You maybe alone, with a group of friends or your entire family, yachting would be great fun. There are several tour companies that arrange overnight yachting trips for people. You would be able to enjoy fishing, snorkelling, dolphin watching and such other wonderful activities. But what takes the cake is the fact that you would get to sleep under the stars. This is not something that you would be able to do on a regular basis. So, take this opportunity when you are in Dubai and rent a yacht for an overnight stay or two.
3.Dubai Clubs
Although Dubai is deeply rooted in culture and traditions, it is not a place that has not been touched by modernity. Dubai is a city that moves along with the changing times and the night life of this place is no less than any city in the western countries. Chic and trendy bars and clubs have emerged in several places around Dubai. Be it Boudoir, the Apartment Lounge & Club, the 400 Club or the Cavalli Club, each club in Dubai is known for its trendy decor, its popular music and the super delicious food. Some of the bars like the Uptown Bar at the Jumeirah Beach Hotel or the Buddha Bar are also some of the places you should go to if you want to know more about the night life of Dubai. An important thing to remember is that although some of the clubs and bars are not very strict about the dress code, most of them are. So, it is important to respect this and try to know what is appropriate and what is inappropriate before you go club hopping in Dubai.
4.The Dubai Fountain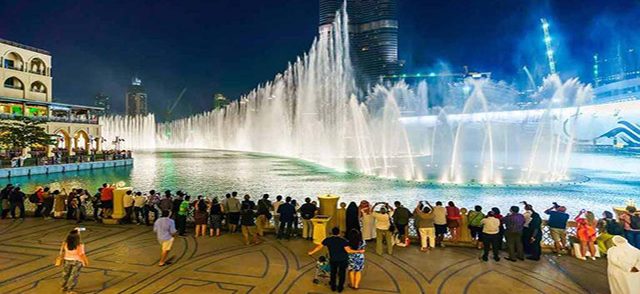 This is a not a thing that would take your entire night but it would definitely be one of the most memorable parts of your trip. So the Dubai fountain is something you should not miss. Situated right outside the Dubai Mall, the Dubai fountain is the largest fountain in the world. But that is not the only thing that makes it one of the most famous tourist attractions. Every day, starting from 6 in the evening till 10 in the evening on weekdays and 11 on weekends, you would be able to see a five minutes water, light and music show. This happens every 10 minutes.
The sight of the fountain dancing on the tunes of the music is sure to fill your heart with joy. You can stand near the fountain to watch the show or reserve a seat at one of the restaurants to enjoy the show. It is a guarantee that one view of this fountain show would not be enough. You would definitely be back for more!
5.Dubai Marina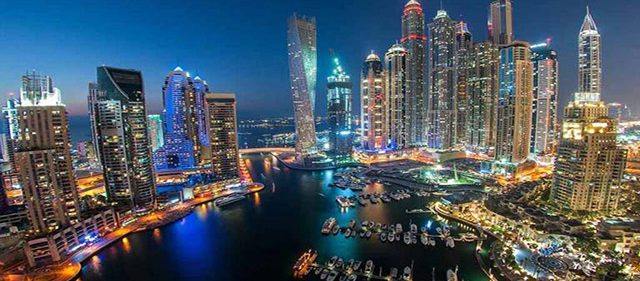 The Dubai Marina is a part of the new Dubai and is also known as the most luxurious and the finest manmade marina in the world. Surrounded by some of really tall buildings and structures, the Dubai Marina is one of the posh localities in Dubai. It is also surrounded by a landscaped public walkway, where you can jog, run or have a leisure walk. Although it is perfectly alright to visit Dubai Marina during day time, the best time to visit this place is at night when numerous lights adorn the whole place. You can either try the dhow cruise or dine at one of the many restaurants at the Dubai Marina to enjoy this beautiful place.
So you see, the nightlife of Dubai is not boring as you might have imagined. There is something for people with varied kinds of interests. So, if you are in Dubai, do not miss an opportunity to try one of these places during night time.