The much-talked-about Dubai Expo 2020 kicked off with a bang on October 1, 2021. It was initially scheduled to take place in October 2020 but was postponed by nearly a year due to the COVID-19 pandemic. This grand extravaganza will run until March 31, 2022. More than 25 million visitors are expected to visit this fantastic event during its six months run.
About Dubai Expo 2020
World expos are held once every five years, and the main goal of the event is to offer an international platform for different nations to come together, collaborate and share ideas. Dubai Expo 2020 is the first mega spectacle in the Middle East, North Africa, and South Asia (MENASA) region. Another feather on Dubai's cap is that it is also the primary one hosted by an Arab nation. An event of this magnitude provides an excellent opportunity for the countries to display their best in technology, art, science, food, and culture.
More than 75 events are scheduled to be held at the expo every day, such as concerts, sporting events, parades, fashion shows, national day celebrations, cooking workshops, and pop-up events. The entire family can enjoy this event, and there is something in store for every age group. The exhibit's top theme is" Connecting Minds, Creating the Future," focusing on three sub-themes-Sustainability, Mobility, and Opportunity. The venue is divided into the above three districts, and each of them will have a dedicated pavilion. Listed below are the best things to do in Dubai Expo 2020.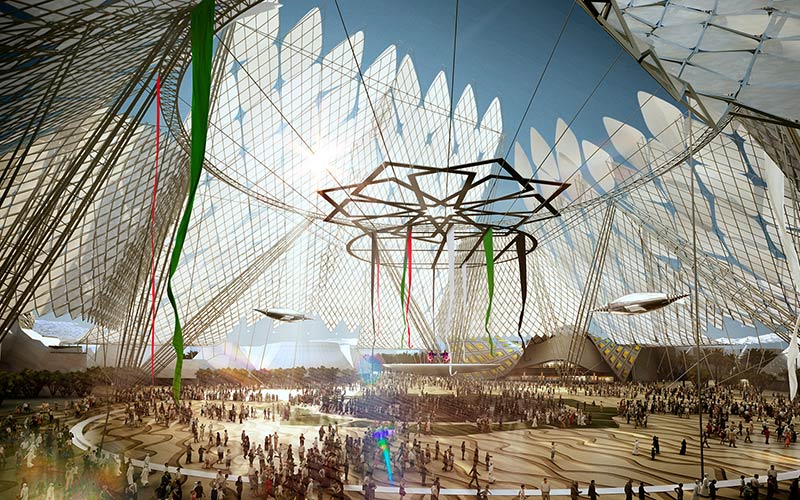 Things to do in Dubai Expo 2020
Feast your eyes on the staggering venue of Dubai Expo 2020 spread across 438 hectares of area. It looks magnificent and resembles a flower petal when seen from above. Al Wasl Plaza is a striking translucent dome situated at the center of the venue. It connects the three large districts and is replete with waterfalls, lush greenery, and beautiful art installations.
The expo coincides with the golden jubilee anniversary of the UAE, so all the celebrations will be extra special.
More than 200 restaurants and over 50 F&B outlets are available to serve local delicacies, street food, and haute cuisine, so the event is also a paradise for foodies.
All the shopaholics can buy an assortment of local and international products, including clothes, home decor, stationery, handicrafts, cosmetics, toys, organic food products, and more.
You can also learn more about past expos, their history, and their impact on the world.
Garden in the Sky is an observation deck 55 meters off the ground from where you can enjoy fabulous views of the venue like the dome, shamianas, pavilions and much more. It is one of the most awesome Dubai Expo attractions.
The UAE pavilion is undoubtedly one of the largest pavilions. It is designed by renowned- designer Santiago Calatrava and appears like a falcon in flight.
Head to the India pavilion and celebrate the nation's rich cultural heritage. Be it food, festivals, or Bollywood; you will find everything amazing from the country here.
The expo logo is exceptionally unique and inspired by a gold ring that is more than 4000 years old and dates to the Iron Age.
You can participate in the People and Planet program, learn about issues and challenges on Earth, and discuss steps to enhance our future and make the planet a better place for all living beings.
Travel to the future in a time machine at the Egypt Pavilion.
At the US pavilion, see the imposing SpaceX Falcon rocket, other exhibits, and artifacts, such as pieces of rock from the moon and the US Mars Rover.
Interact with artists, Emirati storytellers, and artisans and gain an insight into the Arabian culture and tradition.
Set off on an exciting sight-seeing journey on board the Expo Explorer train. Though it looks like a regular locomotive, it runs on compressed air and is entirely pollution-free. Can this be the answer to sustainable transport in the future?
Get an Expo passport from the official outlet at the venue and get it stamped at every pavilion you visit. This is one pretty keepsake that you will treasure all your life.
The Italy Pavilion showcases a five-meter-tall 3D printed copy of Michelangelo's David combining art, history, and innovation.
Witness a mesmerizing multi-sensory show of indoor rainfall created out of thin air at the Netherland pavilion.
Click a photo or selfie in Emirati astronaut Hazza Al Mansouri's spacesuit at the Terra Auditorium.
Have you ever dreamt of designing your aircraft? If yes, fulfill your wish at the Emirates Pavilion and see some futuristic aircraft cabin designs.
Head to the French pavilion and visit the famous cathedral – Notre-Dame de Paris. Learn about the history, construction, materials, techniques, and other fun facts through physical scenography and augmented reality experiences.
The all-women Firdaus Orchestra will perform to some foot-tapping numbers under the expert direction of Oscar-winner musician A.R. Rehman.
Hop into a horizontal elevator that is rope less and uses magnetic technology to run. The icing on the cake is that it not only moves up and down like a traditional elevator but also side to side.
Get up, close, and personal with cute robotic penguins at the Monaco Pavilion.
Travel around the globe on a classic Venetian carousel featuring hand-painted images of past World Expos.
Enjoy stage shows, digital theatre, concerts, music, and dance routines at Mister Scrap's Scrapyard Idol Mascot show. Create your virtual avatar in the interactive booths and have a blast.
The expo has engaged over150 robots who will perform various tasks such as greeting you, clicking pictures, performing miscellaneous chores, and providing food and beverages.
Watch the marvelous H2O Orchestra Concert, where musical instruments are made of reused water-related materials, such as bottles, hoses, drums, pipes, and funnels. This is a unique way to create awareness about the precious commodity – water.
Conclusion
The Dubai Expo 2020 gives you a once-in-a-lifetime opportunity to experience the best of several nations under one roof. The above list scratches the surface of the remarkable things to do at the expo. Book your tickets and enjoy this event to the fullest.