December to February are the coldest months in many parts of the world. But February is one of the best months to visit Dubai as the weather is delightfully pleasant, and most of the peak tourist season is over by January. It is also the time when you can enjoy a bevy of outdoor activities, various festivals and sporting events like the Dubai International Jazz Festival, Dubai Food Festival, and Dubai Tennis Championship. It is also the season of love, as Valentine's Day falls in February, so you can consider going on a romantic vacation with your partner.
Here is a guide on some of the most amazing things to do in Dubai in February 2023.
Miracle Garden
Dubai Miracle Garden is a breathtaking oasis in the middle of the arid desert of the city. Spanning an area of 72000 square meters, it is home to over 50 million flowers in unique colors and hues. This extensive natural flower garden consists of floral pathways, archways, and installations of famous characters, monuments, and people made entirely of flowering plants. It also has a butterfly park, a souvenir store, and a photo booth.
Desert Safari
One of the great outdoor activities that you can enjoy in February is an expedition to the heart of the red Arabian sand. Sign up for a desert safari and spend a day discovering the secrets of the desert. Enjoy activities such as quad biking, sandboarding, camel riding, dune bashing, falconry, hookah smoking, and more. Dress up in colorful Arabian garments and get your hands and feet painted with beautiful henna designs. Sit back, enjoy spectacular cultural performances like Tanura Dance and Belly Dancing, and culminate your evening with a scrumptious BBQ buffet dinner.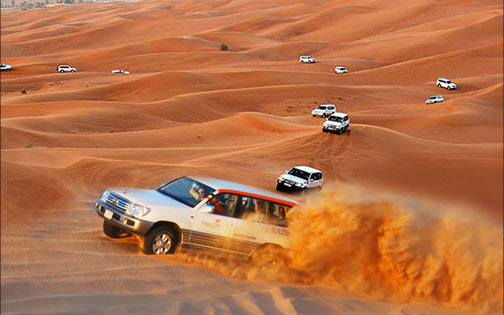 Burj Khalifa
The extraordinary Burj Khalifa is one of the main reasons people flock to Dubai. The tallest structure in the world is visible from almost any part of the city. This brilliant piece of engineering has two observation decks – one on the 124th floor and the other on the 148th floor. Feast your eyes on stunning panoramic views of the city from any of these floors. The contrasting view of the ocean on one side and the desert on the other side is a sight to behold.
Global Village
Global Village takes you on a world tour on one ticket in a single day. This cultural spectacle is one-stop shopping, entertainment, and food destination. The place is brimming with hundreds of pavilions and stalls from various nations with renowned landmarks. The ticket also provides access to several dance performances, music concerts, and live shows. It is open from November to April every year and is a must-visit if you are in Dubai in February.
Palm Jumeirah
This architectural marvel resembles a palm tree when viewed from above and hence the name. The gorgeous Palm Jumeirah is a hub for sophisticated apartment complexes, luxury villas, trendy five-star hotels, exotic spas, and opulent resorts. It also houses the iconic hotel Atlantis, The Palm, which sits proudly at the corner of the island. This archipelago is so magnificent that it is even visible from space. You can book a sky diving session or a helicopter tour to enjoy sweeping aerial views of the island.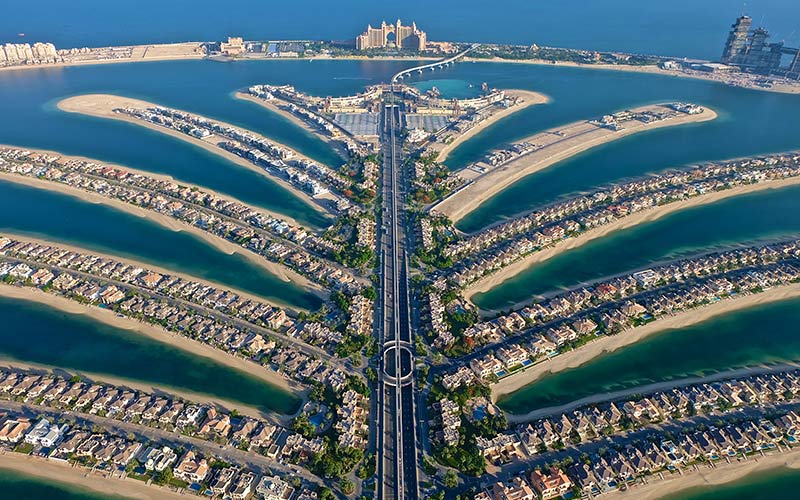 Garden Glow
Another winter attraction in Dubai is the Garden Glow that brings wonderful surprises for its visitors every year. It is situated in Zabeel Park and is based on a unique concept of glow in the dark. The garden comes to life in the evening when millions of energy-saving LED bulbs made with recycled materials illuminate this garden in vibrant colors and transform it into a wonderland. It combines elements of education and entertainment, focusing on challenges our planet faces, such as global warming and carbon footprints.
Al Bastakiya Quarter
Visit the ancient Al Bastakiya Quarter and step back in time when Dubai was a small fishing and pearl diving region. This historic neighborhood has wind towers made with natural materials such as coral, gypsum, mud, palm fronds, and teak. Wander through the narrow cobbled-stone lanes and explore the boutiques, restaurants, art galleries, and cafes. To gain insight into the Emirati culture and tradition, visit the Sheikh Mohammed Center for Cultural Understanding and Dubai Museum. The famous Arabian Tea House and Coffee Museum are great places for a quick snack break.
Dhow Cruise
Dhows are traditional vessels of Dubai that have been sailing the city's waters for many years. They have been given a makeover and converted into floating restaurants. Book a dhow dinner cruise on Dubai Marina or Dubai Creek and enjoy an array of activities on board. Enjoy mesmerizing cultural performances and relish a lip-smacking dinner with several local and international dishes. Dhow cruises are also available for special occasions such as birthdays, anniversaries, and Valentine's Day.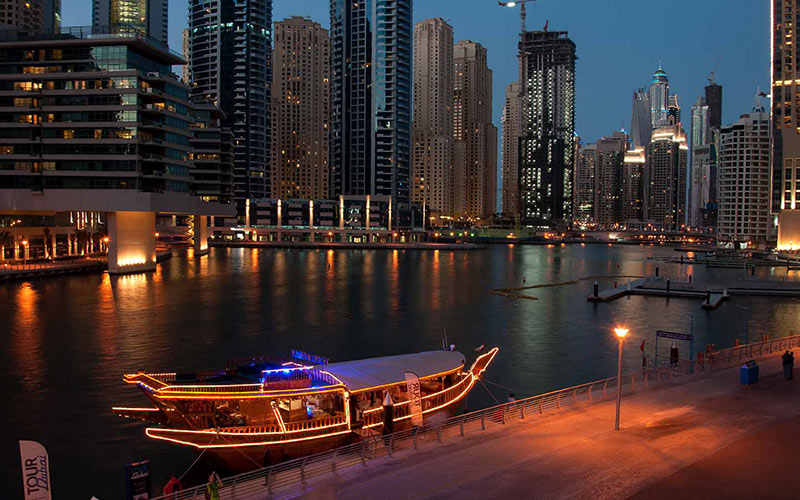 Beaches
Dubai has so many pristine beaches that you can easily spend a day with nature, enjoying the sun, surf, and sand. Take your pick from La Mer, Kite Beach, JBR Beach, or Jumeirah Beach – it doesn't matter which one, as you are sure to have a blast. Participate in a plethora of watersports, including jet-skiing, kayaking, paddle boarding, banana boat ride, and wakeboarding, among others. You can build sandcastles, take a dip in the sea, or settle on the sunbed and laze the day away. Some beaches also have skating rinks, a jogging track, and a kid's playground so that you can spend the perfect family time.
Dubai Marina
Dubai Marina is a remarkable place to experience the vibrant nightlife of Dubai. This two-mile waterfront development along the Persian Gulf is flanked by shopping malls, hotels, restaurants, apartments, nightclubs, boutiques, and bars. The Dubai Marina Walk is a 7 km walkway with palm trees and landscaped gardens. This affluent neighborhood is the best place to have dinner or a drink and unwind in the evening after an exhausting day.
Conclusion
Dubai offers a treasure-trove of fantastic indoor and outdoor attractions that you can enjoy in February as it becomes difficult in other months due to the sultry weather in the Emirati city. If you are interested, you can even attend one of the festivals or incredible shows this month. This city of superlatives never stops surprising its visitors so plan a long holiday to this marvelous destination.