Famous for its resplendent modern wonders and man-made islands, Dubai is often overlooked when it comes to its cultural side. In other words, despite its classic Arabian heritage and vibrant cultural scene, there is still a void of a concrete performing art and culture venue in Dubai. This is what actually Dubai Opera House intends to do, with its opening on August 31st, 2016. As glorious as some of the world's most famed opera houses like Sydney Opera House, the massive Dubai Opera has been designed to serve as a multi-format platform, perfect for all kinds of performing arts in the form of opera, concerts, concerts, ballets, and more. Here are a few Dubai Opera House Facts to give you a better understanding of the city's latest attraction.
1.Iconic Location
It's not surprising that Downtown Dubai is one of the most visited destinations in Dubai, boasting incomparable architectural marvels like Burj Khalifa and Dubai Mall. It also serves as an impressive base to enjoy a vibrant and classy range of shopping, entertainment and leisure options. Add to this the elegant Dubai Modern Art Museum & Opera House District that is all set to host a range of facilities by 2020 and indisputably become the world' largest cultural center.
Designed to boost the Dubai's event scenario by providing all support to art and culture scene as well as encouraging both local and international talents, it is placed off Mohammed Bin Rashid Boulevard and will comprise a mix of art galleries, museums, luxury and arty accommodations, opulent residential apartments, shopping and leisure spaces, and eye-catching waterfront promenades. And the very focal point of this cultural hub is Dubai Opera House overlooking the magnificent Dubai Dancing Fountain. You'll now begin to see that Dubai is not thin on the ground in terms of its cultural points of attraction.
2.Project Development and Collaborations
In 2008, Zaha Hadid created a design for a dune-shaped Cultural Centre and Opera House, which was proposed to be placed on an island, off the Dubai Creek. But this plan never took off as a result of a major financial crisis then. Four years later, His Highness Sheik Mohammed bin Rashid Al Maktoum – the prime minister of UAE – launched the plans for the development of the current Dubai Opera, and this time Emaar Properties bagged the project.
This unique performing arts center, replete with the most modern audio-visual techniques, has been designed and developed by award-winning Architecture Firm, WS Atkins. Aside from these, the overall project also involves the closest association with a spectrum of well-known consultants and specialists like Mirage Leisure and Development and MLC International. It is almost done now and is ready for its inaugural opera performance.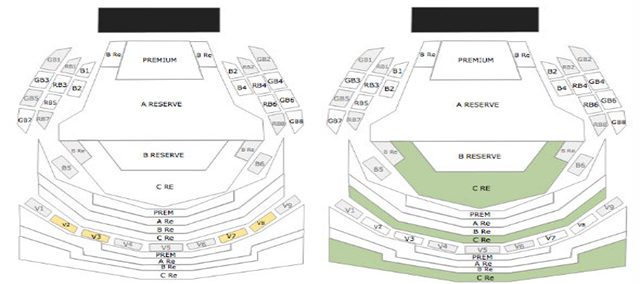 3.Design & Build
Opera House casts a striking spectacle in the 200-hectare Opera District. Known for its attention to detail works, this imposing opera house is designed by Janus Rostock of Atkins. It's mainly built to honor the region's maritime heritage. Fascinatingly, the structure itself is a stunning piece of art, being a classic representation of a vintage dhow (traditional Arabian vessel) whose role has been indispensable in optimizing the region's economy before the discovery of oil and which still continues to grace Dubai's waters. Quite surely, the new facility is expected to draw not only opera enthusiasts but also architecture lovers from all over the world.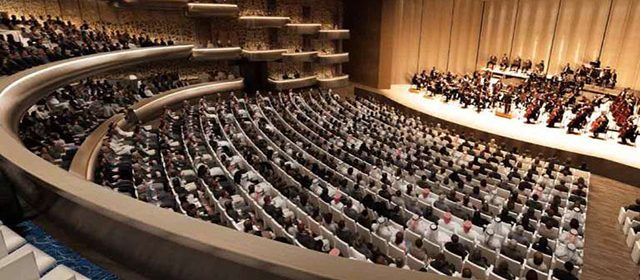 4.Ingenious Facilities & Features
Dubai Opera House measures approximately 60,000 square meters in total. The 2,000-seater facility encompasses 30 plus premium boxes which can seat over 180 guests. Featuring an imposing glass façade complemented by a transparent foyer and a vaulted roofline, the nautical style building has the main stage in its bow, which also includes seating areas plus restaurants and a sky garden. Other facilities such as reception area, public space, parking etc. can be found in the stretched out hull area. Moreover, it is equipped with state of the art techniques, such as hydraulic technology. This enables to easily shift 900 plus seats to the garage beneath the theater, thus giving the flexibility to host events of all scales.
In fact, the prime highlight is that it can be easily converted into three unique formats: Theater Mode, Concert Hall, and Banquet Hall. While theater mode is ideal for huge theater productions, ballets, and large conferences, the flat floor or banquet style can seat 1,000 people and be utilized for events like receptions, weddings, exhibitions, and trade shows. Alternatively, in concert hall, the stage will be complete with a plethora of towers and enhanced by top of the line features to produce an amazing acoustic experience.
Apart from a grid of lighting fixtures, the building boasts of a massive chandelier, weighing more than 5000 kilograms, and attached with close to 3000 LEDs. All these would light up the opera house, giving it an appearance of the stellar sky. More than 20 dressing rooms – each with enough space to accommodate up to 10 people, also form part of the house's many facilities.
5.Shows, Performances and Concerts
Popular as the King of Opera, Placido Domingo, with 4,000 plus performances to his credit, is no stranger to the Emiratis. And Dubai Opera will open with the world class performance of this Spanish tenor who can sing in several different languages like English, Russian, French and German. Apart from this, the lineup of Dubai Opera's programs for 2016 – featuring both local and internationally acclaimed – seems to be both eclectic and diverse. These include the three-act opera known as the Pearl Fishers, Impossible – a mesmerizing illusionist show, Italian Opera by Francesco Quattrocchi, live performance of Emirati talent – Hussain Al Jassmi, and the enchanting Nutcracker on Ice show.
With this astounding opera house in Dubai expected to host over 200 performances per year, you can revel in varied art and cultural performances anytime you visit Dubai. Not to mention, attending a classic opera, ballet, concert or other live performance in Dubai Opera House clad with superb comforts and high tech facilities will surely be an experience of a lifetime!