If you are a Japanese cuisine lover, then a visit to the unique KOYO must be on the cards. Situated in the ultra-glamorous Dubai Marina area, Koyo is an oriental restaurant that will transport you straight to the Japanese capital of Tokyo. It combines classic Japanese culture effortlessly with contemporary dining replete with vibrant ambiance and ultra-chic decors. It provides a multi-sensory and exceptional culinary experience.
KOYO: A Unique, Underground Japenese Restaurant in Dubai
Spread over two areas – a bar area on the top and a fine-dining restaurant at the lower level, which surprisingly comes with its own bar area too. The interesting part is that the lower-level bar converts into a raised stage area where you can watch amazing performances by acrobats, singers, dancers, and several other kabuki-style arts and entertainment. The interiors are decked with red cherry blossoms hanging from the ceiling, and colorful Japanese murals. It is hands down one of the best Instagrammable interiors in the city. The color palette of the restaurant is orange, yellow, and red as the Koyo means the leaves of Autumn in the local tongue. It has a dedicated place for private events as well as a raw bar, and traditional Japanese dining area.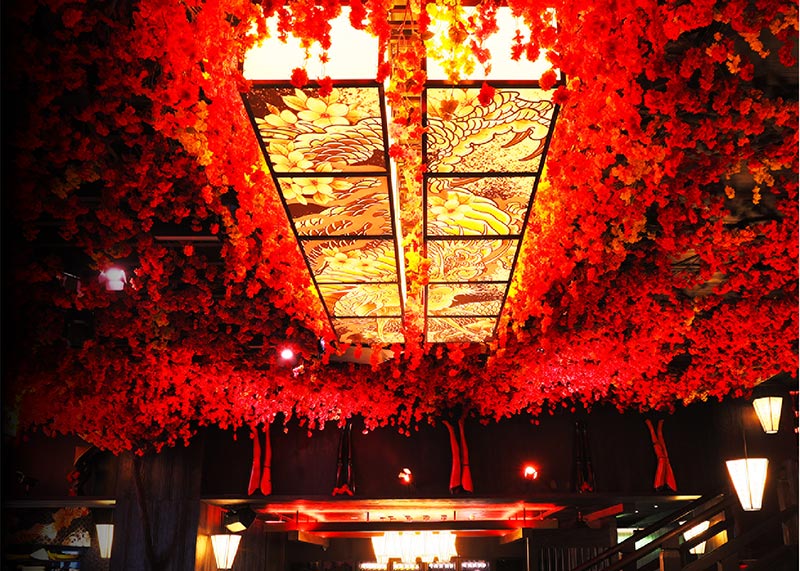 This underground Japanese restaurant Dubai also comes with a terrace overlooking the waterfront t of the Dubai Marina that and is a great place to spend pleasant winter evenings with your loved ones. This underground Sushi Bar Dubai serves specialities such as sashimi, maki rolls, katsu sando and yakitori. Other delectable delicacies include Bluefin Tuna Nikkei, Monkfish Tail Robata, Wagyu Tataki and desserts like Tayaki Sundae and Masu Matcha and an assortment of refreshing mixed drinks and Japanese beverages.
The tasting menu here is the main highlight that costs AED 500 per pair and consists of three cocktails and four-courses. The service is extremely good considering the servers have to dodge the dancing geisha ladies and sword-waving samurais again and again to reach your table.
It is an ideal place to escape from the hustle-bustle of the city, and indulge in some mouth-watering delicacies or a drink to unwind at the end if a tiring day. This Japanese restaurant in Dubai is backed by the excellent team that gave us trendy and mega restaurants and bars like Lock, Stock & Barrel, STK, Asia Asia, and Karma Kaf. Every Tuesday and Wednesday from 6-9 pm, it offers a ladies night with great offers on drinks.