While you are on a seaplane tour of Dubai, a sight that would drop your jaw and behold you for longer is the palm-shaped island. The Palm Jumeirah is an archipelago of a palm tree wrapped in a circle, looking too beautiful to be true. Home to the fun-driven Aquaventure Waterpark, glittering resorts, pristine beaches, beachfront restaurants, this island protrudes out into the Arabian Gulf.
Developed by…
Nakheel, a real estate company, which is now associated with the Government, this is an architectural triumph. It is incredible to witness engineering going beyond one's expectations. The initial layer was set up in 2001 and went up to 2006. It was 2007 when the first residents grabbed their homes. The development was largely financed by the income from oil. In the three replicable offshore archipelagos, this came out to be the first one. Palm Jebel Ali and Palm Deira are the two others, still under construction.
It features…
Trunk, spine, fronds, and crescent. The island is strapped to the city's mainland with a broad bridge from where the visitors could enter this spectacle. This connecting route is called the trunk. Now, this trunk narrows down and joins to a thin central axis called spine, also the stem of the palm. From this spine, 17 fronds are emerging out like the leaves. And the crescent is breakwater, serving its purpose of anchoring any coastal effects.
The place is dotted with…
Apartments, hotels, waterparks, resorts, restaurants, beaches, villas and more. You will find most of the hotels and resorts on the crescent while the apartments and retails have settled down on the trunk.
Here is the list of the major attractions-
1.Atlantis, The Palm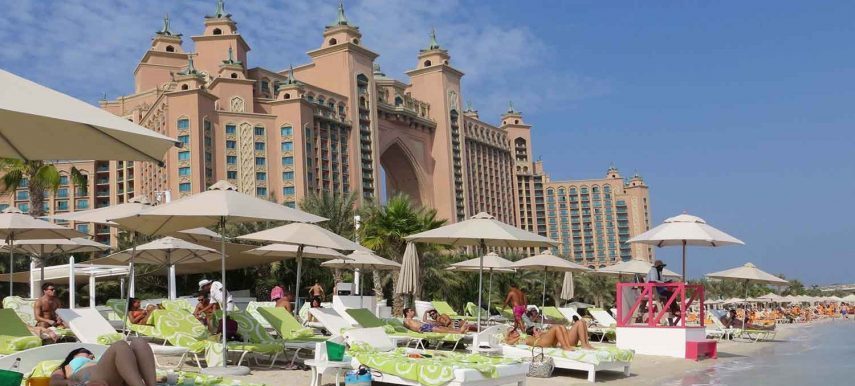 An extraordinary landmark on the circle is the Atlantis, the Palm. It is a mind-blowing resort that is a hub to everyone's favourite, Aquaventure Waterpark. Not just Dubai, but it is the 'chosen' Middle East's waterpark with over 30 slides and rides. In complete safety, you interact with the marine animals like dolphins, sea lions and others. The Lazy River and a private beach is the accessory of the park. The excitement shoots up when you couple the trip with its neighbour Lost Chambers Aquarium. It is a proud owner of 65,000 marine life seahorses, reef fish, sharks, rays, etc accompanied with activities like snorkelling, scuba diving, aqua-theatre shows and lot more on the itinerary.
2.Five Palm Jumeirah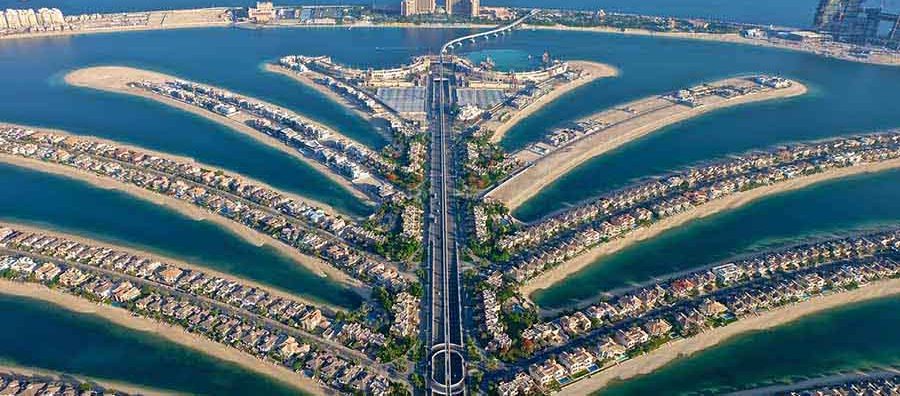 Another truly remarkable resort with extraordinary services and facilities, the Five Palm Jumeirah greets the travellers with the warmth and exuberance. It's a gigantic hotel rising to 16 floors, owning 470 guest rooms, secluded beach, a world-class spa, karaoke room, free wifi, excellent chefs, and al fresco dining options. From the top, visitor can also immerse in the spellbinding views of Arabian Gulf.
3.Restaurants
Since there is a lot of strolling, swimming and shopping, gorging on the food is unavoidable. And the beauty of this island is there is myriad of dining options where you could unwind and eat the finest delicacies. The island has set up a great range of award-winning restaurants. We have listed down a few that you should tick off in your journey of Palm Jumeirah-
Nobu
101 Dining Lounge
Senera Restaurant
Ossiano
Amala
4.Beaches
There is no dearth of beaches on the island. One can get respite from busy shopping and lounge near by the water body. Al Sufouh Beach is a hit name because of its turquoise water, shimmering sand and tranquil space. You can click Instagram-worthy pictures, bask in the afternoon sun, and explore the underwater marine life. Nasimi Beach has magnetising ambience and offers magnificent views, unlike anywhere else in Dubai. The starlit sky and the buildings striking ahead of it is an unparalleled view. Also, take your pick of Asian and Mediterranean cuisine in the eatery.
5.Malls
Feed your retail therapy at this one-day junction in Dubai. Nakheel Mall, is one exemplary slick malls, which is soon going to be inaugurated and is a hugely anticipated destination. It is the new centre of luxury with dining roof plaza, entertainment options, and underground parking. It will dish out an array of products on exciting discounts.Other existing malls where you can grab the brands that you were eyeing on are –
The Pointe
Souk Madinat Jumeirah
Golden Mile Galleria
6.Al Ittihad Park
This is a green oasis in this innovative land. Containing 60 varieties of trees and plants, a 3.2 km jogging track, huge parking and relaxing shaded places, the park brings you closer to nature.
You can make a round of these attractions in one go by booking yourself a seat on a Speedboat Tour, jump out of a plane in a free fall rush, or paddle around the palm.