Guru Nanak Darbar Gurudwara is a stunning temple of worship in Dubai, United Arab Emirates (UAE). The Gurudwara is a key religious attraction for Sikhs living in and visiting Dubai and is devoted to Guru Nanak, the founder of Sikhism.
The Gurudwara is a quiet and serene location to visit for guests of all faiths. Every day of the week, it is open for worship and prayers at varied times for different services. The Gurudwara opens at 5:00 a.m. for morning prayers and closes at 9:00 p.m. on weekdays. It opens at 4:00 a.m. and closes at 9:00 p.m. on Saturdays. The Gurudwara is open from 4:00 a.m. to 8:00 p.m. on Sundays.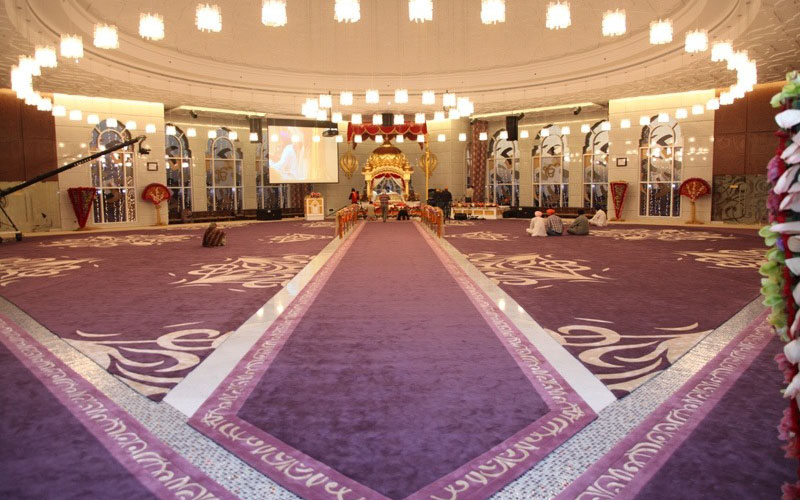 Visitors to the Gurudwara can make use of a variety of services, including regular prayers and religious ceremonies, as well as language classes and cultural activities. Visitors can also have a great dinner in the Langar Hall, a communal kitchen that serves free vegetarian meals to all visitors. The Gurudwara also contains a library where guests can read Sikh literature and books and learn more about the Sikh faith.
The Gurudwara is easily accessible by car, and there is plenty of parking for tourists. It lies in the Al Qusais neighborhood of Dubai, close to the Dubai International Airport. The nearest metro station is Al Qusais Station, which is only a few minutes' walk from the Gurudwara. Visitors can also reach the Gurudwara by bus or cab.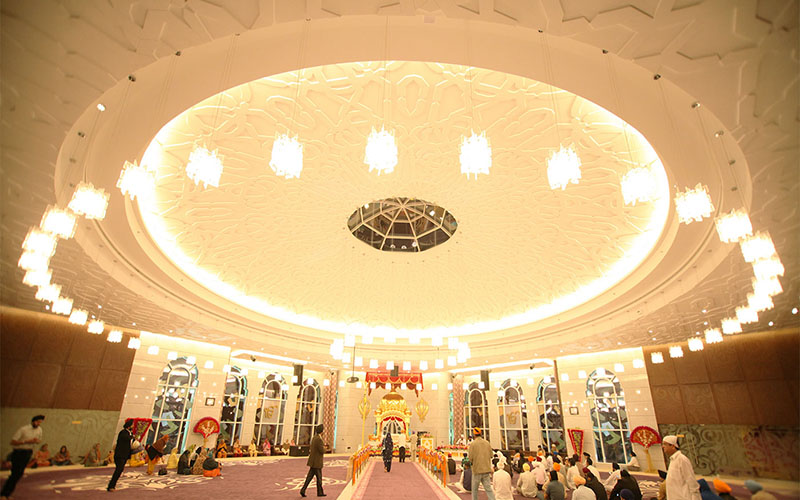 When visiting the Gurudwara, visitors are advised to dress modestly and to cover their heads with a scarf or turban. It is also customary to remove one's shoes and bow in reverence before entering the Gurudwara.
Guru Nanak Darbar Gurudwara in Dubai is a beautiful and serene site of worship for the city's Sikh community. It sits in Dubai's Deira neighborhood and is a popular attraction for both locals and tourists. The Gurudwara is a wonderful structure with complex construction and a tranquil ambiance conducive to meditation and thought.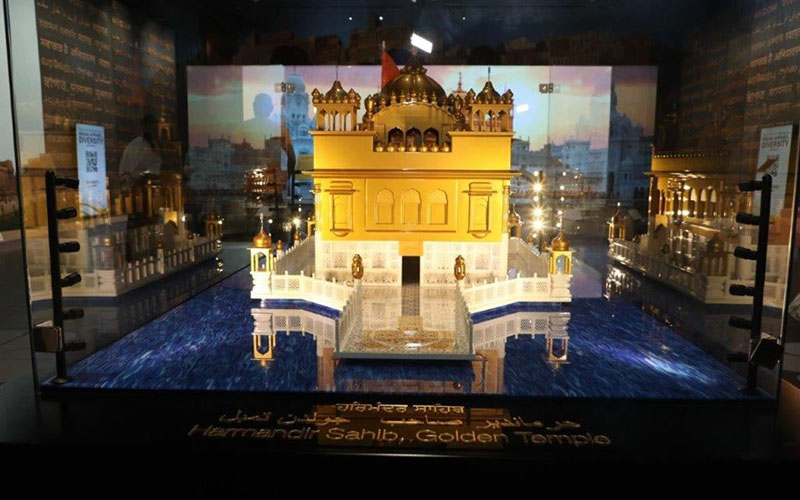 The Gurudwara is surrounded by numerous tourist attractions that are worth seeing. The Deira City Centre is one of the most famous attractions near Guru Nanak Darbar Gurudwara. This shopping mall is one of Dubai's largest and most popular, with a diverse selection of shops, restaurants, and entertainment options. Visitors can spend hours perusing the latest clothes, sampling various cuisines, or watching a movie in the cinema.
The Deira Gold Souk is another renowned site near Guru Nanak Darbar Gurudwara. This is one of Dubai's oldest and most famous markets, and it is a must-see for anybody interested in gold and jewelry purchasing. The souk is home to hundreds of stores selling anything from traditional gold jewelry to modern designs, and it is an excellent place to find one-of-a-kind and reasonably priced gifts.
The Dubai Museum is another exciting destination worth seeing. This museum, located beautifully in the Al Fahidi Fort, is an excellent place to learn about Dubai's history and culture. The museum has a diverse collection of exhibits, including traditional relics, weapons, and ceramics, and is an excellent site to learn more about UAE history and culture.
Dubai Creek Park is a terrific alternative for people searching for a more active experience. This park is close to the Gurudwara and provides a variety of activities, including cycling, horseback riding, and boating. Visitors can also take a stroll along the creek or go on a boat excursion to learn more about the area. The park also offers a playground and a picnic area, making it an ideal spot for a day out with family and friends.
When it comes to locations to stay near Guru Nanak Darbar Gurudwara, there are several possibilities. There are various budget-friendly hotels in the vicinity, including the OYO Rooms Deira City Centre and the Deira Hotel. Both of these hotels provide nice rooms at reasonable pricing, making them an excellent choice for anyone seeking a convenient and economical place to stay.
There are several high-end hotels in the neighborhood for guests seeking more opulent accommodations, like the JW Marriott Hotel Dubai and the Hilton Dubai Creek. Both of these hotels provide spacious and well-appointed rooms and a variety of amenities like swimming pools, exercise centers, and spas. These hotels are ideal for people seeking a more upmarket experience.
For everyone interested in the Sikh community and culture, the Guru Nanak Darbar Gurudwara in Dubai is a must-see. The region surrounding the Gurudwara is densely packed with tourist attractions, including retail malls, museums, parks, and markets. Furthermore, whether you are on a budget or searching for a deluxe experience, there are numerous lodging options to select from. So, plan a vacation to Dubai and make a point of visiting Guru Nanak Darbar Gurudwara and the surrounding places for a genuinely unforgettable experience.
Major nearby attractions
The Al Shindagha Museum is a major religious destination in the area. The Al Shindagha Museum, located in the same-named historic area, is a cultural and heritage institution that chronicles the narrative of Dubai's past and inhabitants. The museum showcases the emirate's rich history and culture through interactive exhibitions, traditional artifacts, and multimedia displays. It is open every day of the year, and admission is free.
The milder months of November to March are ideal for visiting Dubai. The weather is good, making sightseeing and outdoor activities excellent.
Dubai Global Village is a cultural and entertainment destination with pavilions from over 75 nations. Visitors can wander among the pavilions, browse for souvenirs, and enjoy a wide range of food and entertainment. It is free to enter and open from November to April.
There are numerous free activities in Dubai, such as visiting the Deira Old Souk, strolling around Dubai Creek, visiting the Dubai Museum, and strolling along Jumeirah Beach. You may also enjoy the fountain show at the Dubai Mall and the Burj Khalifa observation deck.
Conclusion:
Finally, the Guru Nanak Darbar Gurudwara is a calm and peaceful site of worship that provides a range of programs and activities to guests of all faiths. It is open seven days a week and may be reached by vehicle, metro, bus, or taxi. When visiting the Gurudwara, visitors should dress modestly, cover their heads with a cloth, and remove their shoes before entering. Overall, it is a fantastic destination to visit if you want to understand and observe more about the Sikh religion and culture.