Italian cuisine is an all time favorite in most parts of the world including Dubai and there are quite obvious reasons to it. Noted for its regional diversity and profusion of difference in taste, Italian cuisines are renowned for its simplicity, and greater health benefits. The key factor behind great Italian taste is the quality of ingredients used rather going for an elaborate preparation. Cheese and wine are two basic ingredients of Italian cuisines and these two ingredients make every foodie go weak on his knees.
So, if you are in Dubai and looking for authentic Italian cuisine to pamper your taste buds, we found these 12 best restaurants in Dubai that serves the food for your soul.
Here are the List of Best Italian restaurants in Dubai
1.Certo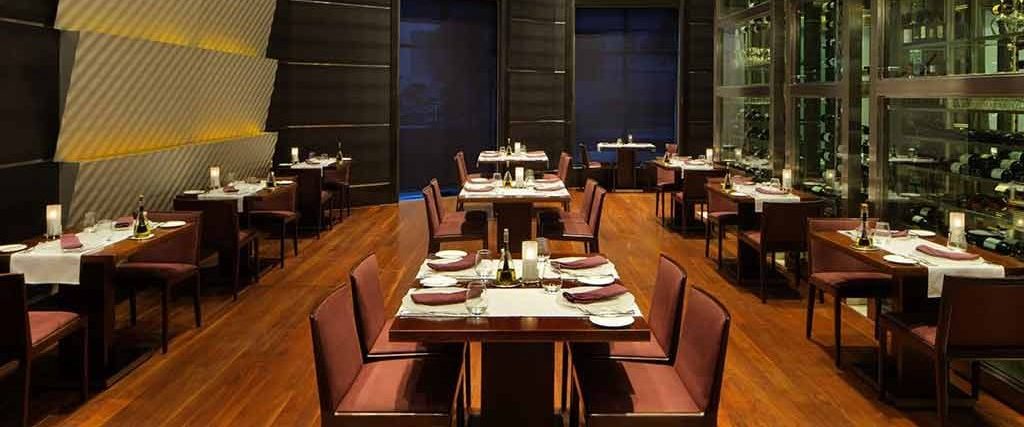 Certo is a Classic Italian fine Dining restaurant that amazes its customers with its jubilant atmosphere. This Italian restaurant is a favorite amongst couples looking for a romantic dinner. Besides, the amicable decoration and lightened walls complete the atmosphere of the place.
Must try:Gnocchi with fresh tomato and basil, spinach ravioli and risotto with sole.
Location: Radisson Blue, Media City
Timings: Daily noon to 3.30pm and 7pm to 11.30pm
Price for two: Approx Dhs230
2.Pizzeria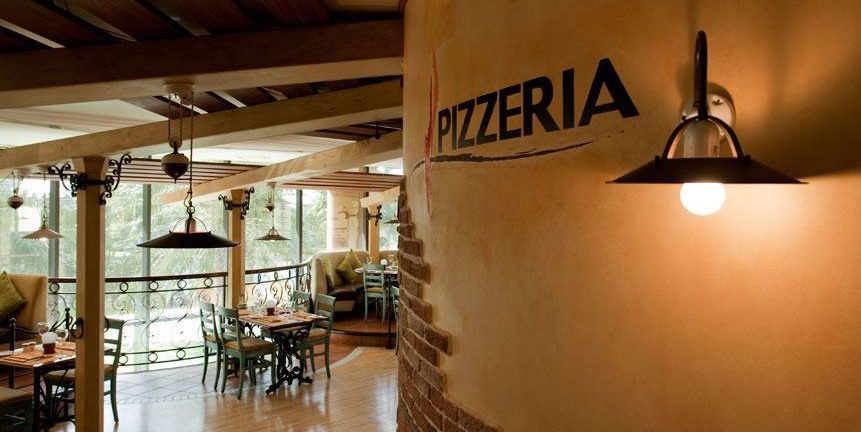 Pizzeria is a contemporary Italian restaurant in Dubai that offers a list of simple Italian starters, pasta, salad, pizza, sandwiches and numerous fine desserts. The differentiating factor in this simple menu is the authentic taste that gives it an edge. If you are ready to spend more, opt for the fine dining option of the restaurant where the professional staff caters to all your needs.
Must try: Gnocchi alla Sorrentina, Bolognese
Location: Emaar Boulevard, Old Town Burj Khalifa, Burj Res Tower 9
Timings: Sat to Wed noon to 12.30am, Thursday to Friday noon to 1.30am
Price for two: Approximately Dhs100
3.Bussola
A semi-alfresco restaurant, renowned for its tasteful pizzas and exotic beach view, this Italian restaurant lies in Dubai Marina serving a range of well- prepared, fine Italian cuisines. The menu is quite simple but extraordinarily done.
Must Try: Parma ham, scallops carpaccio, passion fruit coulis, bruschetta with anchovies
Location: The Westin Mina Seyahi, Al Sufouh Road, Dubai Marina
Timings:Fri and Sat noon to 3pm
Price for two: Approximately Dhs500
4.Da Vinci's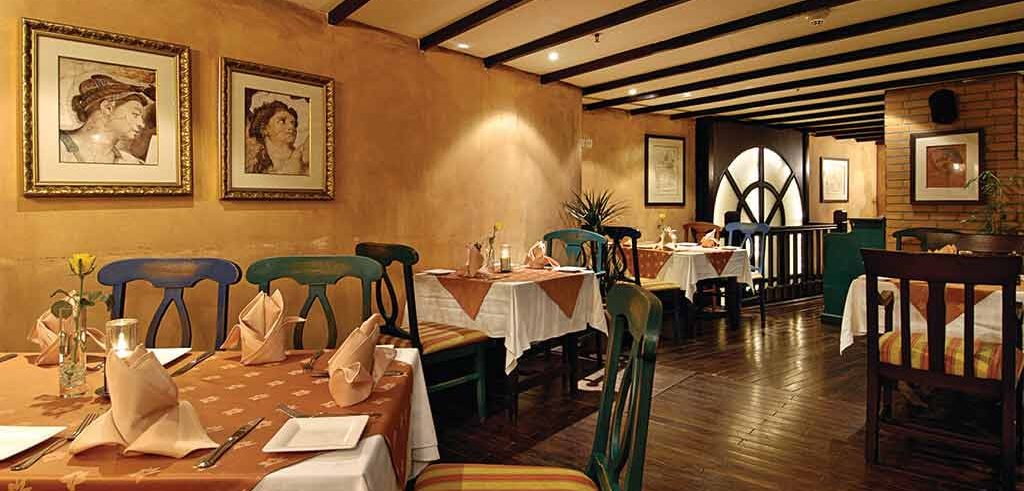 This Italian restaurant needs no recognition as it is renowned globally for its wholesome food and desserts. Da Vinci's have won a list full of awards ever since its inception. It offers Italian cuisines at attractive prices. You name an Italian dish and Da Vinci's have it for you it the best quality and taste. Right from your favorite antipasti, pizzas and pastas, fresh bread baskets, and a never ending list of delicious desserts and wines, there is hardly and scope of you leaving the restaurant hungry. Its close proximity to the international airport makes the premises a handy refueling stop for passengers all around the world.
Must try: Seafood soup, Lasagna, and Gnoochetti are highly recommended.
Location: Casablanca St, Al Garhoud
Price for two: A three-course business lunch is AED 150
5.Roberto's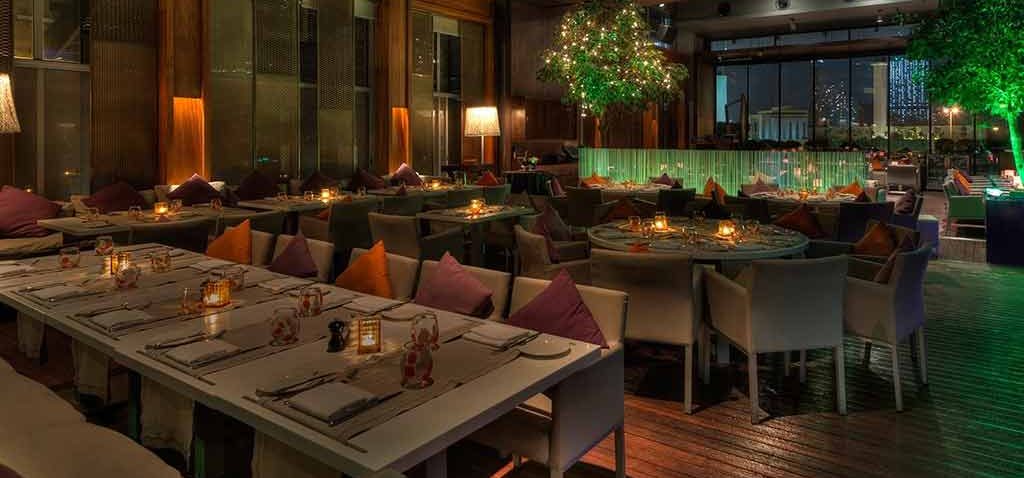 Consider yourself lucky if you get a table in this restaurant without prior reservation as this place is almost always packed. It has a very simple yet attractive menu offering Italian classics created using all fresh and good quality ingredients. Book a table on the terrace of the premises during the cooler months for a spectacular dining experience. Don't miss out on the raw bar and make its delectable cocktails a part of your dinner.
Must try: Burrata cheese, Truffle risotto
Location: DIFC, Gate Village 1
Timings: Daily noon to 3pm and 7pm to midnight, bar daily noon to 2am
Price for two: Approximately Dhs600
6.Rococo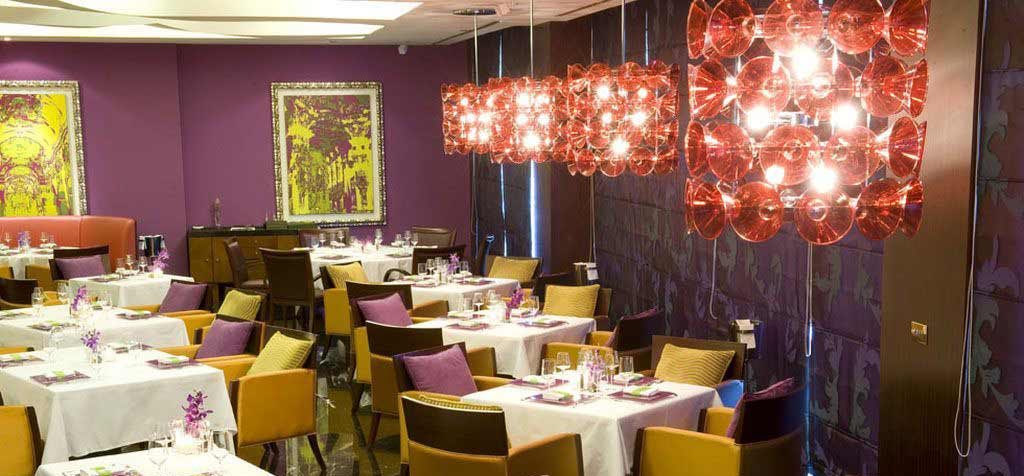 Rococo has plenty of creative and wonderful dishes to excite your taste buds. The loyal customers are head over heels in love with the food presentations. With beautiful purple interiors, exceptionally courteous waiters and a sumptuous authentic Italian dining experience, Rococo is easily one of the fine Italian food stops in Dubai.
Must Try: Mango Pasho, vegan cheesecake, gluten free chocolate brownies
Location: Sofitel Dubai Jumeirah Beach, Dubai Marina
Timings: Daily 7pm to 11.30pm
Price for two: Dhs500
7.Ronda Locatelli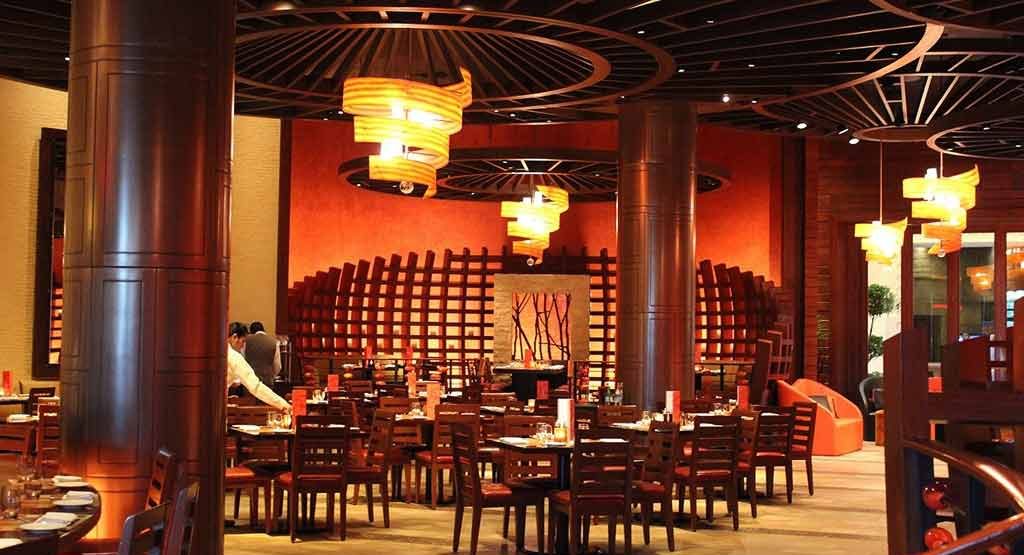 This huge restaurant with a central wood-fired pizza stove is the Dubai settlement of celebrity Italian Chef Giorgio Locatelli, however, it serves humble, rustic cuisine stressing upon high- quality ingredients. The place offers an elegant ambience with fair priced delectable dishes bought to you with courteous and informed staff. It's an ideal place to go for a nice and memorable dining experience.
Must Try: Bufala pizza, panna cotta
Location: Atlantis, The Palm
Timings: Daily noon to 6pm, Sat to Wed 6pm to 10.30pm, Thursday and Fri 6pm to 11.30pm
Price for two: Approximately Dhs360
8.Positano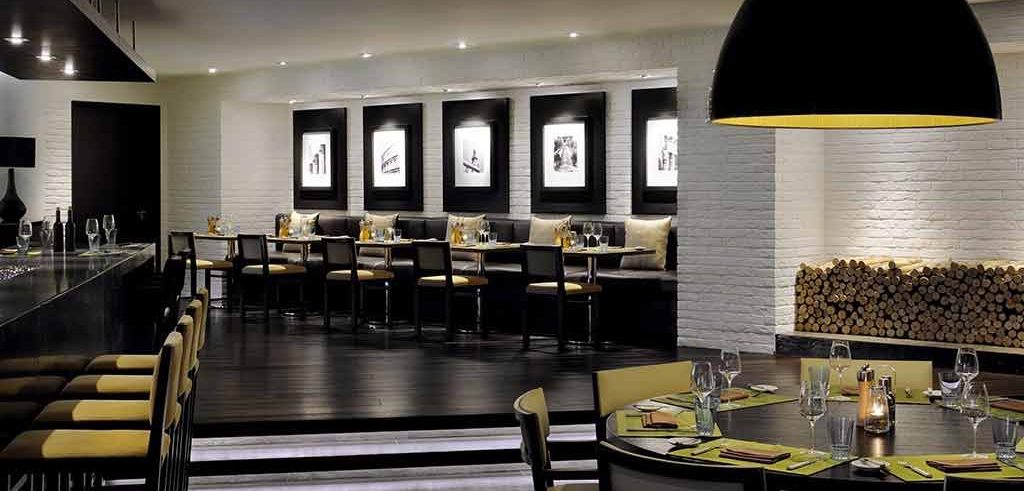 This fine dining settlement offers the finest Italian food along with its informal decor, and a buzzing open kitchen. This concept dining restaurant is gradually climbing the charts and becoming the favorite of Italian lovers. The restaurant specializes in coastal cuisine and brings to its customers the romance of Italy in its sumptuous and delicately prepared dishes.
Must Try: Sea pass, chicken, or t-bone( all grilled )
Location and timings: JW Marriott Marquis, Business Bay
Timings: 6pm to midnight.
Price for two: Approximately Dhs360
9.Bice Restaurant
Famous all over the globe for the Northern Italian Cuisine, Bice provides a true cosmopolitan dining experience for the diners of Dubai. Offering a feel of Royalty, the décor of the restaurant is tastefully done and the delicious items on the menu further take it up a notch. The terrace dining area overlooking the Burj Fountain is a perfect place for enjoying some view while dining.
Must Try: Burrata with buffalo mozzarella, salmon sashimi, and Truffles by top Italian Chef Leonardo Maltese
Location: Jumeirah Beach Rd
Timings: 12:30 PM to 3 PM, 7 PM to 11:3f0 PM
Price for two: Approximately AED 400
10.Teatro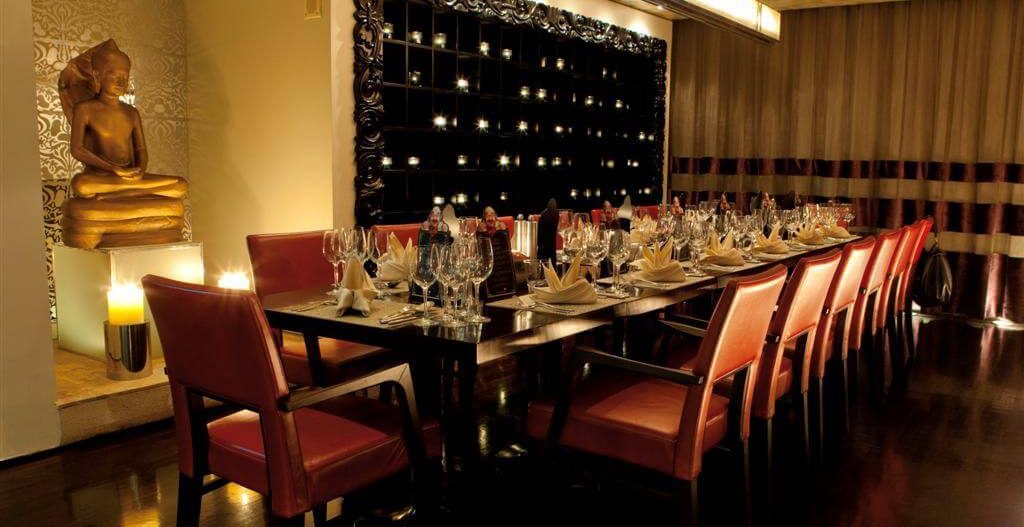 This popular Italian eatery is located at the Towers Rotana Hotel and has a contemporary setting giving you a happy feel. An impressive wine list, and a celebratory menu of authentic Italian makes it a must try. Taking pride in its service, teatro serves its guests authentic Italian with a modern twist. The place also serves japans and Chinese; it's the Italian that really stands out and gives it an extra point over others.
Must Try: Lamb Seekh Kabab
Location: Towers Rotana, Trade Centre Area, Level 3, Towers Rotana, Sheikh Zayed Road, Trade Centre Area
Price for two: Approximately AED400
11.Pizzeria Uno Chicago Grill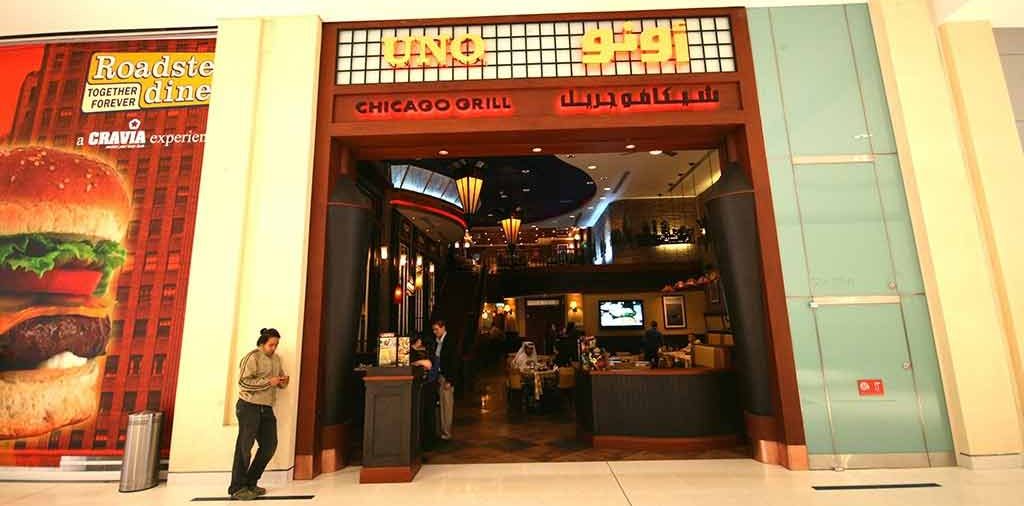 Pizzeria Uno Chicago Grill, while typically American in theme and cuisine, is a craze amongst pizza lovers for its thin crust and deep-dish pizza pies. Check out their wonderful Priority Lunches, which includes almost everything from classic Chicago pies to the Spinoccoli, fish & chips etc. If you are not up for pizza, the restaurant also serves up a range of tasty sandwiches, burgers and pasta dishes which can definitely kindle your taste buds.
Must Try: Bruschetta with anchovies
Location: Dubai Mall, Opposite Ice Rink, Ground Level, Dubai Mall
Price for two: Approximately AED 210
12.Freedom Pizza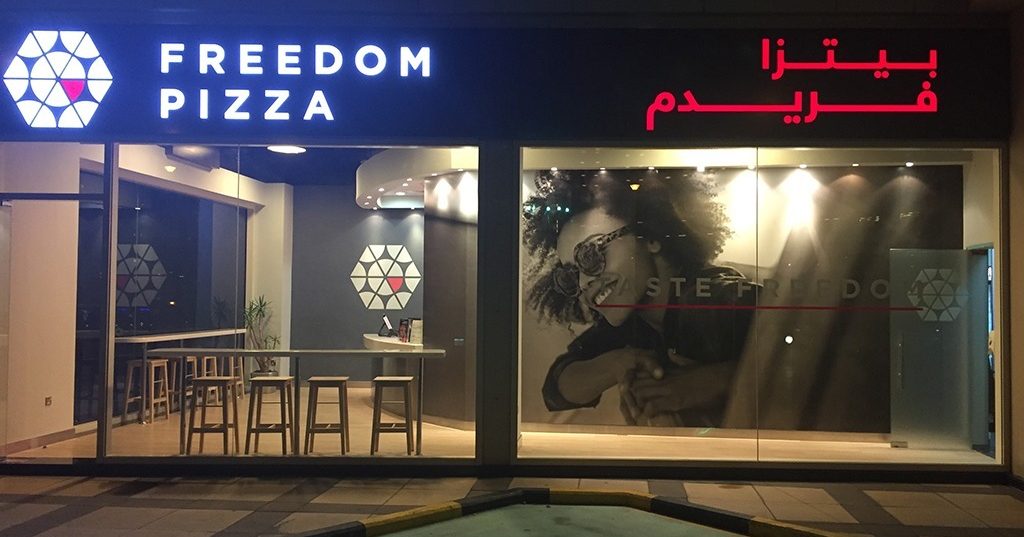 Dishing out the most famous Italian dish of all times- Pizza, Freedom Pizza specializes in a wide variety of mouth- watering flavors. The loyalists of the place vouch for its delectable sides including the vegan cheese cake and Edamame salad. For those who think it's a new joint, here's a cue- it was formally known as NKD Pizza.
Must Try: Wedges and Cheese Pizza
Location: Dubai Marina, Marina View Towers
Timings: Sat to Wed 10am to 2.30am
Price for two: Dhs100
Research has shown that a pattern of Mediterranean-style of eating includes improved weight loss, lessened risk of depression, and better control of blood-glucose (sugar) levels. So next time you think about why the world is so head over heels for Italian dining, think of all the benefits it serves, and yes, don't forget to indulge in the flavorful dishes of these amazing Italian restaurants.