Being an international city, Dubai has an amazing food culture that caters to the whole world. Dubai is more known for tourism and shopping, it is now also becoming famous for its revolutionary gastronomic experiences. Dubai is the largest exporter of Michelin star chefs. Therefore, you can imagine the food that awaits you here. Lately, Turkish cuisine has been gathering momentum, not just in Western countries, but also in Dubai. There's a sizeable Turkish population in the city, and there are also many people who love Turkish food. It's rich, delicious and satisfying. So, if you to love Turkish cuisine, or are curious about it, here's a list of must-try Turkish restaurants in Dubai that you should visit.
9 Delicious Turkish Restaurants in Dubai
1. Turkish Village Restaurant & Cafe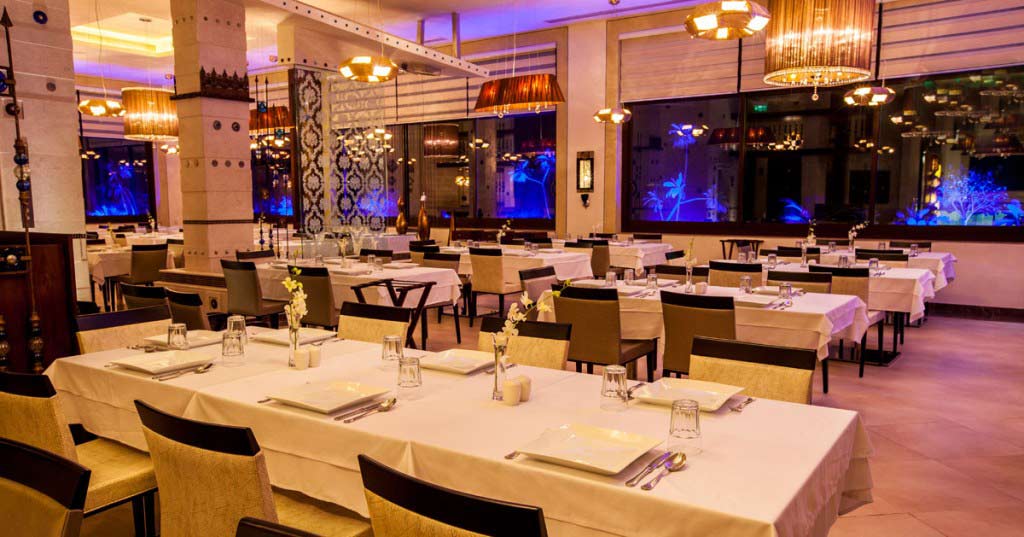 With a mission to be a bridge between Turkey and Dubai, the Turkish Village Restaurant & Cafe is undoubtedly one of the hottest places to dine in Dubai. The interiors have an authentic Ottoman empire feel with blues and gold dominating the colour spectrum. You will also experience the famed Turkish hospitality here. The menu has a portion that changes and evolves according to the demands, and another portion full of known Turkish delights. You have lentil soups, salads, kebabs, grilled tomatoes, onions, and peppers. There's also aromatic rice, dips, spreads, fluffy breads, and of course, scrumptious desserts. The special dishes at the Turkish Village Restaurant & Cafe you should definitely try are metre kebab, konya etli ekmek, sultan tubak, kuzu tandir pilavli, tuzda tavuk, and bici bici. They serve breakfast, lunch and dinner, and you can also make reservations in advance. Turkish Village Restaurant & Cafe promises an authentic Turkish experience.
2. Lalezar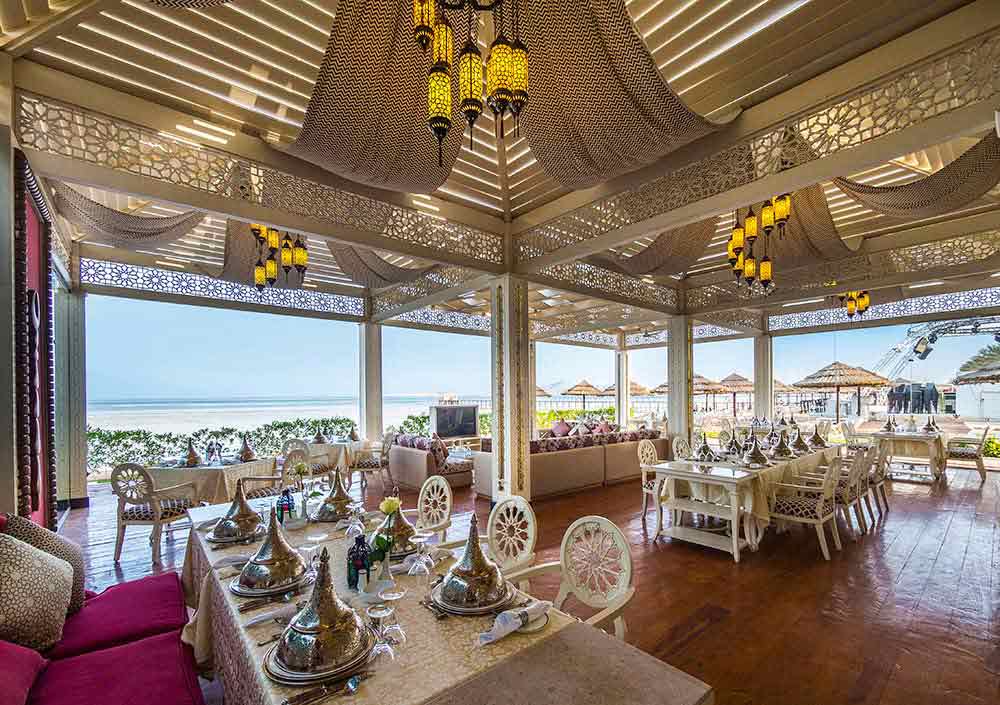 How does a lavish platter of food, coupled with a view of the Palm Jumeirah sound? This is what you get at Lalezar. Located inside the Jumeirah Zabeel Saray, ancient Turkey is the theme at Lalezar, and it is quite apparent with the interiors. They have a regal finish with amazing blended colours of brown and gold. One of the main features here is the terrace where you can dine at, and get an awesome view. However, seating here is dependent on the weather, and you will need to make special reservations. Now, the most important part – the food! They serve the best iskender kebab in town. The food is as authentic as it can get. The waiters too are well-versed with the menu and will happily suggest you food according to your taste. Do try the seafood here, it is an experience. This awesome Turkish restaurant is showing the world, what an amazing cuisine Turkish food really is.
3. Bosporus
'Your Bridge to Turkey' is what their tagline proudly says, and how true it is. The flamboyant restaurant is one of the most amazing Turkish restaurants you will find in Dubai. They have an extensive menu packed with the most extravagant dishes. Soups, salads, starters, mains, rice, breads and desserts, they have names of dishes you might not have even heard of. Bosporus also has a kids' menu full of treats that will be loved by children. Oh, and one thing you must try here are the steaks. They have quite a menu of just steaks. One of the reason why they are so popular is that they deliver food. So, you can enjoy the food in the comfort of your living quarters. Even if you are not crazy about Turkish food, try it at Bosporus. You will leave as a fan of Turkish food.
4. Istanbul Flower Restaurant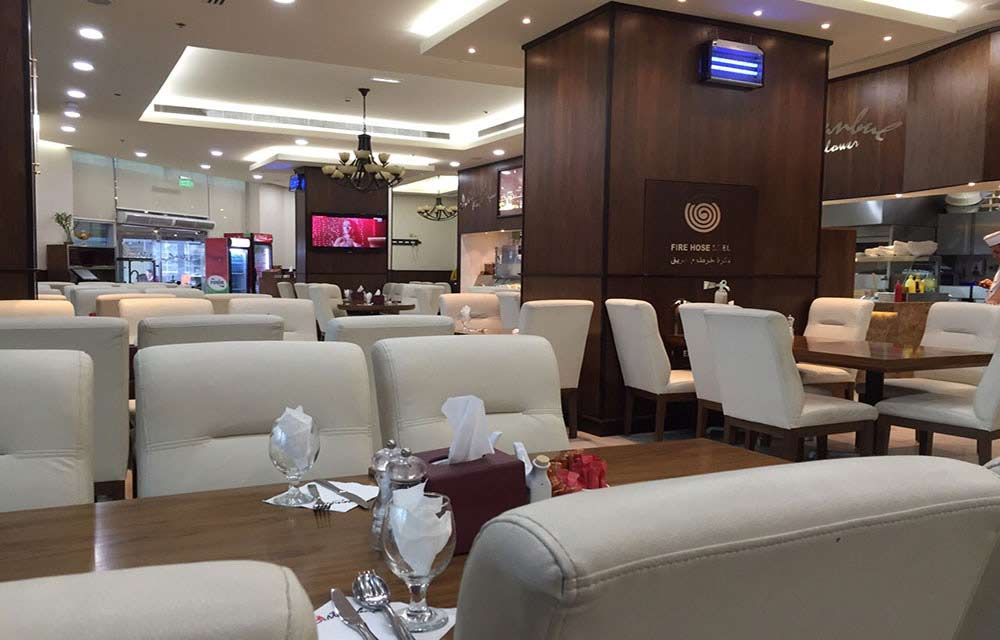 Well, if you are voted as the 'Best Turkish Restaurant in the City', you must be doing something right. If look at the interiors, you will not be impressed. There are a few pictures of Istanbul here and there, and that is it. However, what will impress you is the food. They capture the essence of Turkey and bring it you on a plate. Plus, they also serve something that is amiss from most of the Turkish restaurants – baked items. Istanbul Flower is famous for their sweet and savoury Turkish baked items. Imagine a plate of hot food in one hand, and awesome Turkish coffee in the other. This, and the awesome breakfast menu is the reason why Istanbul Flower has no place to stand during the weekends.
5. Günaydın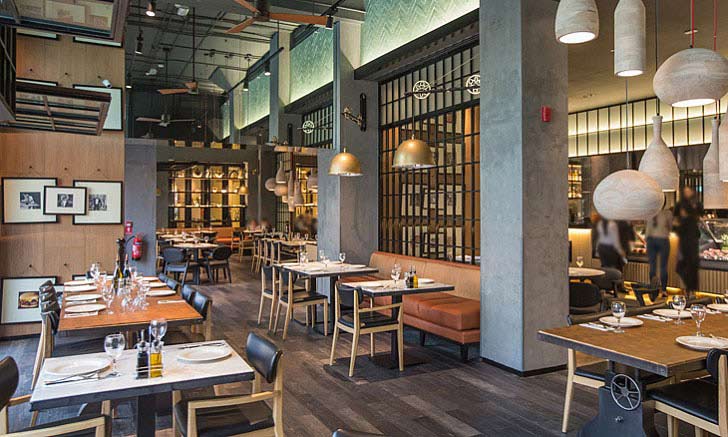 This relatively new comer is making huge waves in the Turkish restaurant market. Located in Souk Al Bahar, Günaydın offers guests the option of dining in or outside. Sit outside, as you will get an awesome view. There are authentic Turkish dishes on the menu, but there also also many burgers and steaks. So, you can choose to eat differently as well. The food is just mind-boggling. The salads and soups will ignite your taste buds, the meats are spiced and cooked to perfect, and desserts here go straight to you heart. What more can you want from your dining experience?
Turkish cuisine is simply awesome! Why? Because it was born from the influences of Europe, Middle East and Asia. Turkish cuisine is balance of it all. No wonder it is getting so much fame. These 5 restaurants mentioned above are the best places of Turkish cuisine in it most authentic for. So, dive into this gastronomic experience, and enrich your life with food.