Gourmet cuisines from around the world are available in a location like Dubai. You can find them all in this cosmopolitan sanctuary, from traditional fine dining heavyweights to ultra-trendy eateries. Where can I locate the best-fried chicken in Dubai? You will question yourself when you have that recurring need for delectable, peppery, golden chicken. Well, this post provides the priceless solutions you want!
We have selected restaurants delivering the best-fried chicken in Dubai, whether you prefer super crispy southern-fried chicken thighs, crunchy Korean-style strips, or a juicy fillet burger. Hungry?
Find out where you can get some delicious fried chicken by reading on.
KFC
The world's most well-known fried chicken restaurant is arguably KFC or Kentucky Fried Chicken. Simple yet delicious, its crispy fried chicken has long reigned supreme in the hearts of foodies. Fried chicken is also available in various forms, including twisters, strips, chicken popcorn, and even the well-known Zinger Burger. The good news is that you can even order from practically anywhere in Dubai via their website.
Hours: 10:00 a.m. to 2:00 a.m.
The average price for two is AED 65.
Texas CHICKEN
Texas Chicken, an additional American restaurant on our list of the top fried chicken in Dubai, is an excellent option for anyone needing a fried chicken fix. They use hand-battered chicken in their recipes, which is exciting and makes a huge difference. Everything from chicken nibbles to traditional full-fried chicken meals may be found here. In Dubai, there are well over a dozen Texas Chicken locations.
Hours are 10:00 a.m. to 10:00 p.m.
costs an average of AED 70 for two.
KPOP Chicken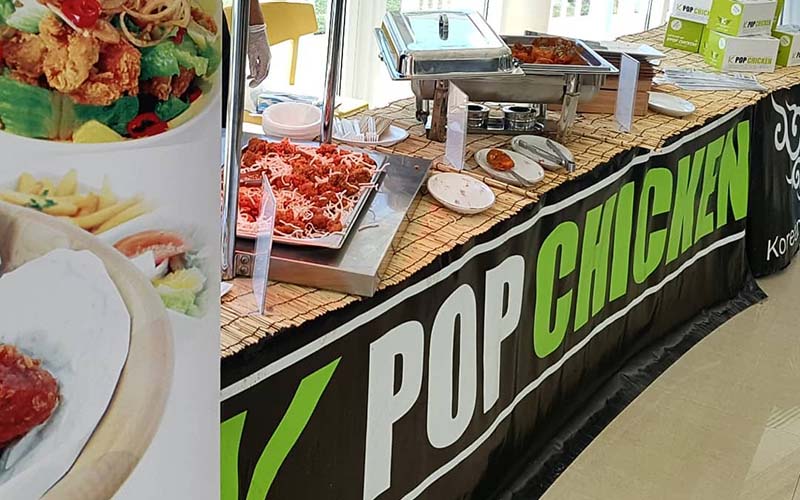 Add intriguing Korean flavors to fried chicken to increase people's affection for it. In addition to fried chicken, this Korean restaurant sells grilled, roasted, and braised chicken. Bibimbab and Korean-style fried chicken are their specialties. The lively, informal eatery serves classic fried chicken enhanced with distinctive Asian flavors. Several people also regard KPOP Chicken as one of the top Korean eateries in Dubai.
Hours are 11:00 a.m. to 11:00 p.m.
Location: Indigo Icon Tower, Cluster F, Dubai;
Price per person: AED 210
Pickl
Pickl is a local DXB brand that delivers straightforward but not uninteresting burgers, from Double Stack to the fiery Nashville. They always pack their burgers with fried chicken and sauces, which you cannot stop dripping out. Enjoy their selection of sides and sandwiches. Another location that accepts cryptocurrencies is Pickl. Remember to carry your wallet or withdraw cash!
AED 90 for two individuals is the cost.
JJ Chicken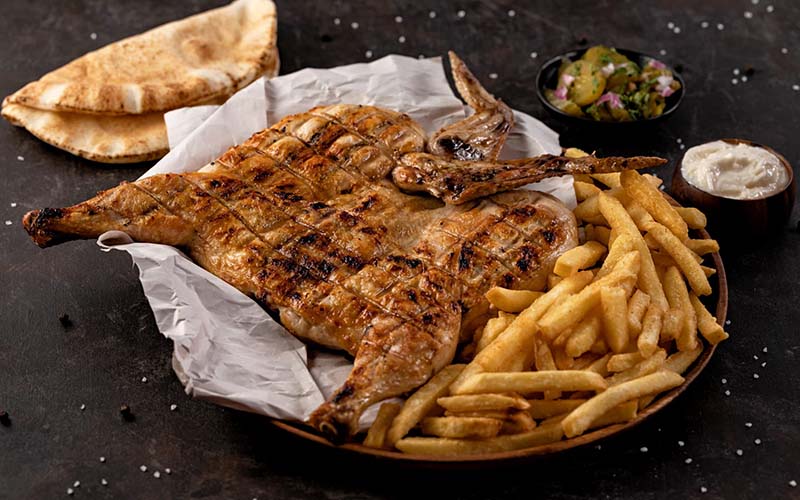 Image Credit: jjchicken.com/
Despite having a diverse menu, JJ Chicken's fried chicken is exquisite. If you are going to stray from a healthy diet, it better be worthwhile. JJ Chicken, which has nine locations throughout the city, is one of Dubai's most incredible fried chicken restaurants for a cheat day.
Timings: 12 p.m. to 12 a.m.
The typical price for two is AED 95
JOLLIBEE
Filipino fast-food chain Jollibee has more than 1,200 locations worldwide. Its fried chicken is made using a unique recipe and has a distinct flavor from other fried chicken restaurants in Dubai. You will feel as joyful as their mascot when you eat a bucket of Jollibee chicken. With eight locations throughout the emirate, Jollibee is considered one of the best Filipino restaurants in Dubai and a favorite among fans of fried chicken.
Hours: 8:00 a.m. to 12:00 a.m.
The average price for two is AED 55.
Jailbird, JBR
How about some creamy sauces, curly fries, and crispy chicken tenders on the side? The most incredible fried chicken in Dubai can be found at a Jailbird restaurant. So, you can be confident of the taste and quality of the food. Their cheese-dripping, flavor-bombed Nashville-style chicken burgers are simply fantastic. Please take advantage of their ongoing Ramadan unique combo discounts.
AED 70 for two people is the cost.
Chicks & Friends
The delicious food is served at the cozy tiny fried chicken joint. This should be on the must-try list for everyone who enjoys the occasional piece of fried chicken. Even though Chicks n Friends is not a household name, its fried chicken is delicious.
Hours: 10:00 a.m. to 2:00 a.m.
Prices for two are typically AED 70; locations include JBR, Motor City, and Dubai Silicon Oasis
Al Baik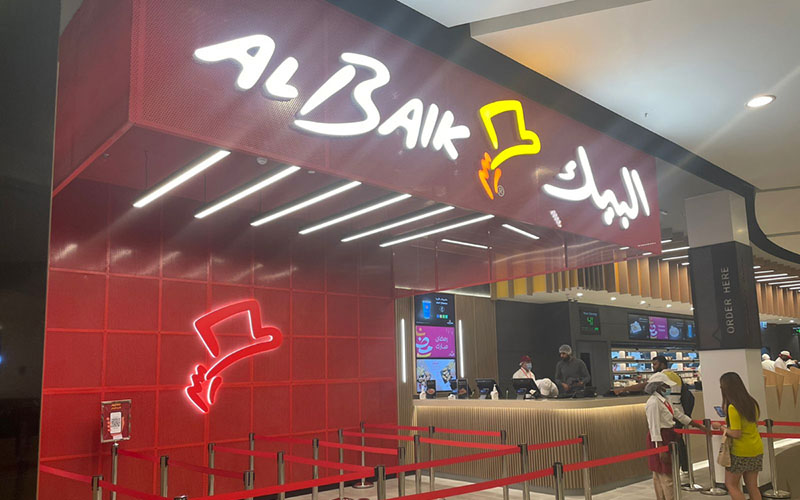 Image Credit: timeoutdubai.com/
The long-awaited arrival of Al Baik in Dubai last year excited the city's fans of fried chicken. Due to its tremendous success, another temporary branch opened near Expo 2020. After the event, Saudi Arabia's preferred fast-food chain built a second location at the Mall of the Emirates.
This fried chicken paradise offers a sizable selection. However, a perennial favorite is still chicken pieces with fries, garlic sauce, and bread. The timeless works of Al Baik are always a good choice.
The Talabat app also allows you to order from Al Baik for delivery.
Location: Mall of the Emirates and The Dubai Mall
POPEYES
Popeyes, a well-known international fast-food business and one of Dubai's most well-liked fried chicken restaurants, was founded in 1972. This fried chicken is distinctive from other restaurants due to its spicy chicken flavors. There are now 14 Popeyes locations in Dubai.
Hours: 11:00 a.m. to 3:30 p.m.
The average price for two is AED 80.
Chicken Cottage
In Dubai, are you looking for grilled or fried chicken? At Chicken Cottage, delicious crispy bites are a guarantee. Given how healthy and substantial the food is, a full dinner may result from having lunch here. If you want to eat the best spicy fried chicken in Dubai, go to Chicken Cottage.
Hours: 11:00 a.m. to 4:00 a.m.
The average price for two is AED 130. The place is Umm Suqeim.
Conclusion:
Every tourist or native prefers a place that has lots of options to choose from; Dubai satisfies all such needs in every department, fried chicken being one such delicacy that can be found in the majority of joints.