With so many Pakistani ex-pats in Dubai, there is no dearth of Pakistani food restaurants in the emirate. From delectable kebabs to aromatic curry, there is something for everyone. Pakistani food is recognized for its delicious flavors, which range from kebabs to korma. And, given the numerous options available, one is certainly spoilt for choice. There are many eateries in the city where you can satisfy your appetites for mouth-watering desi cuisine and rich traditional desserts, whether it's the famed Ravi Restaurant near Satwa or the Karachi import Student Biryani.
Bar. B.Q Tonight
The restaurant, which serves a variety of mouthwatering kebabs, has quickly become a favorite among fans of authentic Pakistani cuisine. The restaurant is a must-visit, from the soft chunks of seasoned chicken in the chicken behari kebab to the tantalizing mutton chapli kebab and aromatic chicken biryani.
Location: H.H. Hamdan Award Complex is in front of the Union Flag, Satwa
Little Lahore
If you are looking for a classic Pakistani breakfast in the morning, Little Lahore is the place to go. The restaurant's breakfast menu is well-known for its desi Lahori chana, nihari, and achari aloo bhaji.
Aside from a traditional Lahori breakfast, the restaurant also serves wonderful lunch and dinner fare. Mutton paya, beef bihari roll, qeema naan, and, of course, chicken biryani are available. Little Lahore also has one of Dubai's best buffets.
The average cost for two is AED 140.
Address: Jumeriah Business Centre 1, Cluster G, Jumeirah Lake Towers (JLT)
Hours: 11:00 a.m. – 11:30 p.m. | Saturday – Sunday: 10:00 a.m. – 11:30 p.m.
Al Ibrahimi
It is a terrific spot to take the whole family, and the buffet offers an extensive selection of delights. It has a diverse menu that includes everything from chicken tikka, shammi kabab, and tandoori fish tikka to chicken achari karrahi and halwa suji.
Al Ibrahimi is located directly across from the BurJuman Centre near Al Karama.
Student Biryani
Student Biryani, one of Pakistan's most famous eateries, launched in Dubai a few years ago and has quickly become a popular favorite among biryani fans. Its chicken, mutton, and vegetable biryanis are delicious, especially when combined with a wonderful raita. Its Kheer is also a must-try to cool down from all the spice.
It is located opposite Day to Day Supermarket, Kuwait Street, Al Karama; Behind Mall of the Emirates, Near Citymax Hotel, Barsha 1; and Al Murjan Tower, Near 178 Amman Street, Al Nahda Restaurant
Lal Qila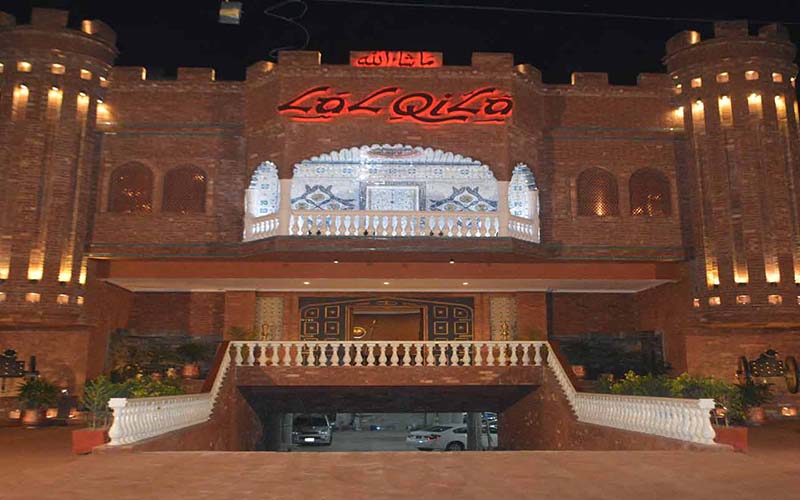 The restaurant serves a classic buffet in a traditional Mughlai setting with elegant décor, including roasted lamb leg, mutton paya, and Mughlai chicken curry. The dessert station, which serves everything from shahi tukda to jalebis and sheer khurma, is unquestionably the highlight of the dinner.
Next to the ENOC Petrol Station, Union Flag Area, Al Wasl Road, Jumeirah 1.
Ravi Restaurant
The restaurant, a cult favorite among Dubai locals, is filled throughout the day with local residents and tourists who have heard that dining at the restaurant is one of the must-do items when visiting the city. It serves everything from exquisite tandoori chicken tikka to delectable haleem and nihari. Ravi has carved out a niche for itself by being both affordable and excellent.
Ravi Restaurant is located opposite Emirates Co-operative Society, near Satwa Roundabout, Satwa, and opposite Burjuman Metro Station in Al Karama.
Daily Restaurant
The restaurant is well-known for its daily specials and offers a variety of spicy meals such as dal gosht, chicken korma, and mutton paya. Furthermore, both its chicken and mutton biryani are flavorful, and the restaurant normally has a long line on weekends, with people observed relishing in these delectable delicacies.
Location: Near Ramee Royal Hotel on Khalid bin Al Waleed Road and near Dubai Grand Hotel on Damascus Road.
Barbecue Delights
This eatery serves up some spicy meals and an appetizing selection of entrees. Must-order items include the spicy khattay baingan and mutton chapli kebabs. The Downtown Dubai location is ideal for celebrating occasions with friends or family and provides breathtaking views of Dubai's skyline.
Adjacent to the Sofitel Hotel on JBR; near the Lamcy on Oud Metha Road; and the Clarens Building in Downtown Dubai.
Wrap & Roll Haandi
Tucked away behind the Mall of the Emirates, this restaurant's halwa puri is a robust breakfast option, while its chef-special murgh chaana is a delicious dish that pairs well with any of its breads, including the delectable butter naan and kheema paratha. Do not forget to try zarda, a delectable blend of rice, milk, and sugar flavored with raisins, almonds, and saffron.
Located in the Al Adiyat Building, directly across from the Dubai American Academy, Barsha 1
Chicken Tikka Inn
Lunch at one of the city's most prominent desi eateries never disappoints. From its haleem, which features a tantalizing blend of pulses, spices, and finely shredded chicken, to its nihari, which features an appetizing slow-cooked lamb shank in a spicy stew, all of the meals here are bursting with flavor.
Nasr Square, Deira; Mankhool Road; Jumeirah Beach Road; Riviera Residence, International City; Damascus Street, Qusais; Mirdif; Al Barsha; and Jumeirah Lake Towers is the location for this joint.
Hot n' Spicy
Do you want some delectable kebabs? Then go to Hot n' Spicy and choose from its extensive menu, which includes all-time favorites like chicken malai boti, which features soft chunks of chicken marinated in cream, milk, and light spices. Try its mutton seekh kebab, which features melt-in-your-mouth minced meat seasoned in delectable spices.
Located in Shop 2, Al Shaiba Towers A, near the Internet City Metro Station.
Conclusion:
Though Dubai boasts of various cuisines, we have curated the 11 best Pakistani outlets for the patrons to try and judge for themselves.