Dubai already has several feathers on its cap – the tallest structure on the planet, the only seven-star hotel globally, the largest shopping mall, the largest natural flower garden, the tallest picture frame, and the list goes on. As if this wasn't enough, Dubai is all set to break another record with a one of its kind luxury floating hotel. Dubai hotels are known to be superlative and outstanding – offering unparalleled experiences to its visitors. Here is another one joining the ranks of extravagance soon.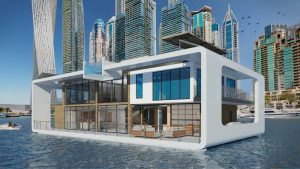 About Floating Resort Dubai
Touted to open for stay in 2023, the Kempinski Floating Palace on the scenic and exclusive Jumeirah Beach Road, the resort has a main floating building with156 stunning rooms and suites. A major highlight of this resort is that it is flanked by12 exclusive villas that not only float, but can also be moved around like a houseboat.
The villas will have two levels consisting of panoramic windows, an infinity pool, and a rooftop terrace. Guests have an option to select from two, three, or four guest bedrooms. Each of these villas will also come with smart home technology to make the stay extremely comfortable and unforgettable. They will float at a maximum speed of six nautical miles, so keep all those fears of floating away at bay. The rooms have solar panels and are entirely are eco-friendly. Isn't that amazing?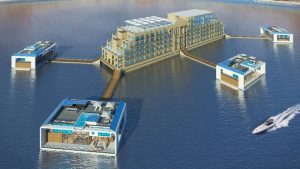 Apart from the main building, this luxurious floating resort in Dubai also offers exclusive gourmet restaurants and bars, several pools, boutique shops, an exotic spa, and massive banquet areas for events. It also has staff and crew rooms. The building is designed in four parts replete with a glass pyramid connecting them through the centre. It is structured in such a way that even larger yachts can drive right through the middle of it. It comes as no surprise that most of the guest list will consist of luxury travellers and VIPs. To cater to their needs there is also a floating helipad and parking for up to 16 yachts next to the main building. We can't wait to see this remarkable breakthrough in the tourism industry. It will undoubtedly open the doors for such opulent and state-of-the-art hotels and resorts all over the world.
Bernold Schroeder, Chief Executive Officer of Kempinski Group and Chairman of the Management Board of Kempinski AG, said, "We are delighted to be able to offer our guests in Dubai such a first experience from 2023 onwards, combining the destination's reputation as a high-tech city with the timeless European elegance of Kempinski Hotels."
IMAGE CREDIT: COURTESY OF KEMPINSKI HOTELS