Dubai is a tourist hub for numerous activities and places to see. One of the activities that have become synonymous to Dubai is the desert Safari. No trip to Dubai is complete without having the experience of a desert Safari.
All Desert Safari Dubai: The Detailed Guide
1.What is desert safari all about?

A desert safari takes you in the middle of the desert. It is akin to a roller coaster ride where you go up and down the sand dunes. There are many tour operators offering the exciting desert safari experience. Only 4×4 Land Cruisers can go through those sand dunes and offer you an experience for the lifetime. They are operated by licensed, professional drivers. Safari expeditions are lot of fun and you get a chance to encounter the real beauty of desert. While on the trip you get an opportunity to click photographs and admire your lovely surroundings. You can opt for sand dune bashing or avoid it too; it depends on your preference.
2.Things to keep in mind while choosing your desert safari
Select only the reputed tour operators for your desert safari experience.
Carefully choose the tour itinerary. There are a lot of options available, select the ones that make your experience perfect. You can even customize a few options like food preferences at the time of booking.
While people of all age groups can take this trip, don't forget it's a bumpy ride of sand dune bashing, and go for it only if you can handle it.
Please don't spoil your fancy clothes with sand in which you'll probably be covered from head to toe, instead go for regular casual clothes.
If you are booking during the month of Ramadan, then the alcoholic beverages and famed belly dancers won't be available.
Dune bashing is not for less than 3 years of age, pregnant women and elderly people with heart problems. You can also book a 'avoid dune bashing' package.
3.Kinds of Packages

There are so many different kinds of tour packages offered by various companies. Few of the popular desert safari packages are Desert Safari with BBQ Dinner, Overnight Desert Safari, Dune Buggy Safari, Morning desert safari etc. Operators even offer special packages for corporate houses, schools etc. Make sure you pick up the right package and have lot of fun and adventure. People who want a closer feel of the desert opt for camel safaris as well. These are quite tiring but take you in middle of undulating terrains of Dubai. Besides camel safari another adventurous way to explore desert of Dubai is on quad bikes. You can choose either the morning or evening slot as per your convenience.
4.Common activities in the camp

An evening desert safari generally starts during late afternoon. On the way there are quite a few photo-stops before they reach the final destination which is either a camel farm or a camp site. Breaks are taken to view the beautiful sunset. You can opt for camel ride, sand boarding or quad biking as well. Later in the evening have a sumptuous barbecue dinner and shisha (the famous Arabic water pipe). Most of the camps have a 'pay per drink'bar (not applicable during the months of Ramadan). You can even enjoy belly dancing by famed Arabic dancers. Other activities included (depending upon the package) are hot air ballooning, dune climbing, sand skiing etc.
 5.Safety Measures in a reputed Desert Safari package
Dubai Safari drivers are professionals with experience and a valid license.
Drivers are also fully trained in First Aid.
The cars are equipped with a roll cage which safeguards the occupants in event of any accident, especially in event of a roll-over.
Wearing car seat belts is mandatory.
Usually 4×4 Land Cruisers are used which are safe.
The cars and the passengers in the car are insured against any kind of mishap.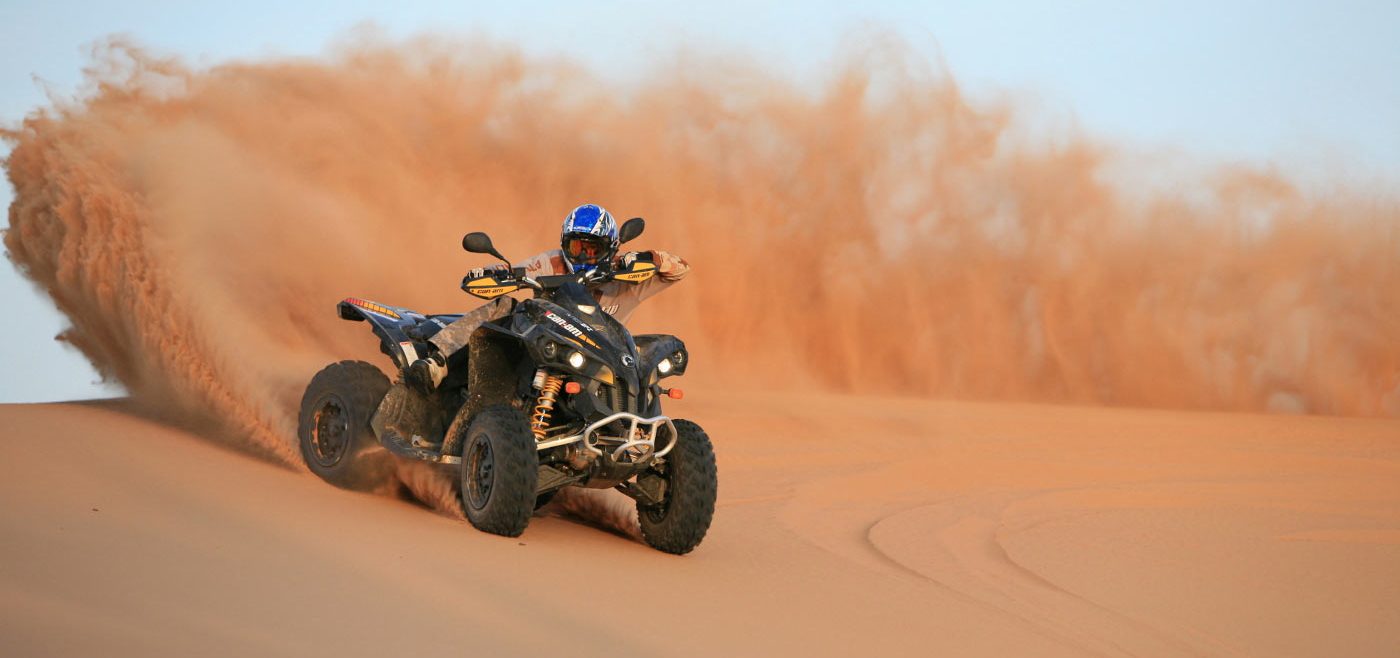 6.During the Dubai Desert safari expedition, don't forget
To carry a camera, that too fully charged to capture the views that are simply splendid.
Wear comfortable clothes. Avoid wearing any kind of jewelry.
No need to carry your mobile phones as there is no signal at the safari camps.
Wear a seat belt to avoid injury, lest you might land up with a bad backache.
Don't try clicking pictures while dune bashing. Most likely your camera will fall over somebody's face.
Don't forget to click the majestic sunset.
Package Range: The packages for Dubai desert Safari with reputed operators start from around AED100 to AED250.
Best time to visit: During winter months from October to February
Thanks to the tourism of Dubai, Desert safari is now an extremely popular activity amongst tourists from all parts of the globe who come to see the grandeur of this Emirati jewel. So while you visit the city of world records, don't forget to soak in the experience of the desert with the Dubai Desert Safari.