Dubai is a tourist hub for numerous activities and places to see. One of the activities that have become synonymous to Dubai is the desert Safari. No trip to Dubai is complete without having the experience of a desert Safari.
All Desert Safari Dubai: The Detailed Guide
1.What is desert safari all about?

A desert safari takes you in the middle of the desert. It is akin to a roller coaster ride where you go up and down the sand dunes. There are many tour operators offering the exciting desert safari experience. Only 4×4 Land Cruisers can go through those sand dunes and offer you an experience for the lifetime. They are operated by licensed, professional drivers. Safari expeditions are lot of fun and you get a chance to encounter the real beauty of desert. While on the trip you get an opportunity to click photographs and admire your lovely surroundings. You can opt for sand dune bashing or avoid it too; it depends on your preference.
2.Things to keep in mind while choosing your desert safari
Select only the reputed tour operators for your desert safari experience.
Carefully choose the tour itinerary. There are a lot of options available, select the ones that make your experience perfect. You can even customize a few options like food preferences at the time of booking.
While people of all age groups can take this trip, don't forget it's a bumpy ride of sand dune bashing, and go for it only if you can handle it.
Please don't spoil your fancy clothes with sand in which you'll probably be covered from head to toe, instead go for regular casual clothes.
If you are booking during the month of Ramadan, then the alcoholic beverages and famed belly dancers won't be available.
Dune bashing is not for less than 3 years of age, pregnant women and elderly people with heart problems. You can also book a 'avoid dune bashing' package.
3.Kinds of Packages

There are so many different kinds of tour packages offered by various companies. Few of the popular desert safari packages are Desert Safari with BBQ Dinner, Overnight Desert Safari, Dune Buggy Safari, Morning desert safari etc. Operators even offer special packages for corporate houses, schools etc. Make sure you pick up the right package and have lot of fun and adventure. People who want a closer feel of the desert opt for camel safaris as well. These are quite tiring but take you in middle of undulating terrains of Dubai. Besides camel safari another adventurous way to explore desert of Dubai is on quad bikes. You can choose either the morning or evening slot as per your convenience.
4.Common activities in the camp

An evening desert safari generally starts during late afternoon. On the way there are quite a few photo-stops before they reach the final destination which is either a camel farm or a camp site. Breaks are taken to view the beautiful sunset. You can opt for camel ride, sand boarding or quad biking as well. Later in the evening have a sumptuous barbecue dinner and shisha (the famous Arabic water pipe). Most of the camps have a 'pay per drink'bar (not applicable during the months of Ramadan). You can even enjoy belly dancing by famed Arabic dancers. Other activities included (depending upon the package) are hot air ballooning, dune climbing, sand skiing etc. Here is a vivid description:
The most popular activity is dune bashing, which involves being driven through
sand dunes in a 4×4 vehicle while experiencing a thrilling & bumpy ride.
Experience 'ship of the desert' & the stunning desert scenery.
Glide down the sand dunes on a board for a unique way to enjoy them.
Travel the desert environment at your own leisure while riding a quad bike.
Experience falconry, a traditional sport in which trained falcons are employed to
pursue animals.
Take the hot air balloon ride to get a bird's-eye perspective of the arid terrain.
An authentic Arabic lunch, shisha, henna tattoos & entertainment like belly
dance and Tanoura displays are all included in the Bedouin camp experience.
The Dubai desert is a great place to get some beautiful pictures of the setting
sun. Against the sandy backdrop, you may capture the sky's shifting hues.
The desert is the ideal location for stargazing because there is little light pollution
there. You can take pleasure in the starry night sky and the clear night sky.
Traditional Arabic attire can be worn to create images that will serve as a
treasured keepsake.
 5.Safety Measures in a reputed Desert Safari package
Dubai Safari drivers are professionals with experience and a valid license.
Drivers are also fully trained in First Aid.
The cars are equipped with a roll cage which safeguards the occupants in event of any accident, especially in event of a roll-over.
Wearing car seat belts is mandatory.
Usually 4×4 Land Cruisers are used which are safe.
The cars and the passengers in the car are insured against any kind of mishap.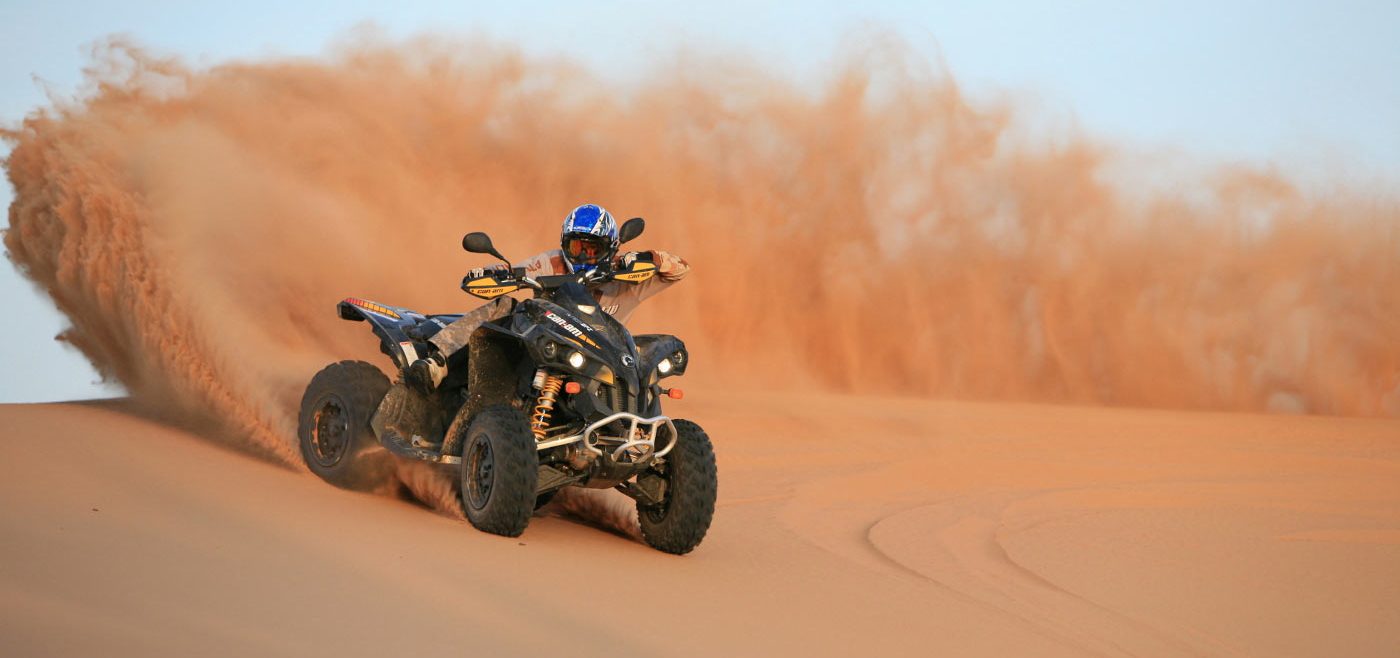 6.During the Dubai Desert safari expedition, don't forget
To carry a camera, that too fully charged to capture the views that are simply splendid.
Wear comfortable clothes. Avoid wearing any kind of jewelry.
No need to carry your mobile phones as there is no signal at the safari camps.
Wear a seat belt to avoid injury, lest you might land up with a bad backache.
Don't try clicking pictures while dune bashing. Most likely your camera will fall over somebody's face.
Don't forget to click the majestic sunset.
Package Range: The packages for Dubai desert Safari with reputed operators start from around AED100 to AED250.
Best time to visit: During winter months from October to February
7. What to Wear?
Although there is no specific attire required for a desert safari excursion, it is advised that you
wear comfortable clothing that will keep you warm all day. Keep in mind that the desert may get
cold even in the summertime. Casual pants and a shirt along with a cardigan you can throw on
when the breeze turns cool would be a fine wardrobe choice. To easily shield yourself from the
sun damage and ascend the sand dunes, put on some comfortable shoes, preferably closed-toed
ones. Do not forget to wear sunscreen to avoid sunburn and damage!
8. Health and Age Restrictions
Children under the age of 2 are not permitted on dune drives or off-road safaris for safety
reasons. Only in a special vehicle and when restrained in a kid car seat are children between the
ages of 2 and 4 allowed to enjoy entertainment. Some tour activities are considered too
exhilarating for expectant mothers and persons with pre-existing medical disorders, such as heart
illness and neck or back issues.
9. Dubai Desert Safari- Different Types
Experiences on a desert safari can take many various forms, but the main distinction is the time
of day. An early morning, evening/day, or night safari trip are all options. The best safari for you
will depend on your choices; each has a unique combination of features and activities. Here are
the three sorts of desert safari excursions available in Dubai.
Morning Desert Safari
These safari excursions leave early enough for you to see the mesmerizing desert sunrise.
Depending on the tour operator, morning safaris are typically more leisurely and include things
like breakfast, sandboarding, and sunrise viewing. The best way to experience the desert in the
solitude and quiet of early dusk prior to the city coming to life is through morning desert safaris.
Enjoy Arabic coffee & dates as you unwind in the camp in the desert and begin your day the
Bedouin way. Exclusive morning pursuits like the hot air balloon rides & animal discovery are
part of certain morning safari programs.
Evening Desert Safari
With these safaris, you can experience the best of both worlds by exploring the desert in the day,
enjoying the sun set over the sand dunes, and taking in an unforgettable evening beneath the
stars. Day/Evening Safaris provide a variety of exhilarating pursuits, such as camel rides, dune-
bashing, and traditional dance performances like belly dancing and tanoura dancing, which you
may take pleasure in while indulging in a mouthwatering traditional BBQ supper. This Dubai
desert safari trip would be the best option if you want to spend an entire day in the desert.
Overnight Desert Safari
The night safari excursions would be your cup of tea if you are more of a night owl. Through
night safaris, you may experience a starry night while driving through the desert during the dark.
Your overnight excursion will begin with a thrilling dune-bashing trip to the desert camp, a place
where you can unwind and take in traditional entertainment while savoring a delectable lunch.
You can start identifying stars as the night goes on and using astrological resources to learn more
about the sky. Some adventures allow you to have a nighttime safari before returning to the city.
You may stay in the middle of the desert on other overnight safari excursions, go stargazing, and
enjoy the stunning dawn over the sand dunes.
10. What makes Dubai Desert Safari Memorable?
Due to the enormity of the Arabian desert, the diversity of everyday exhilarating activities, and
the rich experiences discovered among the dunes, a desert safari in Dubai is an amazing
experience. The options include a variety of photography excursions, a thrilling desert safari, an
exhilarating night safari and a beautiful night out in the freezing desert—all of which are lit in
blue. It is without a doubt worthwhile to experience the Dubai Night Safari, which highlights the
finest of Arabian nights. It is adorned with thrilling rides, Arabian music, & mouthwatering
cuisine. The Dubai desert safari offers a range of activities, as well as picture-perfect mornings
and vibrant evenings. You now understand how to make the most of a day spent in the sizable
Arabian desert!
Conclusion
Thanks to the tourism of Dubai, Desert safari is now an extremely popular activity amongst tourists from all parts of the globe who come to see the grandeur of this Emirati jewel. So while you visit the city of world records, don't forget to soak in the experience of the desert with the Dubai Desert Safari.