Dubai might be the most family-friendly destination, with something for everyone and every age group to enjoy. From swanky beachfront restaurants to thrilling theme parks, this list of places to visit in Dubai with family in summer will help you make the most of your holiday here. We have also thrown in some great places to stay and eat, so let us dive right in!
8 Best Family Places to Visit In & Near Dubai in Summer
Here we have shared some best places to visit in and around Dubai with family in summer. Let's take look into them. Hope you like the list. 
1. The Walk at JBR
The Walk at JBR is great for people of all ages and interests. Whether you're into music, culture, shopping, or fun, there's something for everyone at The Walk. I recommend checking out the JBR Sculpture Garden, where kids can get creative with their art installation.
2. Dune Bashing near Liwa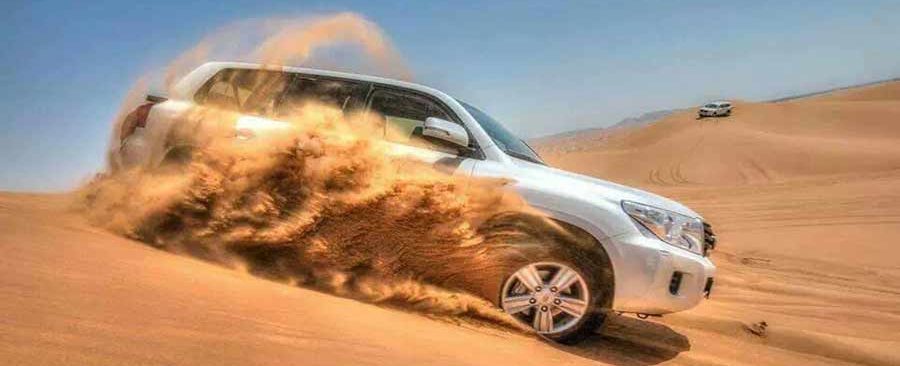 Your children will love dune bashing in Liwa! It is one of those quintessential desert experiences you should take advantage of. A few different companies offer dune bashing, so be sure to do your research and find out what each company offers. Dunes at night are also worth checking out if you're looking for some unique views and want something different from your average desert experience. The weather is cooler at night. 
3. Global Village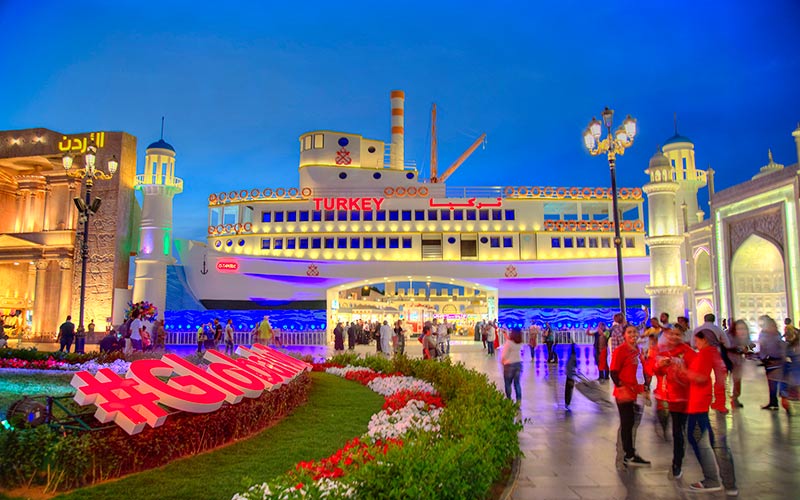 The Global Village Theme Park is located on the Sheikh Mohamed Bin Zayed Road and Emirates Road – Exit 37 – E311 – Dubai. It is the first of its kind in the entire Middle East region. The park aims to provide an all-encompassing entertainment experience, with rides and attractions based on global themes. It's just the kind of destination you'll want to take your family to over and over again! Global Village running time this season is from 25 October 2022 to 29 April 2023. 
4. Hatta Heritage Village Dubai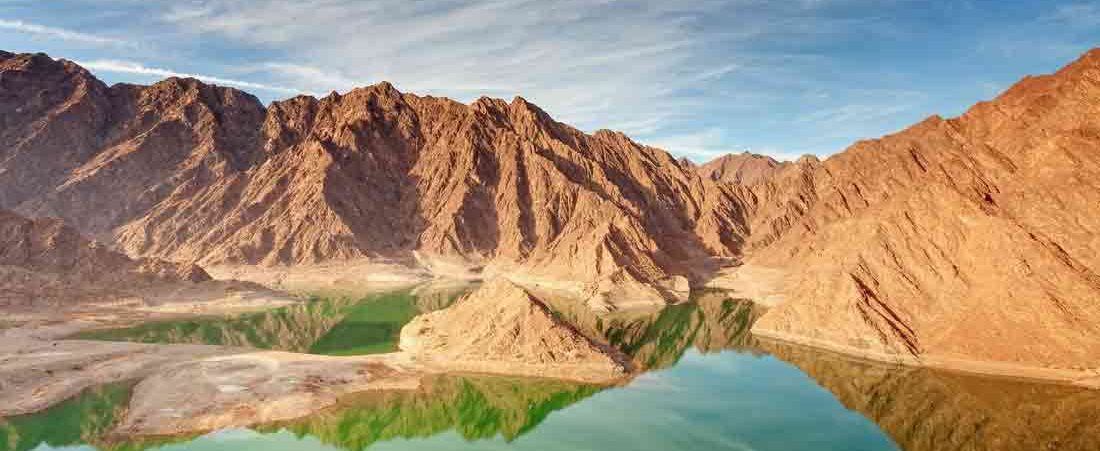 Hatta heritage village is one of the best places to visit in Dubai. You will find this place with great significance for many. For those who love travel to natural beauties, hatta heritage village Dubai provides an excellent opportunity to enjoy being out in nature and see wildlife in close quarters. Activities include horse riding, camping, hiking, hatta heritage, hatta hill park, hatta dam, etc. 
5. Legoland Dubai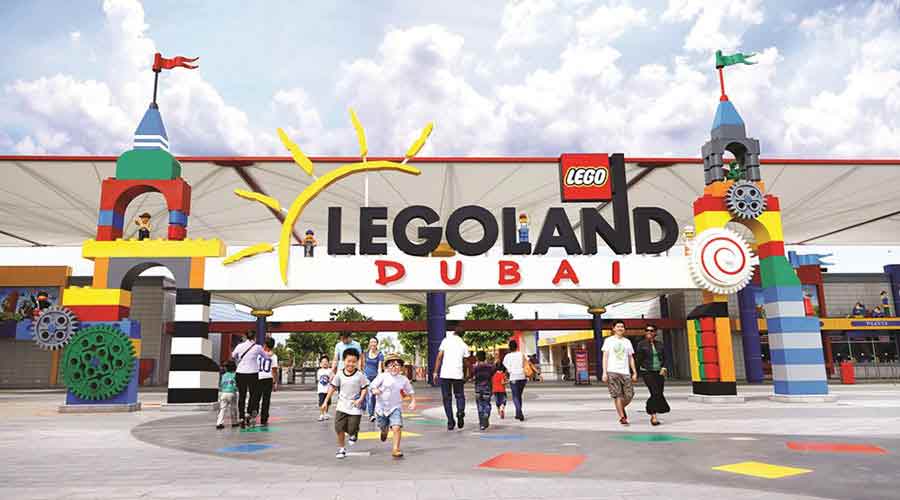 Home to 40 Lego-themed rides and attractions, Legoland Dubai invites families with children aged 2-12. It's a part of the first integrated resort destination, Dubai Parks and Resorts. It's one of the fun things to do with your kids in Dubai where you can steer a car, race with siblings, join a thrilling quest and build your own Lego castle. From wandering in the largest LEGO store in the Middle East to exploring the famous landmarks of Dubai city in Miniland, this adventurous attraction in Dubai deserves a day out. You can also extend the adrenaline-rushing trip to Legoland Waterpark.
6. Emirates Palace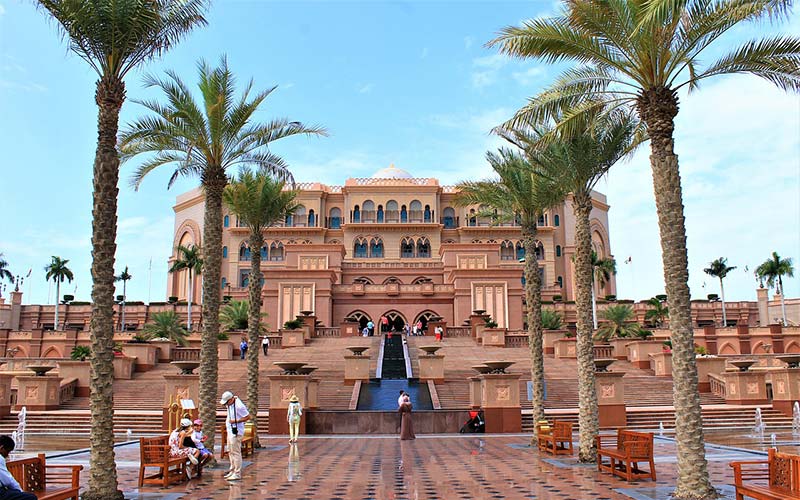 The Emirates Palace is an incredible destination for a family looking for a luxurious vacation. With tennis courts, swimming pools, and stunning gardens on-site, it's easy to see why so many families choose to spend their time here. It's also worth noting that plenty of kid's activities are available at the hotel, including a mini golf course, a petting zoo, and even a tiny ice skating rink. There's no doubt about it – Emirate Palace has something for everyone!
7. Air Maniax
Air Maniax is located at Al Quoz. Dubai has a lot of things to offer, but one thing, in particular, will make your visit spectacular: air-conditioning. Air conditioning is scarce in much of the world, but luckily it's plentiful in Dubai. The Air Maniax is a central indoor theme park with rollercoasters and other rides that will keep kids entertained for hours. Plus, there are ice skating rinks and go-kart racing tracks for more traditional activities.
8. XLine Ride on a zipline
The most thrilling experience for adrenaline junkies is a ride on a zipline. With some of the longest lines in the region, there are plenty of opportunities for thrill seekers to enjoy themselves at heights of up to 2,500 feet! Of course, if you're not keen on heights, plenty of other options are still available.
How to Beat the Heat in Dubai? 
The weather in Dubai is hot. Temperatures can reach over 40 degrees Celsius in the summer, making it an uncomfortable place to visit at this time of year. The main problem with heat is that it causes dehydration. It's important to drink plenty of water when you're in Dubai so that you stay hydrated and avoid heat exhaustion.
If you feel overheated, you can do a few things to keep cool. Try to stay indoors as much as possible, stay in air-conditioned environments, and wear lightweight and breathable clothing.
Avoid sunburn by using sunscreen and wearing clothing that covers your skin. Also, drink lots of water to keep your body well-hydrated.
A smaller issue with the heat is humidity. Humidity can make it feel even hotter than it is. When high humidity, the sweat from your body can't evaporate quickly enough, which means that you absorb more of the heat from the environment than you normally would. To avoid this, try to stay out of the humidity whenever possible. Outdoors during the day and inside when it gets dark are good options for staying cool.
Conclusion
If you want to make a family trip, then Dubai is one of the best cities in the world. There are many places to visit in Dubai with family in the summer. Dubai is a city that has gone through a lot of changes. It was once a financial center and a small fishing village. It is a major global city with a strong tourism industry and many hotels. For many, Dubai is the first time they step foot in this part of the Arabian Peninsula. You can't go wrong with a visit here, as you will discover a paradise of natural beauty, incredible culture, and friendly people.
Author bio:
My name is William. I have an experienced writer and author of well-known sites, most of which have to do with traveling. In his writing, he frequently provides helpful and insightful material. For the last 3 years, he has been writing. My blog Website KuwesInFo.Com