From its early years of inception to today's technologically advanced era, video games have had always a dedicated fan base following them reverently. Lately, the introduction of smart devices like mobile phones and tablets has allowed the fanatics of games to carry and play gamut of video games on the go. But what Meraas has recently done is even more commendable; they have taken the video gaming experience to a whole new level by opening an exclusive gaming park in the heart of Dubai, UAE. At Hub Zero Indoor Game Park Dubai, you'll not only be able to play your favorite video games, but also bring life to all of your much adored video game characters. Sounds exciting, doesn't it?
Everything Need to Know about Hub Zero Dubai
1. Dubai's first of its kind video game amusement park
Several captivating stories and beloved characters of video games like Resident Evil, Battlefield, Dragon Age, and Gears of War, are presented in a completely refreshing yet distinctive manner for the first time in the UAE – only at Hub Zero Dubai. In conjunction with some of the world's top names in the video game designing industry, such as Microsoft, Electronic Arts, PopCap, and Konami, Meraas Holding – one of the UAE's main conglomerates – has meticulously developed this remarkable and imaginative world to provide an immersive virtual experience.
2. Entertainment Park that is more a World of Video Games
As you enter this exclusive 18,000-square-meter indoor entertainment zone sprawling over two levels, you'll be assured of an experience that would defy all theme park stereotypes. With the help of state of the art technologies, its four distinct entertainment zones offer a wealth of games to appeal and enthrall people of all age groups, especially from eight years of age. Home to more than 18 attractions and rides, it – precisely – allows you to live out all your video game imaginings and fantasies as never before. Hub Zero is further noteworthy for its blend of conventional arcades, classic gaming machines, and karaoke booths, making it a favorite among gamers and non-gamers alike.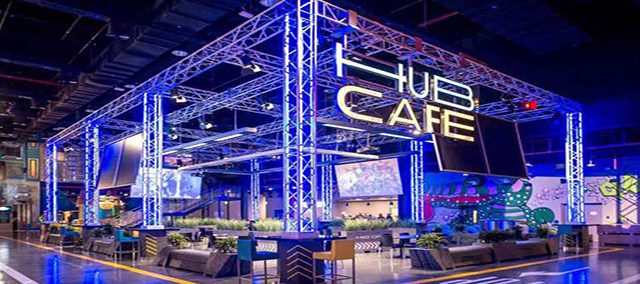 3. Main Gaming Attractions to Check Out
Imagine being able to make a spine chilling escape from zombies or the incredibly eerie Resident Evil. These kinds of cutting edge virtual experiences await you here! From shooter games and thrilling sports game to mind boggling fantasy games to exclusive action games, this one-of-its-kind entertainment park is sure to accommodate all your gaming requirements. So have a look at some of the not to miss gaming attractions in this facility.
• Battlefield: Armoured Assault – An exciting game to try, it has been designed to replicate the popular video game, Battlefield 4. Put on 3D glasses as you ride down its five battle scenes and score points while you clear all the hurdles with the help of weapons.
• Resident Evil: Bio Terror – This gaming area is in the form of a laboratory swarming with zombies. Use weapons like laser guns to combat challenges and win points.
• Gears of War – A laser quest game, Gears of War occupies two levels. One of the unique characteristics is that it allows around 24 gamers to play at a time.
• Final Fantasy: Complete with several cutting edge features including 3D projectors and a huge multi-dimensional screen, this fantasy game is themed around the amazing Final Fantasy VII. Featured in this zone is a 3D tunnel – a ride along which allows you to come across some of the game's main characters.
• Asura's Wrath: This is yet another fantasy attraction that you should not miss out in Hub Zero. A 3D movie will be played in this 46-seater 4D zone, enhanced with a range of facilities offering special effects.
• Double Agent: Walk into this zone for an exhilarating experience. Simply follow the laser beams to reach the finishing point. Wondering what's special about it? The catch is to reach the goal without touching these laser rays.
• Hero Zone: If you're adventure fanatic fond of action-packed games, be sure to step into this game zone at Hub Zero. It has many exciting attractions to quench your love for thrill and action; rope courses, leap of faith, and stairway to heaven – to name a few.
• Network Arena: More than 70 stations are laid out in this LAN gaming zone which also has eight private booths. It allows you to play latest video games and that too with any gamer located in any part of the world, thanks to high speed internet connection.
Not alone these, Hub Zero is also known for its highlights including Dagon Age: Flight of the Wardens, Hyper Drive with top of the line motorsport simulators, and Sports Academy where you can enjoy PES (Pro Evolution Soccer) tournament.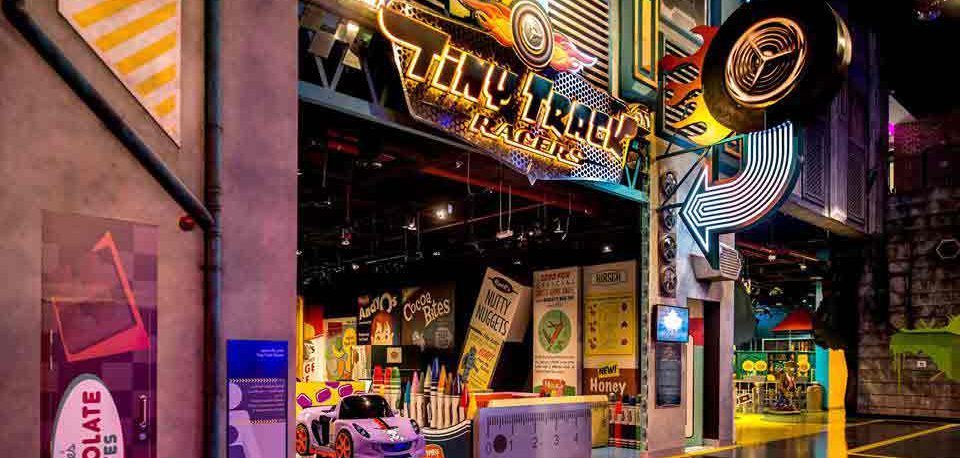 4. Kids Zone
Apart from attractions to cater to serious gamers and ardent thrill seekers, there is also a host of gaming attractions for kids. For instance, Tiny Track Racers within Hub Zero provides little ones with an unforgettable karting experience. Another play area dedicated for kids is Plants vs. Zombies: Backyard Brawl which is filled with a variety of slides and attractions by way of blasters, cannons etc.
5. Food & Gift Shops
Al though you're not allowed to carry food from outside here, you'll find several taste bud pleasing options to curb your hunger as you play and have fun in the facility. No matter you crave for a lip-smacking scoop of ice cream or some hot pizzas or pancakes or even a steaming cup of coffee, Hub Zero is sure to impress the foodie in you. Wish to do some shopping after an appetizing meal or snack? Drop into Cache Point showcasing a great selection of apparels, souvenirs, and consoles – all based on prominent games.
6.Location & Ticket Info
Hub Zero is situated at City Walk, one of the Dubai's most prominent retail, entertainment, and dining destinations. Not only is City Walk on Safa Road famed for its attractions like Reel Cinemas, Level Kids, and The Green Planet, but also equally endearing for its unique shopping concept and mesmerizing architecture reflecting Georgian and Victorian styles.
Speaking of tickets, Hub Zero offers several options to enter the facility. With a Recruit Pass worth AED 160, you'll have the opportunity to access all its gaming highlights once. But for limitless access, buy Master Pass; it sets you back an amount of AED 210. Moreover, consider buying Hacker Pass (AED 260), if you wish to have limitless access to gaming attractions on the ground floor.
So what's the wait for? Come and explore a world of mysteries, thrills, and legends at Hub Zero!