One of the most diversified expat populations in the Middle East is in Dubai, and the city does not fall short when it comes to Christmas events and festivities. Dubai has something for everyone, from a Christmas shopping extravaganza to entertainment based around the holiday.
What to See & Do in Dubai & Abu Dhabi During Christmas
A. Christmas in Dubai
1. Check out Christmas markets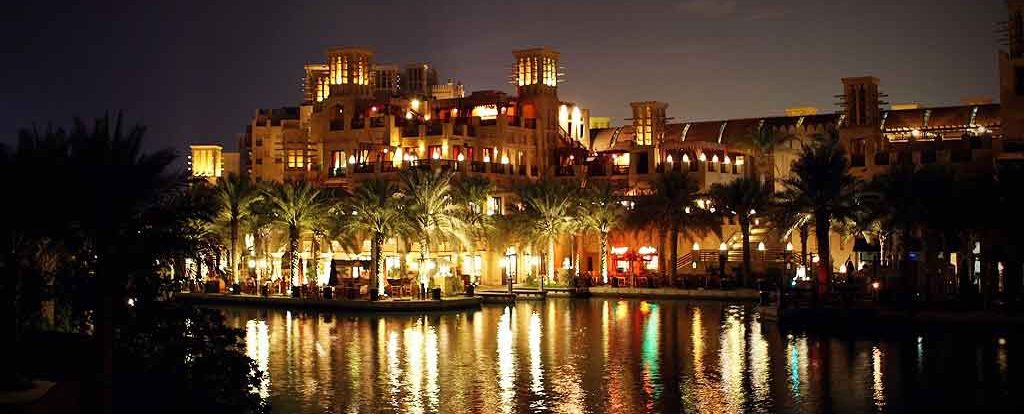 Few people are aware that vibrant Christmas markets are not just found in Switzerland and Germany. As an illustration, Dubai frequently offers similar quaint markets from the beginning of December to the week before Christmas.
● Madinat Jumeirah Dubai
The most well-liked Christmas market at Madinat Jumeirah Dubai returns in the middle of December and normally lasts for 16 days. During this time, a huge Christmas tree is displayed on the grand amphitheatre along with everything connected to traditional food, holiday beverages, and live music.
● Winter City: Expo City
From the end of November until the beginning of January 2023, the Mobility District, Surreal Waterfall, and Al Wasl Plaza will be transformed into a winter wonderland with cozy-looking cottages, Christmas markets, pine trees, exciting funfair activities, and a letter-to-Santa station.
● Queen Elizabeth II
The winter wonderland Christmas spectacular includes a floating Christmas market that is held aboard the Queen Elizabeth 2 cruise ship. Along with a broad variety of live culinary stations and live music, visitors may expect to find a distinctive assortment of handmade arts, crafts, and holiday presents.
● Hotel Habtoor Palace
The Dubai Habtoor Palace Hotel's Christmas market is next on the list of holiday markets. Beautiful decorations can be seen in the Christmas market, which is complimented by contemporary and traditional holiday events like the much anticipated Christmas tree lighting.
● Opera in Dubai
The Dubai Opera's 10-day Christmas Market offers a variety of delectable sweet and savory foods, as well as Christmas-themed music and ballet acts. Children will undoubtedly appreciate the candy-making station before visiting Father Christmas.
● Hillhouse Brasserie
This holiday season, Hillhouse Brasserie will not only host your Christmas brunch but also a winter market with Spinney's Christmas tree farm, a gingerbread factory, and enchanting Santa performances on December 3 from 10 PM to 6 PM.
2. Plan a Desert Safari at Christmas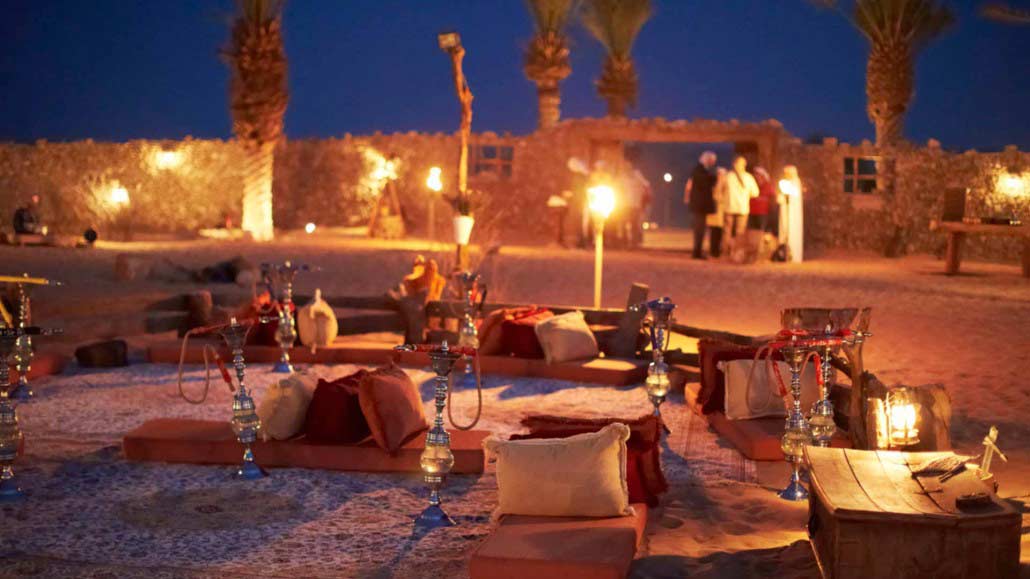 Why not travel to the desert and spend your Christmas in a lavish oasis for a genuinely unforgettable experience? Exactly like a regal mansion from the Arabian Nights. Even in the desert, it's time to celebrate the holiday season, and Dubai likes to throw a massive Christmas party.  The premium desert safaris can organize massive camping with a bespoke food menu and live entertainment. You can indulge in a range of adventurous off-road activities, then sit by the bonfire, and stargaze at night.
3. Other Christmas-y Things to Do in Dubai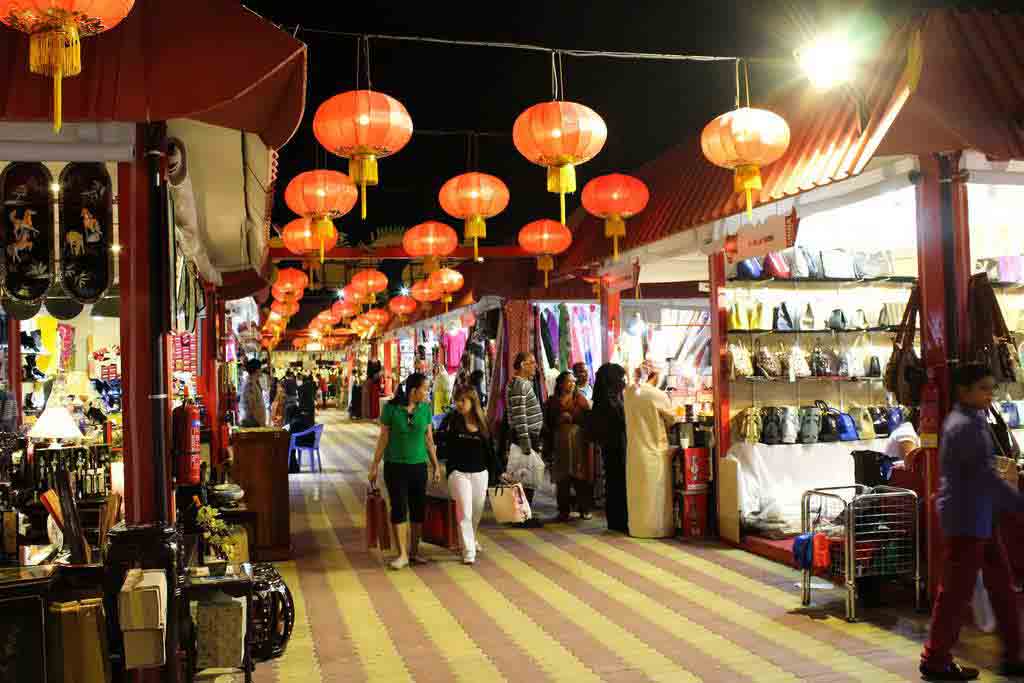 A skydiving Santa appeared at the family entertainment center Global Village to turn on an eight-meter array of carbon-neutral LED trees. The holiday season is well underway in the city, and just as the weather is unique from that in other areas of the world, so is Santa's means of transportation. Here, his sleigh glides on the water as opposed to skidding on snow.
At the Winter Garden Christmas Market in Dubai, there are over 100 booths selling goods and food from more than 100 different nations. If you choose, you may still have a snowy Christmas in Dubai. The Kempinski Hotel in the Mall of the Emirates offers ski style chalets with direct views of an indoor ski slope that includes a grotto and elves.
B. Christmas in Abu Dhabi
Christmas is extensively observed not just in Dubai but also in Abu Dhabi. Compared to other emirates, this one has possibly the most Christmas trees. The various commercial centers, hotels, restaurants, and Christmas markets in Abu Dhabi just love to decorate for the holiday.
1. Swiss Christmas Market along the Beach Rotana
The beautiful alpine Christmas custom is brought to Abu Dhabi by the Swiss Christmas Market. The four-day festival includes wooden huts selling trinkets and food special from Switzerland, such as raclette and cheese fondue. There is also a selection of kid-friendly activities available.
2. Shopping for holiday presents in Abu Dhabi's top-notch Malls
Even in comparison to Dubai, Abu Dhabi's malls aren't bad. Due to the range of goods given by the many shopping malls, anyone wishing to buy Christmas gifts for their loved ones will be spoiled for choice. Abu Dhabi offers a fantastic shopping experience, from upscale stores to hidden traditional goods.
Conclusion
The famous cosmopolitans of the UAE, Dubai, and Abu Dhabi live it up during Christmas. It's a treat for tourists as well as locals. For transportation from one place to another you can opt for Sprinter rentals as it's easy to book and affordable. So, go ahead and have massive fun this Christmas in unique ways.
Author Bio: Effie Barret is a well-traveled individual who loves to explore new places and cultures. She has a passion for adventure and is always looking for new and exciting experiences. In her free time, she can often be found planning her next trip or participating in outdoor activities. To accommodate her frequent travels, Effie relies on sprinter rentals to get around. She finds that these vehicles offer the perfect combination of comfort, versatility, and convenience for her needs. Whether she is traveling for business or pleasure, Effie can always count on sprinter rentals to get her where she needs to go.