When you think of Dubai, the first things that come to mind are the glitz, glamour, and luxury. It is brimming with striking skyscrapers, opulent shopping malls, cutting-edge theme parks, and exotic spas. The general perception is that a trip to this Emirati city will break your bank. But what if we say that's not true! Would you believe that? Well! There are plenty of free things you can experience in Dubai that will not cost you even a dirham. Want to know what they are? Keep reading!
Here are the 10 Best Free Things to do in Dubai
1. Dubai Marina
Dhow cruise dinners are one of the main attractions in Dubai that take place on Dubai Creek or Dubai Marina. However, it is expensive to indulge in romantic dinners in this floating restaurant. However, you can stroll along this stunning waterfront development for free and see a captivating sunset. It is lined with bars, nightclubs, restaurants, boutiques, and more, a great place to catch a glimpse of Dubai nightlife.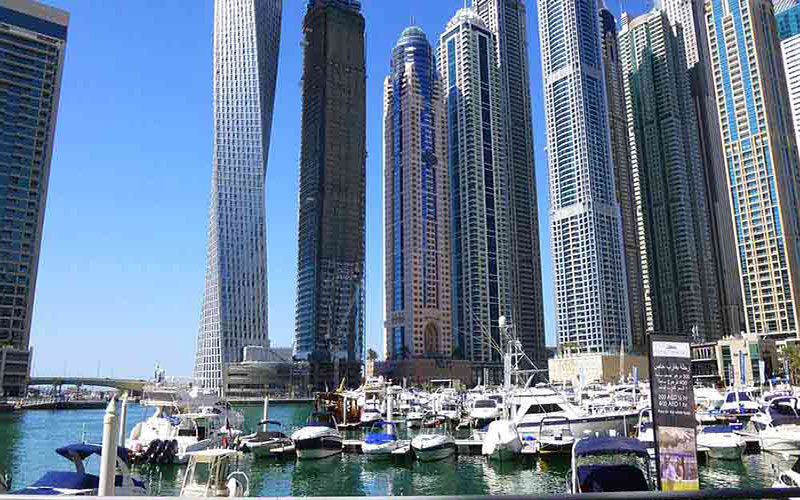 2. Coffee Museum
Coffee has been an integral part of Emirati heritage for many years. Tucked in a quiet back lane of the Al Bastakiya Quarter, the Dubai Coffee Museum is one of the top places to visit if you are a lover of this delicious beverage. It is a gold mine for every piece of information about coffee and its history. You can also check out several unique coffee-related artifacts, books, and antiques in the exhibition room. If you have any questions regarding this beloved drink, the highly knowledgeable staff can answer those for you.
3. Al Bastakiya Quarter
There are plenty of free things to do in Old Dubai. Also known as Al Fahidi Historical Neighborhood, this oldest residential neighborhood takes you back in time when Dubai was a pearl diving and fishing region. You will stumble upon numerous cafes, restaurants, boutiques, and art galleries. The buildings are made with sustainable materials such as stone, teak, sandalwood, palm fronds, coral, and gypsum. It is an excellent place to get an insight into the ancient days of the city.
---
---
4. Dubai Fountain
The Dubai Fountain is a choreographed fountain system that shoots more than 22000 gallons of water to a height of 500 feet. This mesmerizing fountain is located outside Dubai mall and is one of the free things to do in the city. It is designed by the makers of the iconic Fountains of Bellagio in Las Vegas. The fountain show takes place every 30 minutes from 6 pm and is a feast for the senses. This dazzling spectacle of water and lights with beautiful Arabic or international music playing in the background is one of the best things to witness in Dubai.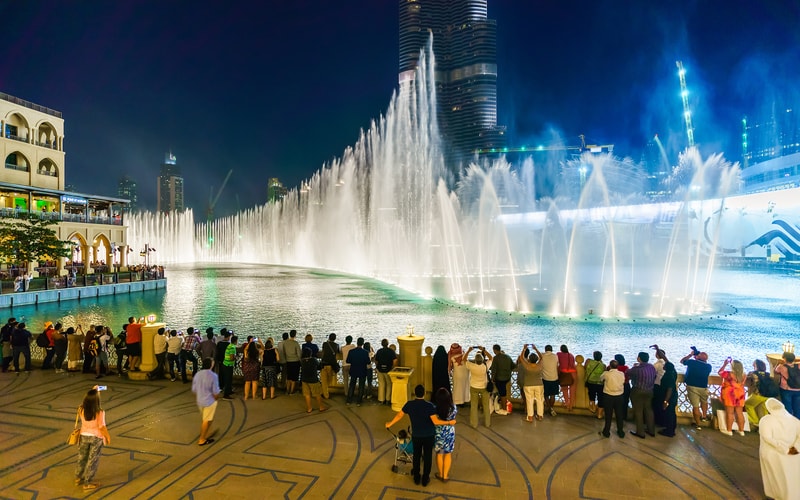 5. Visit the beaches
Dubai has an array of pristine beaches like Kite Beach, Jumeirah Beach, JBR, and La Mer. A visit to the beach is completely free, and you can spend the entire day building sandcastles, swimming in the waters, or just lazing on the sand. You can even play beach volleyball, do jogging or walking on the tracks available here. A few beaches also have dedicated skating rinks and play areas for the little ones. You can also carry a picnic basket and spend quality time with your family.
6. Wander through the Souks
The Souks are traditional street markets of Dubai where you can buy everything from footwear, apparel, perfumes, essential oils to spices, dry fruits, teas, and herbs. Spend an afternoon wandering through the narrow lanes and indulge in some window shopping. Don't miss the Gold Souk, which is home to hundreds of shops selling sparkling gold, diamonds, and precious stones. Unless you do some shopping, these places are free to walk around.
7. Love Lakes at Al Qadra
The Al Qadra Love Lake consists of two intertwined heart-shaped lakes that are extremely popular with social media influencers and couples. It is an excellent spot for photographers as the lakes look beautiful, especially when seen from above. A visit to this unique shaped lake is completely free. You can enjoy myriad activities such as cycling, barbequing, birdwatching, and camping. It is very rich in flora and fauna, and you can see a bevy of creatures like eagles, black swans, ducks, gazelles, oryx, rabbits, flamingos, and foxes.
8. Ras Al Khor Sanctuary
Ras Al Khor Wildlife sanctuary is a protected natural wetland reserve located in the heart of Dubai. This sanctuary provides a haven to more than 450 birds and over 45 species of plants. This world heritage site has three platforms Flamingo Hide, Lagoon Hide, and Mangrove Hide. You can spot Flamingos, Herons, Snowy Plovers, Silverbills, and many other fascinating birds with the help of binoculars placed here.
9. AlSerkal Avenue
AlSerkal Avenue is an offbeat area in the city's heart that is a big hit with art lovers. It was once an industrial area with around 40 warehouses that have been given a makeover and converted into dance studios, artisanal cafés, galleries, and more. The Al Quoz Gallery is free to visit and showcases brilliant contemporary artwork. It is also open for seasonal events, and with several concept spaces, pop-up shops, and cozy cafes nearby, this is a fantastic place to hang out and spend an exciting evening.
10. Dubai Mall
The sprawling Dubai Mall is one of the best shopping malls globally and houses 1200 local and international brands. While shopping here will surely put a dent in your bank account, strolling around the mall and enjoying the window display is completely free and one of the best ways to enjoy this luxurious mall. You can also see the massive tank of the Dubai Aquarium and Underwater Zoo at the mall entrance for free.
Conclusion
There are many things you can enjoy in this splendid city for free. So, plan your holiday nicely and visit all these amazing places.