Moving to Dubai can seem to be a challenge for someone who is on a tight budget. The city is expensive to live in and offers a lot of options for luxury living. However, this is just the outer layer of the city. In reality, much of the workforce in the city lives on a small earning (relative to the cost of living). The migration rate from South Asian countries is always on the rise. Excluding the pandemic, Dubai has seen an increase in its population ever since the grand expansion in the late 20th century.
Dubai is a city for everyone – with its structure built to support people from all walks of life. If you are moving to the city from a developing country such as India, there is always the option of saving a lot of money. You can do so by going for the right moving partner. You can also refer to people who have already made this geographical switch.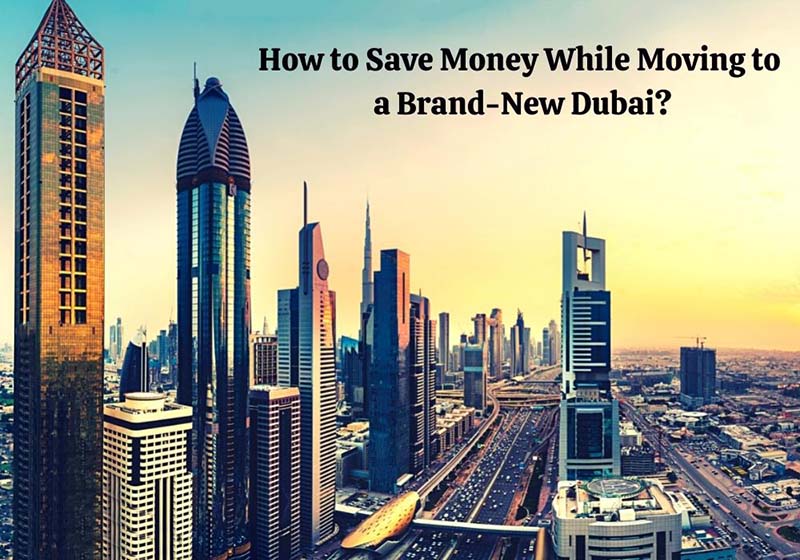 Saving money on your move to Dubai
Here we have a listicle of tips that can help you move to Dubai affordably.
Make a budget first
Your expenses will spike whenever you plan a move. This is inevitable and the only thing you can do is to manage it properly. Making a budget allows you to keep a close look at your expenses. It also allows you to think of ways in which to save money.
One of the first things that you should do before making a budget for a move is to research your upcoming expenses. You can do this by noting down everything that has to be done in the near future. This list of tasks will allow you to assign a cost factor to it. Moving to Dubai isn't only about booking the flight or hiring a moving company. You have to be prepared for the first few months in a new country. It is also helpful if you have a few bucks saved up for the initial days in the city.
Your budget should, as aforementioned, be as detailed as possible. After you have the list of expenses, you can go ahead and compare it to how much you can actually afford. Then, you can move on to how you can bridge the gap between the two.
Hire an experienced and reliable moving company
Think of a company that can help you from the moment you start thinking of relocating to actually getting you settled in Dubai. There are always fewer options for international relocations. Also, the good ones are even fewer. Again, you also have the cost factor that you need to address.
To make the journey as smooth as possible, it is crucial that you go for a reliable company. You can definitely think of ways in which you can save money. However, do not go below the average expenses for this service. The quality of relocation is important. A reliable and professional moving company should be the first priority for you here.
Make sure that you contact multiple companies and compare their cost estimates before choosing one. Read online reviews to figure out which company is the best option for you. Your specific needs must be catered. Moving to Dubai with all your household items is not an easy job. You will need as much support as possible.
Make a checklist
Having a checklist will allow you to keep a track of your progress before you move. Mark all the important dates in the calendar. The major constituents of your checklist should be covered by the following headings:
Affordable packing
Packing is the first step. Before this though you need good packing supplies. If you have already hired an international moving company, they can help you with this step. However, this is one of the areas where you can actually save some money.
Buy packing supplies and moving boxes from a reliable and affordable store. You can reuse some of the moving supplies you already have. Make sure that you tape in everything properly. Your moving boxes should be sturdy. Use the appropriate moving boxes for different kinds of items.
Label your boxes and mark the fragile items carefully.
Downsizing is a must
Moving to another country is a hectic task. The less items you have to move, the better. Usually, international relocation does not involve heavy items such as beds or wardrobes. The best thing to do is to buy these items in Dubai itself. What about the furniture and other items that you leave behind though.
You can sell these items and downsize your old house to the bare minimum. Hold a garage sale and sell off everything that you don't need in Dubai or they are too expensive to transport. This way, you will earn a few bucks and also save money on shipping.
Choose a 'cheap' moving date
Transportation and moving costs are dynamic. They are dependent on the time of the year and the current demand. Although it is difficult to follow the exact demand for moving, you can follow the general trend. Moving during the off-season is the best thing you can do for your expenses. Research about the less busy seasons for moving companies and book a good firm as soon as possible.
Ensure that all your documents are ready
International travel and relocation are always bound by a lot of rules and guidelines. Moving to Dubai, you will need the following in general:
A copy of your passport (also the passport of others moving with you).
A copy of UAE visa.
A list of all the items that you are transporting. Customs are really detailed when it comes to bringing stuff to a new country. Things made of ivory, weapons, flammable stuff, etc. are strictly banned.
A letter from the Ministry of Affairs can also be added. This will exempt you from paying duty. Find out more about this by talking to your moving company.
Hasten with the booking
Finally, it is important to note that you can get the best prices for everything if you book your moving company in advance. Moving to Dubai and settling there might be expensive but there are several ways in which you can save money. Hire a good company in advance and start your preparations as soon as possible.
Author Bio: Kinza Siddiq has been a professional movers and packers in Dubai for more than 5 years. She is an expert in logistics and transportation. Kinza has been living in Dubai for the past 10 years. She is passionate about travel and effortlessly blends her experiences with writing. She loves adventure, travel, and writing. When she's not working, she spends her spare time with her pets and writing blogs.