Summers can be challenging in Dubai, especially with the sweltering heat and humidity. However, it is also when the tourist influx is relatively less, and you will get amazing deals on flights, hotels, and tickets for various attractions. So, if you are planning a summer holiday in the Emirate city, here are some of the top attractions and activities to enjoy.
Ski Dubai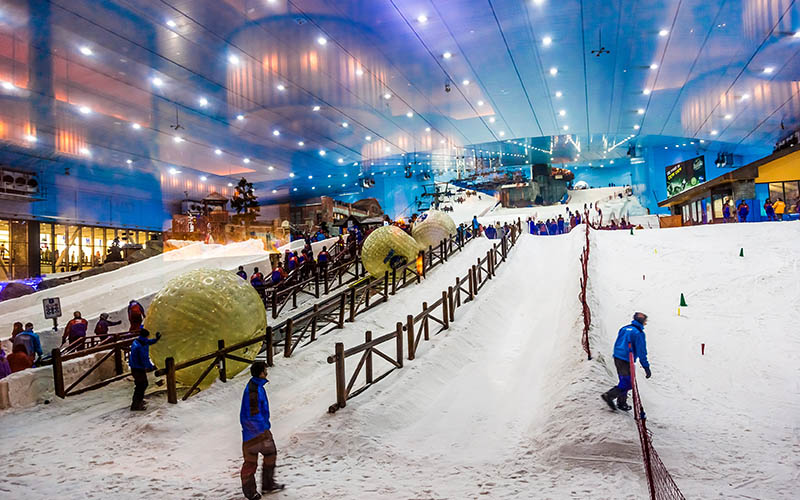 Ski Dubai is a sprawling indoor ski resort in the heart of the desert spanning over 22500 square meters. It maintains a sub-zero temperature throughout the year and is one of the best destinations for the entire family. You can enjoy numerous snow sports, including snowboarding, tube slides, tobogganing, zorbing, skiing, and other unique activities in Dubai. The main highlight is the 'March of the Penguins' show, where these adorable birds charm you with their frolics.
Hit the beaches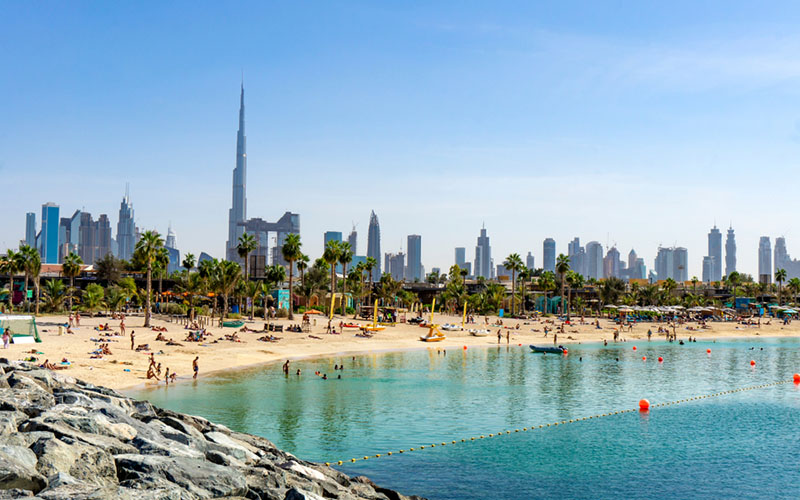 Dubai consists of several beaches, which are a great place to hang out in the evenings. It is the perfect place to enjoy the sun, sea, surf, and sand. You can also enjoy an array of watersports such as paddle boarding, kitesurfing, kayaking, jet-skiing, wakeboarding, banana boat riding, and parasailing. It also consists of a trampoline park for the kids and a 14 km jogging track bordering the coastline.
Burj Khalifa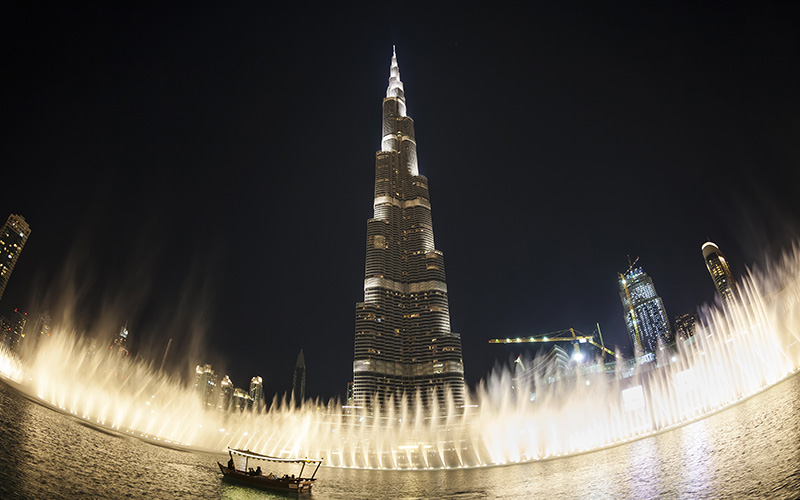 Burj Khalifa stands at the height of 828 m and is undoubtedly one of the most visited attractions in the city. Head to one of its two observation points, one on the 124th floor and the other on the 148th floor. Feast your eyes on stunning views of the entire city and spot landmarks such as Dubai Marina and Palm Jumeirah.
Aquaventure Waterpark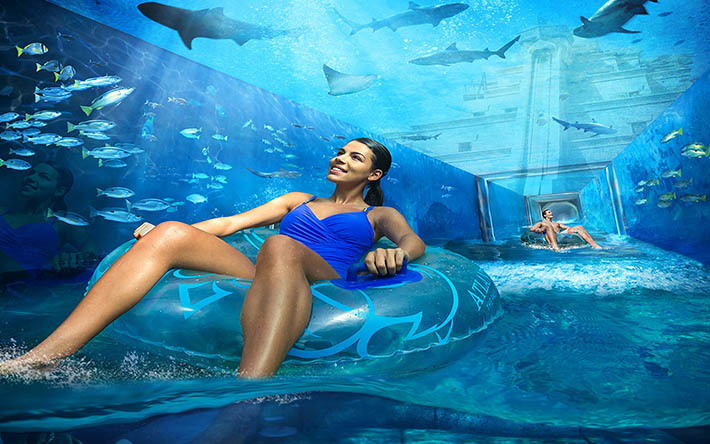 Aquaventure Waterpark is one of the largest waterparks in the Middle East and offers the much-needed respite from the scorching temperature of the city. It has exhilarating rides such as Shark Attack, which consists of water slides going through a shark-infested lagoon, and The Leap of Faith, a 9-floor vertical drop into the lagoon. The Lost Chambers Aquarium has thousands of exotic aquatic creatures like stingrays, manta rays, piranhas, sharks, etc.
Green Planet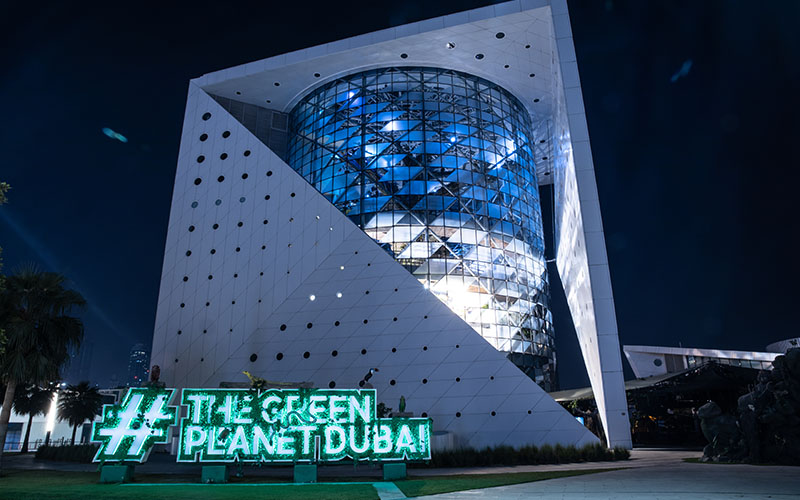 Green Planet, located at City Walk, is the primary indoor tropical rainforest and biodome in UAE. It has a rich flora and fauna with over 3,000 plants and animals. It combines learning and entertainment, teaching the importance of every living organism on our planet. It also focuses on the significance of a flourishing ecosystem and creating a natural habitat for all living beings.
Dubai Mall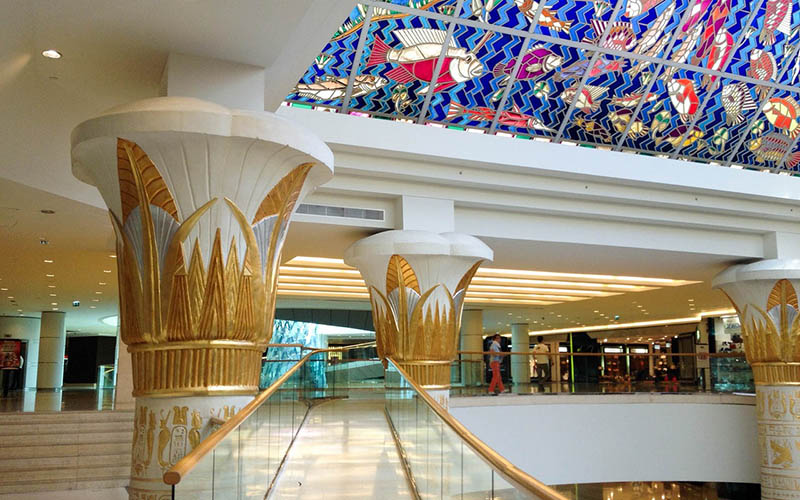 Shopping is an integral part of the itinerary when you are in Dubai. After all, you are in one of the best shopping destinations globally. Dubai Mall is a one-stop shop for all your needs. It has more than 1200 branded, luxury, international, and local chains. However, it also offers fantastic entertainment options like an Olympic size ice rink, a captivating fountain, an award-winning aquarium, a virtual reality theme park, and a children's edutainment center. There are also 22 multiplexes to fulfill your craving for movies.
IMG Worlds of Adventure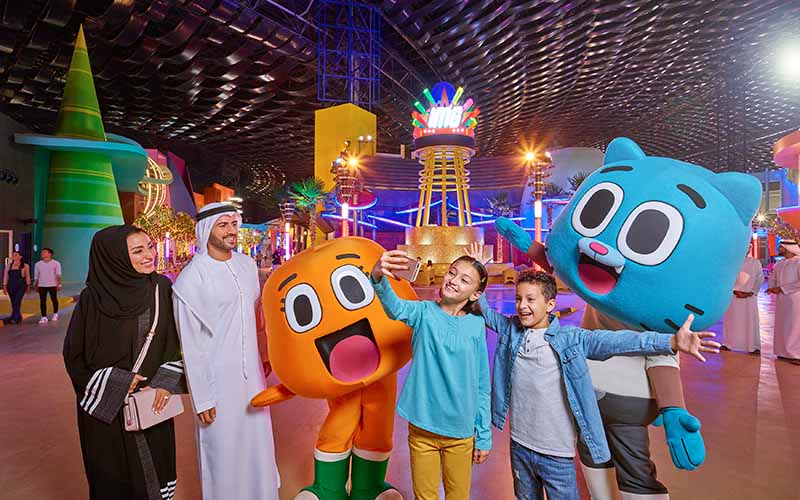 Would you like to spend a day with all your favorite characters from Marvel Comics and Cartoon Network? Then visit the IMG Worlds of Adventure, one of the largest indoor theme parks. Enjoy rides based on Thor, Iron Man, Spiderman, Superman, and The Hulk. Meet delightful characters such as Powerpuff Girls and Ben 10 in the Cartoon Network Zone. Get transported to the prehistoric era and enjoy rides based on petrifying dinosaurs. It also has various options for shopping and dining once you want to take a breather after enjoying the rides.
Evening Desert Safari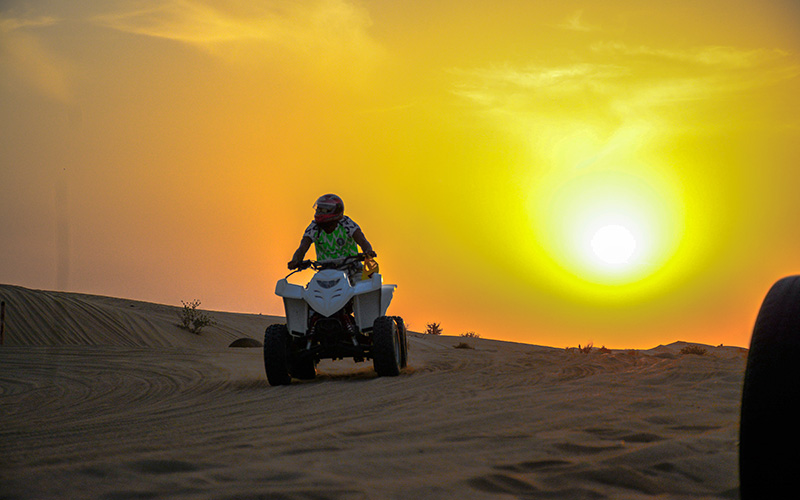 Hop into a 4×4 SUV and set off into the heart of the vast Arabian deserts. Participate in exciting desert activities such as sandboarding, dune bashing, and quad biking that will get your adrenaline pumping. Dress in traditional Arabic attire and click pictures, enjoy a bumpy camel ride, smoke flavorful hookah pipes, get your hands painted with intricate henna patterns, and see a splendid sunset. Treat your tastebuds to a delectable BBQ buffet dinner and enjoy remarkable cultural performances such as Tanura Dance Show and Belly Dancing.
Dubai Aquarium and Underwater Zoo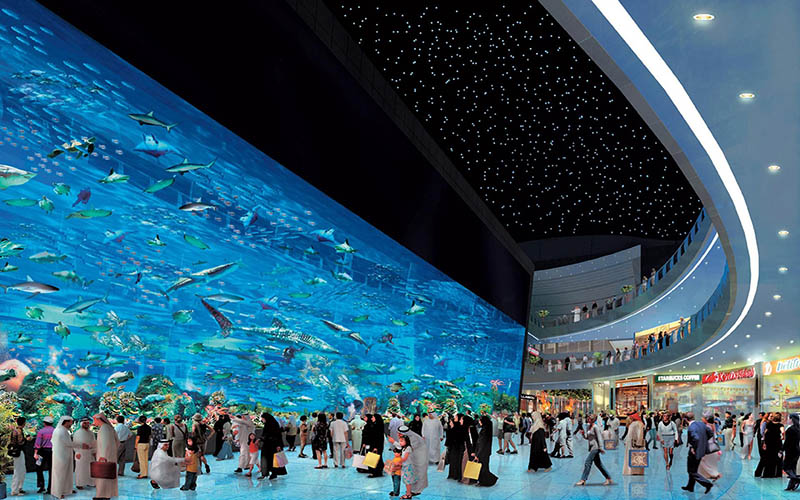 Dubai Aquarium and Underwater Zoo is a colossal aquarium situated in the Dubai Mall. It has won awards for the world's most extensive acrylic panel and offers a beautiful experience to its visitors. Stroll through the glass tunnel and surround yourself with thousands of fascinating marine animals. The aquarium houses more than 140 species of underwater life, including sharks, manta rays, stingrays, otters, jellyfish, seahorses, piranhas, and more. You can also sign up for thrilling encounters with otters and crocodiles and enjoy activities like cage snorkeling and glass-bottom boat tours.
Dubai Creek and Souks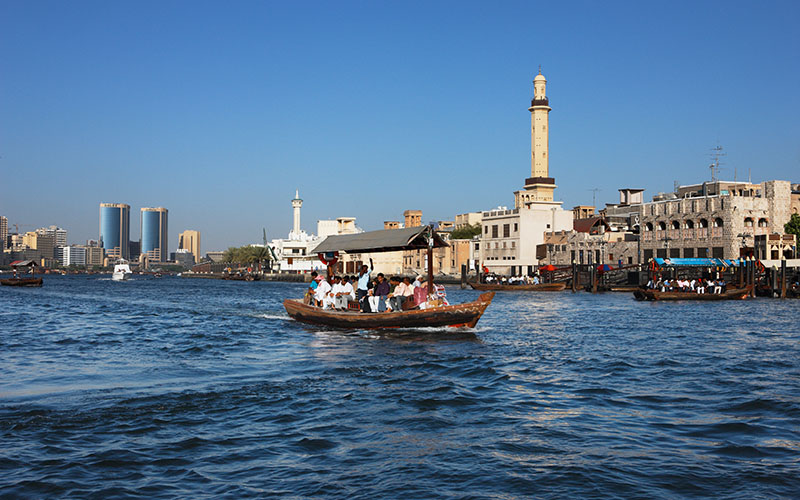 The iconic Dubai Creek cuts through the city's center, dividing it into Bur Dubai and Deira. This saltwater creek has been a significant part of Dubai's history and trade. Hop aboard wooden boats called Abra and cross this waterbody for just 1 dirham. The souks or traditional street markets on both sides of the creek make for a great shopping destination. They sell a plethora of beautiful products, including local garments, footwear, essential oils, perfumes, herbs, spices, dry fruits, teas, and other trinkets. Out of all the markets, the Gold Souk and the Spice Souk are the most famous. The glittering gold and diamond jewelry display on the store windows will leave you dazzled.
Conclusion
Dubai has so many lovely attractions that it is hard to feature everything on this list. If you want to enjoy more indoor activities to beat the heat, you can visit VR Park, Bollywood Park, I Fly, Bounce Dubai, and KidZania. But whatever you choose to do, we promise you that you'll have the time of your life.