You can find all world-class cuisines prepared with the utmost authentic taste in Dubai, whether it is Chinese, Italian, Japanese, Indian, or even Filipino; Dubai pampers your taste buds to the best. Dubai is world-famous for its food, especially seafood.
If you are looking out for the best seafood restaurants in Dubai that offer both the ambiance and the taste, here's our exclusive list for you.
Seafood Restaurants in Dubai That We Recommend
1. Aprons and Hammers
Located aboard the historic dhow at Dubai International Marine Club (DIMC), this restaurant provides amazing seafood. From Jumbo shrimps to fancy lobsters, from juicy crabs to generous portions of fresh catch, this seafood restaurant is going to leave your tongue tingling and your tummy happy. Also, you can enjoy your yummy seafood with a lovely selection of wines and frosty beers for an amazing experience.
Location: Dubai International Marine Club
Opening Hours: 12:30 p.m. to midnight
Approx cost for 2: Dhs 250 approx.
We Recommend: Crabs with butter cream sauce
2. Pepper crab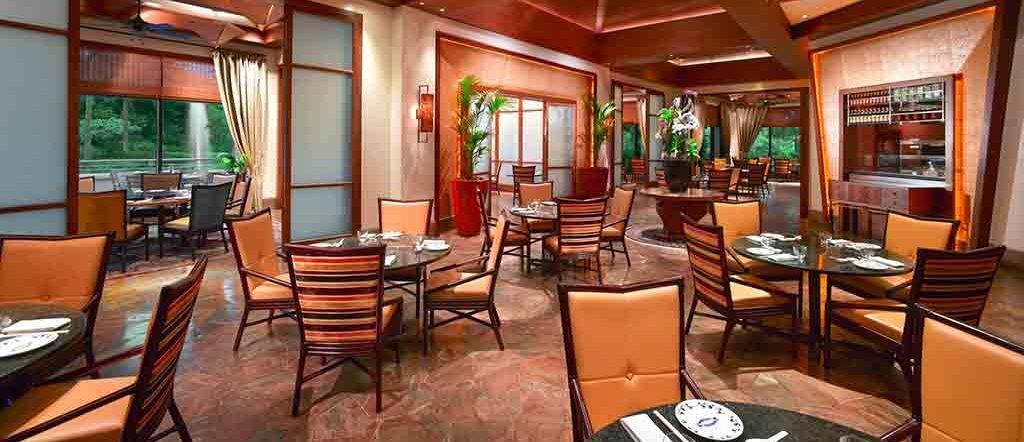 The first-of-its-kind seafood restaurant in Dubai, Pepper crab provides seafood using the unique culinary delights of Singapore. The seafood served in this restaurant is enhanced in taste using various sauces and spices. With the perfect mix of Asian and Singaporean delicacies, this restaurant is a must-visit with your family and friends.
Location: Grand Hyatt Dubai
Opening Hours:
Brunch – 12:30 p.m. to 4 p.m
Dinner – 7 p.m. to 11:30 p.m
Approx cost for 2: Dhs. 350
We Recommend: Orrechiette Con Polpette
3. Palm Grill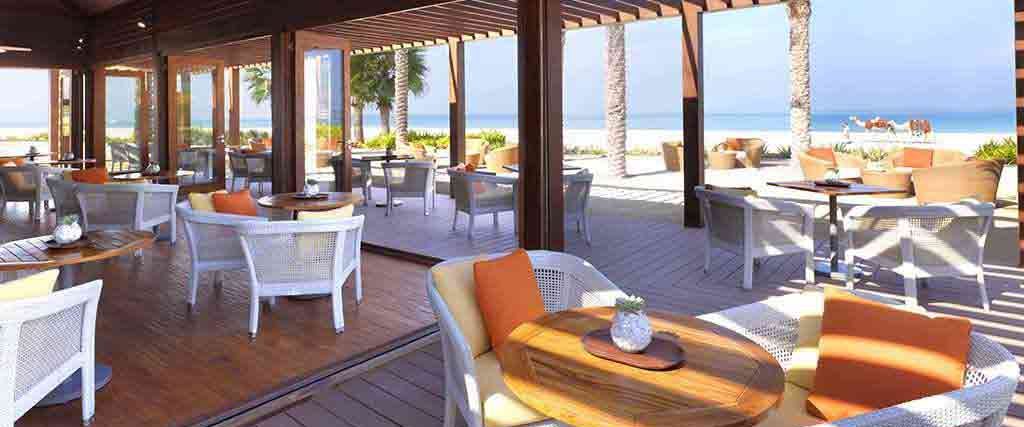 An amazing beachfront experience is what you can describe as Palm Grill. With a complete 180-degree look at the Arabian Gulf, enjoy mouthwatering delicacies in a laid-back environment. The menu includes beach-grilled seafood specialties such as tiger prawns, Omani lobsters, freshly shucked oysters, and other freshly caught seafood. Enjoy this amazing food with unique island-inspired cocktails. This restaurant also offers a stunning setting "Sundowner" to watch the sunset while having lovely food.
Location: The Ritz-Carlton Dubai, The Walk at JBR, Jumeirah Beach Residence (JBR), Dubai
Opening Hours:
Sundowner – 6 p.m. to 8 p.m.
Dinner – 7 p.m. to 11 p.m.
Approx cost for 2: Dhs. 245
We Recommend: The beach bucket
4. Yalumba

Featuring a modern eclectic cuisine of blended flavors from the East and West, this restaurant offers mouthwatering seafood. Open for breakfast till dinner, this restaurant offers dishes varying from shrimp to prawns and from kingfish to tunas. From the famous brunches to the loved ala carte menu, Yalumba offers a complete value for money. Along with some select wines, relish your food and have a gala time.
Location: Lobby Level, Le Méridien Dubai Hotel & Conference Centre, Airport Road, Garhoud, Dubai
Opening Hours: 5:30 AM to 10:30 AM, 12:30 PM to 3 PM, 8 PM to 11 PM
Approx cost for 2: Dhs 300
We recommend: Fish Shawarma
5. Ossiano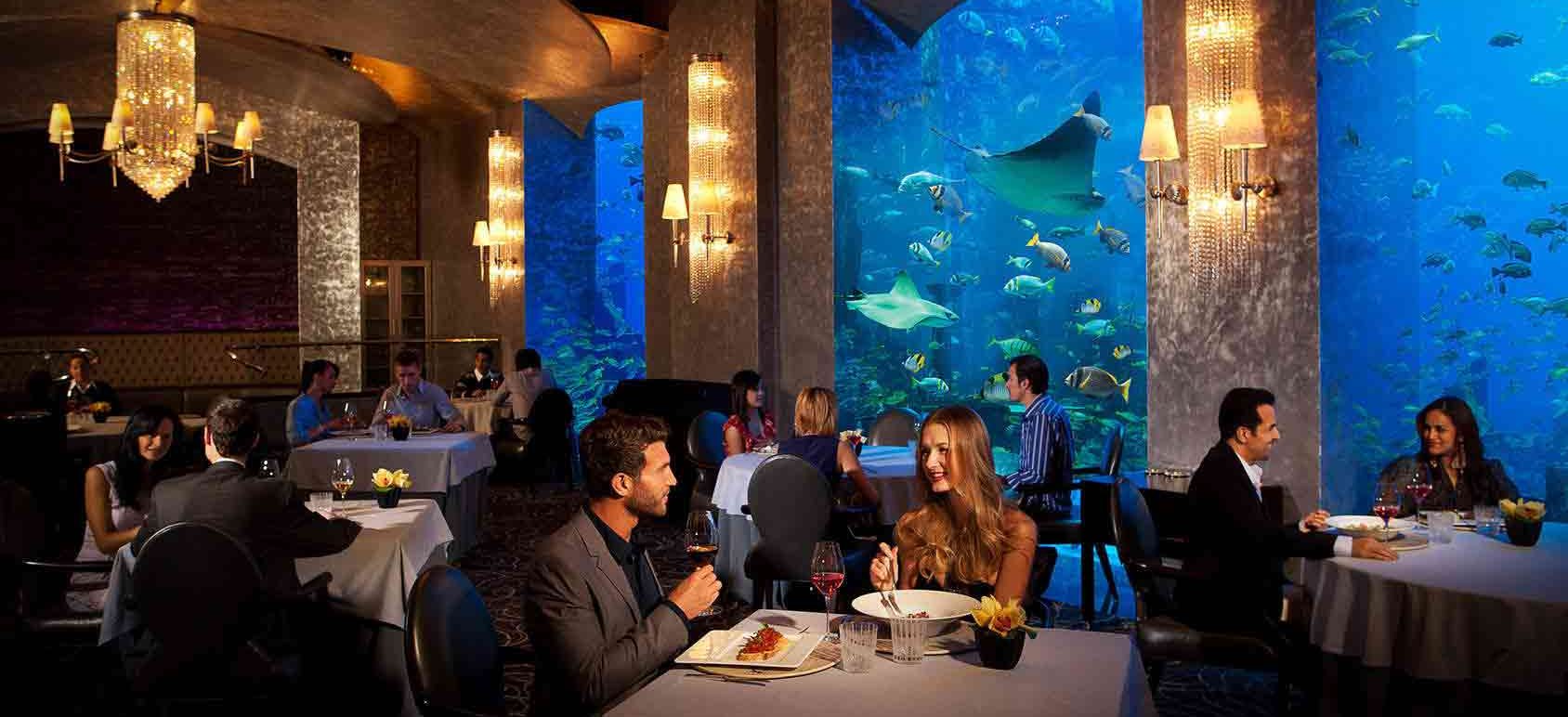 With an exemplary décor, Ossiano welcomes you to the world of purple and silver and a dining experience you will not be able to forget easily. If looking at the menu makes you feel the prices are far from cheap don't worry, the portions served are large and very delicious. The service is friendly and the staff is knowledgeable. Take their help in selecting the best from the extensive menu.
Location: Lobby Level, East Tower, Atlantis The Palm, Palm Jumeirah, Dubai
Opening Hours: 7 PM to 12 Midnight
Approx cost for 2: Dhs 1400 without alcohol
We recommend: Meerlust Chardonnay
6. Al Mahara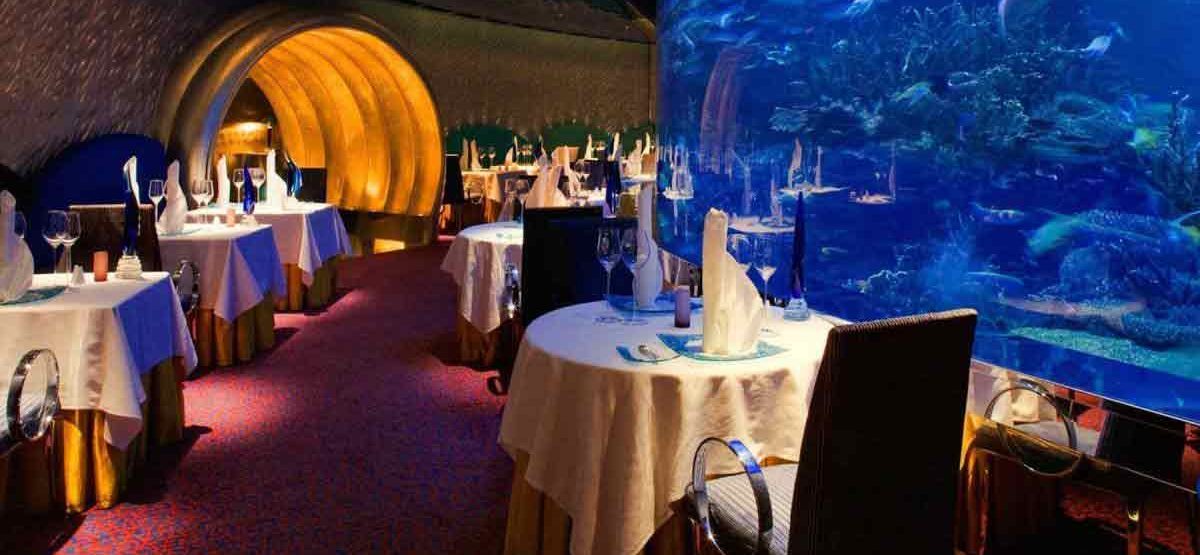 Al Mahara offers exactly what you expect from a restaurant located in the 7- star Burj Khalifa hotel- class and elegance with great food. Not only is the ambiance great, the food totally compliments the feel of the place. Please don't expect it to be anywhere near the affordable range. The prices can be quite heart-twanging, but the place is full almost every night of the week, and going with a prior reservation is recommended.
Location: Ground Level, Burj Al Arab, Umm Suqeim, Dubai
Opening Hours: 12:30 PM to 3 PM, 7 PM to 12 Midnight
Approx cost for 2: Dhs 1600
We recommend: Oyster Shell
7. Flocka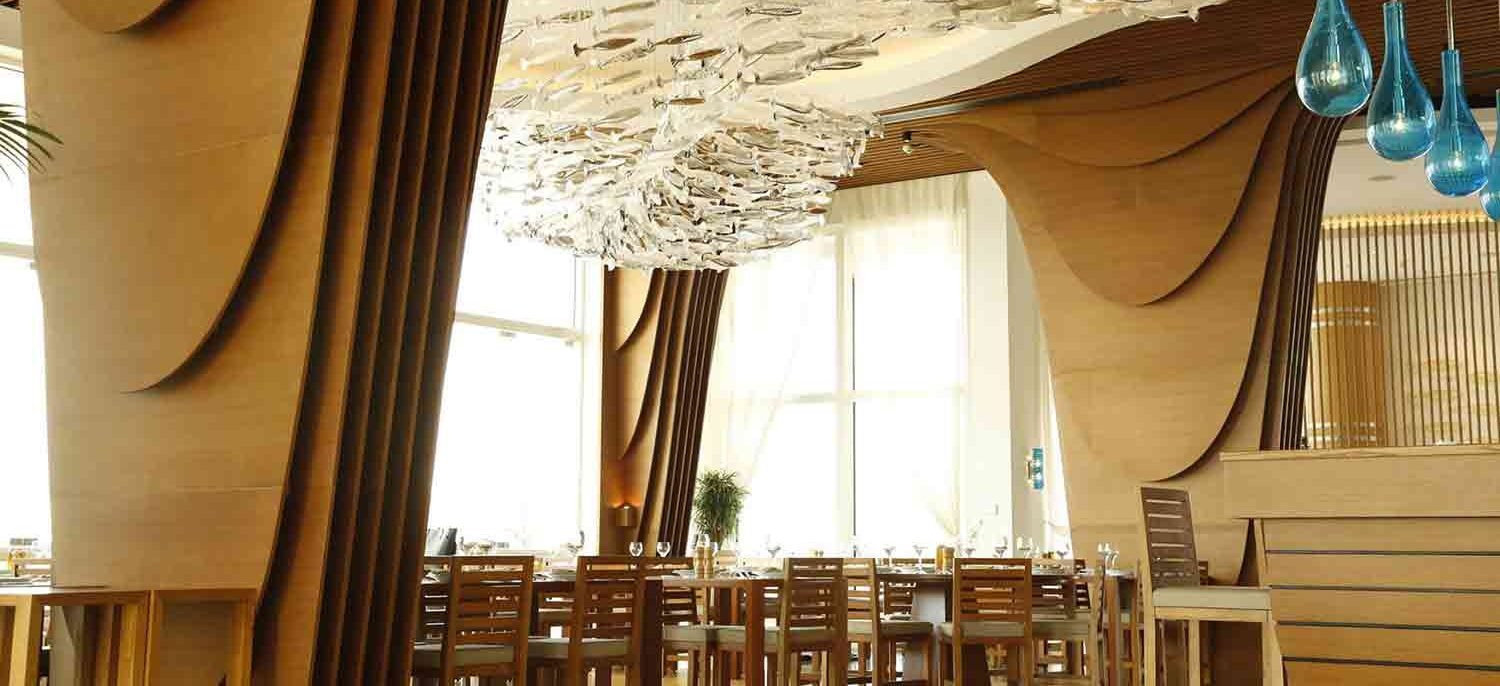 Flocka offers a beachside elegant ambiance and allows you to savor the taste of the sumptuous seafood to its best. The food is delicious and it takes you a good amount of time to select from the wide assortment of menu. While the service is friendly, it sometimes is a bit slow but the good food makes up for it. Don't forget to try out the creative desert menu at Flocka.
Location: Dubai Marine Beach Resort and Spa, Jumeirah 1, Dubai
Opening Hours: 12 Noon to 3 PM, 7 PM to 12 Midnight
Approx cost for 2: Dhs 300
We recommend: Grilled Jumbo Shrimp
8. Pierchic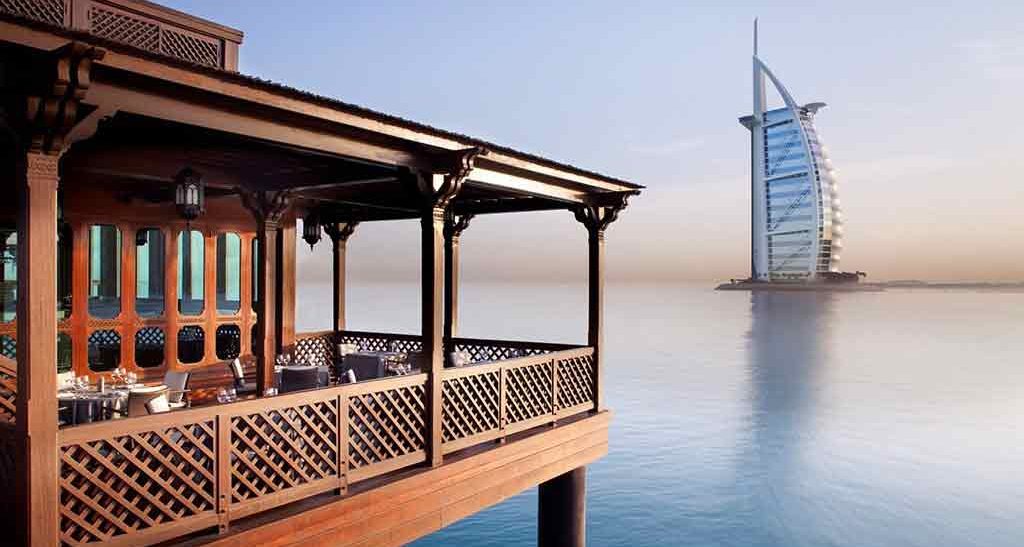 Pierchic is one of the must-visit restaurants for its location. Offering a chance to dine in the middle of the sea, Pierchic offers some of the most exotic seafood dishes with an ambiance that makes the dining experience nothing short of divine. With quick service, knowledgeable and helpful waiters, and sumptuous food with exceptional surroundings; Pierchic is a must-visit place.
Location: Al Qasr, Madinat Jumeirah, Dubai
Opening hours: 12:30 PM to 3:30 PM, 6:30 PM to 11:30 PM
Approx cost for 2: Dhs 600
We recommend: Avocado tartar and baked Grill Salmon
9. Fish Market
It has been one of the most loved places for seafood in Dubai for many years now and rightly so. The place is almost packed during all hours and every day of the week, but still has a calm feel around it. Overlooking Dubai creek, the Fish market is a must-visit by seafood lovers who get to buy their food and then can get it prepared as per their palate.
Location: Radisson Blu Hotel Dubai Deira Creek, Level 2, Baniyas Road, Dubai
Opening hours: 12:30 PM to 3:15 PM, 7:30 PM to 11:15 PM
Approx cost for 2: Dhs 350
We recommend: Snapper in Thai Sauce
10. Calicut Paragon
One of the best Indian restaurants in Dubai, Calicut Paragon has an extensive menu inspired by coastal delicacies. Besides freshly cooked seafood, you can devour vegetarian food, parathas, and curries. With completely delightful dishes and efficient services, you can indulge in the best gastronomical services. Some of the popular dishes that you can spot on the menu are Tender Coconut Payasam, Mutton Varattiyathu, Mango Prawn Curry,  Malabari biryani, Vegetable Stew, and Prawns Fry.
Location:  Al Ghani Building, G Floor, Amman St, Al Nahda, Al Nahda 2, Dubai 
Opening hours: 7 AM-12 AM
Approx cost for 2: Dhs 120
We recommend:  Crab Thushar
Final Thought
If you are a seafood lover, dining at any of these places will make you fall in love with seafood all over again.
If you have been to any of these restaurants, we would love to know about your experience and share it with other seafood lovers.