Abu Dhabi means "Land of Gazelle" which was interestingly found when a young antelope led the way of a wandering tribe for fresh water. The hospitality and warmth of Abu Dhabi are unmatchable. It's a luxurious weekend getaway from Dubai that makes it an even more incredible experience for its visitors. Things to do in Abu Dhabi include adventure parks, zoos, mosques, and wildlife.
Abu Dhabi city was planned and designed by Sheikh Zayed and Japanese Architect Takahashi. It's a city of skyscrapers and grand malls as well as heritage and deep-rooted culture. Explore Abu Dhabi as a destination that has a major effect on tourists.
10 Best Things to Do in Abu Dhabi
1. LOUVRE ABU DHABI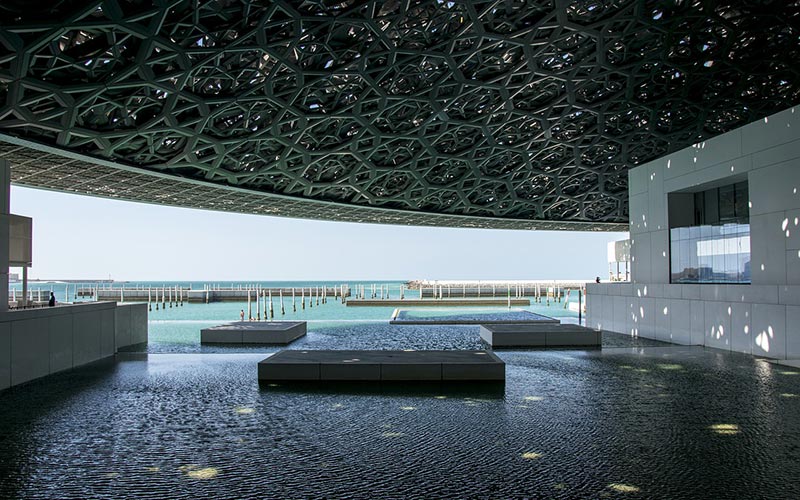 We all know Abu Dhabi as an opulent, cultural, and dramatic emirate. Wrapping it all in the UAE's first-of-its-kind first art and civilization museum, the city owns a gorgeous Louvre Museum. It walks the visitors through 12 galleries that have an impressive array of displays and exhibits. The 9,200-square meters museum is home to arts of historical, cultural, and sociological significance. Open yourself to cultural diversity, watch notable French treasures, and admire universal artists. Designed by Pritzker-prize-winning architect Jean Nouvel, the museum is both pleasing to the eyes and mind.
2. YAS MARINA CIRCUIT ABU DHABI
The Yas Marina circuit is designed by famous circuit architect Hermann Tilke. This race ground is 5.55 long and consists of 21 turns. It is one of the most luxurious and classic racing tracks. The very first race held here was in the evening after 5 o'clock in the year 2009, which is a first of its kind. Also, this circuit has two tracks to hold races at the same instant. So, if you are a fan of the motor-sport races and want to experience the adrenaline rush with the other 50,000 spectators then here is your chance to fulfill that dream. Yes, you have heard it right. Even though you don't know how to drive, you can still feel what exactly it would feel like to handle the wheel of a race car. The only thing you need to do is to hire a driver and a car with an open cockpit at AED 1,200 / US$ 327.The Yas Marina circuit also hosts the Abu Dhabi Grand Prix, one of the fastest-growing races in popularity section. Right now Lewis Hamilton holds the record for the fastest lap ever.
3. FERRARI WORLD ABU DHABI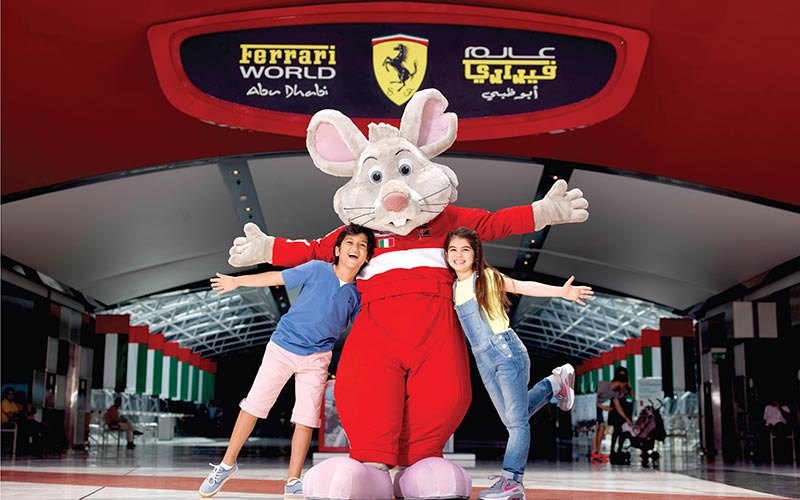 While Dubai has got the adventurous IMG Worlds, Abu Dhabi has Ferrari World. It is the best amusement park in the world with so many different rides. Some of the Italian restaurants and biggest Ferrari stores are also on campus. So, every age group has something to be excited about. It also houses one of the biggest roller coasters rides Formula Rossa. This ride has a top speed limit of 250 k mph in 5-sec max. If you want a heart-stopping thriller experience of a life without you being in the driver's seat, pay a visit to this theme park on your next vacation.
4. YAS WATERWORLD ABU DHABI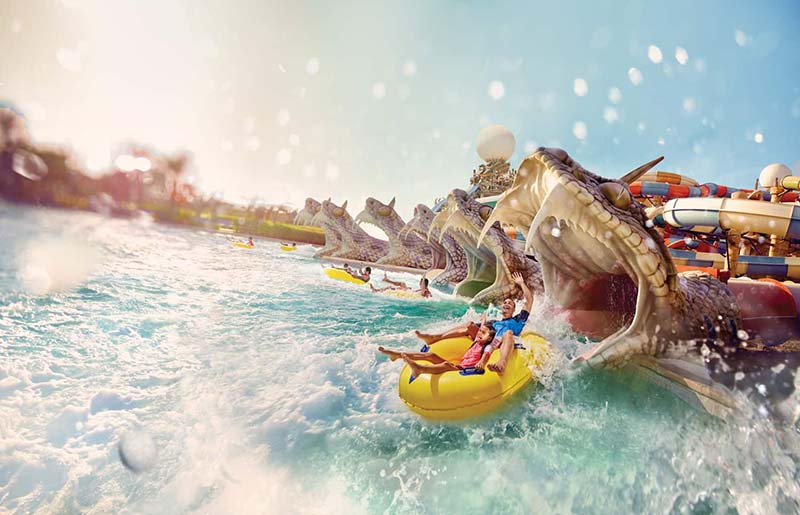 Yas Waterworld Abu Dhabi is a water park situated on Yas Island, Abu Dhabi. One of the best places to visit in Abu Dhabi with family is spread over an area of 15 hectares of land and is the home to more than 40 rides and slides. Yas Waterworld has a "Legend of the Lost Pearl" theme behind its every ride which pays tribute to UAE's heritage of pearl diving. The park visitors follow the path of an Arabian maiden Dana while enjoying the park to find a precious pearl. Go on a journey with Dawwama, the first Tornado slide with a capacity of six-person at a time. It's more than 235 meters long. Bandit Bomber and Bubble Barrel are two of the must-visit rides for Adventure lovers.
5. WILD WADI ADVENTURE PARK
Wadi Adventure Park is situated in Jebel Hafeet, Al Ain, Abu Dhabi. There are different water adventure activities in Dubai for both adults and children. But, Air Park, Rafters Grill, Wake Park, and Surf Pool are different adventure centers at Wadi Adventure Park. It has the first man-made water surfing, a 1.7-kilometer long kayaking channel network, along with an open beach and lounge, family pool & splash. Wadi Adventure Park is not only famous for its water adventures activities; it has facilities of Air Park with a zip line, obstacle course, wall climbing, giant swing, etc. It has a café, spa, and hairstyle center. The park also provides facilities for accommodation.
6. EMIRATES PALACE ABU DHABI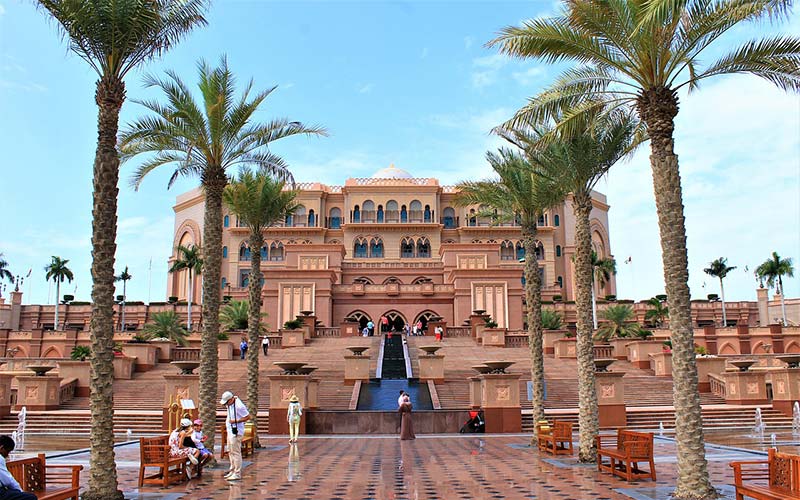 Emirates Palace in Abu Dhabi is a luxurious hotel. It is designed by Wimberly Allison Tong and Goo. The interior of the hotel reflects the tradition of the UAE. This hotel's construction was done by keeping Arabian elements in mind with 114 smaller domes which give a feeling of different kinds of sands. The facilities provided by the hotel include spa facilities, meeting rooms, helicopter landing pads, luxury shops, and international restaurants. This palace hotel consists of 394 rooms, out of which 92 are suites and 22 are rooms for the hotel staff. This hotel has two wings and one central part. Most of the rooms have gold and marble in their construction. The penthouse floor is reserved for dignitaries like royal family members. The construction price of this hotel is a whopping 3 billion USD which is much more than most of the world's costlier hotels.
7. THE SHEIKH ZAYED GRAND MOSQUE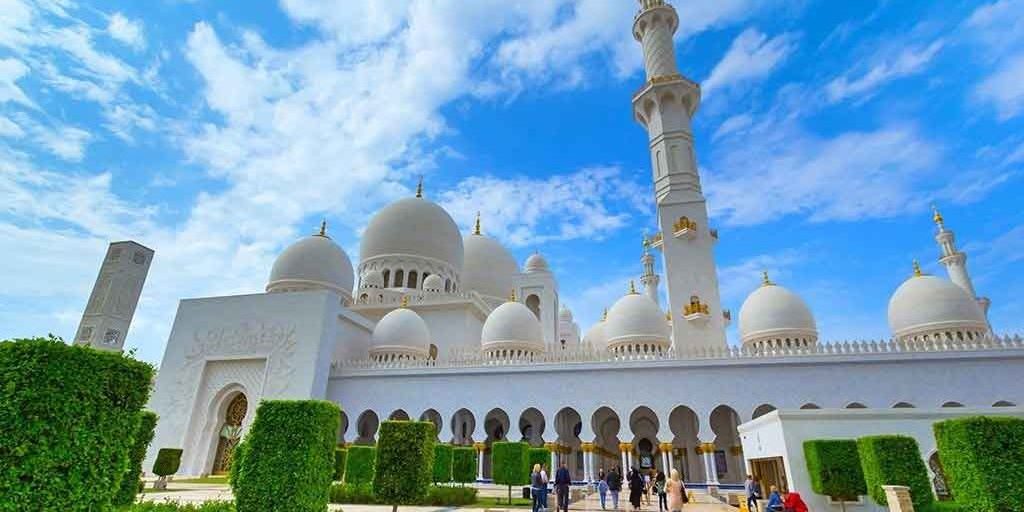 The Sheikh Zayed Grand Mosque was inaugurated in the year 2007. It is designed by Syrian architect Yousef Abdelky, the design of Sheikh Zayed Grand Mosque has been inspired by Persian, Mughal, Eygpt, and Pakistani culture. It has the largest handmade carpet decorating its floor. It has a sitting capacity of 41000 worshipers. The project was launched by the late president of the United Arab  Emirates (UAE), Sheikh Zayed bin Sultan Al Nahyan. The mosque also has a museum inside it. The museum has books related to Islamic civilization, calligraphy, and coins. Some of the books in the museum are more than 200 years ago and voted as the world's most searched landmark by TripAdvisor. The manpower and materials came from different parts of Italy, Germany, Egypt, Turkey, Morocco, and many more.
8. EMIRATES PARK AND ZOO ABU DHABI
Emirates Park and Zoo are situated in Al Bahia, Abu Dhabi. The landmark is about 35 kilometers from Abu Dhabi. It is a place where you can go and enjoy yourself with your family. There are more than 1700 species of animals & birds in the zoo. The park is divided into different parts bird section, reptile section, snake section, flamingo section, primate parade, pet zoo, camel walk, mammal cave, equine enclosure, hippo house, and the most exotic animal White Tiger. etc. Emirates Park resort is also facilitated with air-conditioned accommodation and a balcony that overlooks the Zoo. The entrance price for an adult is 35 AED and for a kid between 3-16 years it's 30 AED and for a child below 3 years the entry is free.
9. FALCON HOSPITAL ABU DHABI
Near Abu Dhabi, International Airport is among one of the largest avian hospitals where Falcon birds are treated. It was inaugurated on the 3 of October 1999. The hospital has a capacity of 200 birds. Every year more than 6000 birds are treated here. Every single feather of the falcon bird is preserved and scrutinized by the hospital staff. Falcon Hospital has become a tourist attraction. This Falcon Hospital is also serving as the center for pet rescue.
10. DESERT SAFARI ABU DHABI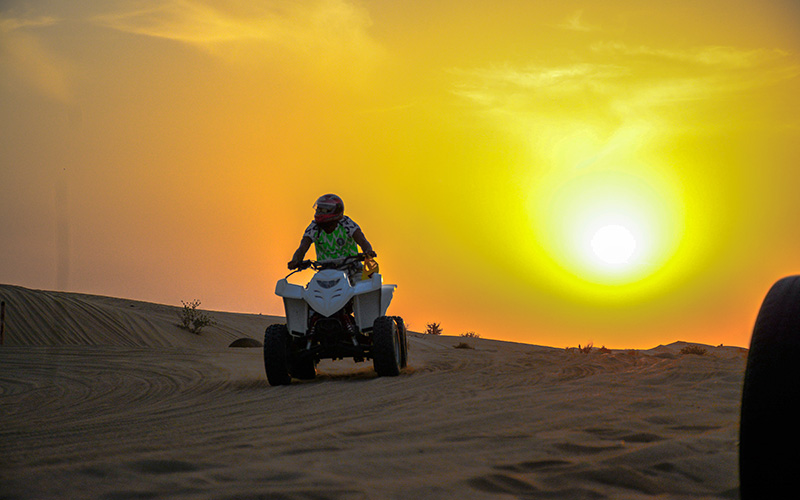 Desert Safari is one of the favorite off-road activities in Dubai and Abu Dhabi for people who seek adventure. There are different options for Desert Safari which are morning safari, evening safari, full day tour, Liwa full day tour, Al Ain safari, Camel trek, Quad bike etc. Going on desert safari adventure on 4*4 SUV luxurious vehicles makes it an even better experience. These SUVs have trained drivers to accompany you as it is difficult to drive in the sand. This ride has many points where you can fulfill your wish as a photographer. This is an experience that you would cherish all your life.
Other Things to Do in Abu Dhabi
Apart from all these, Ab Dhabi houses different shopping centers for people who love to go shopping. The Galleria, Shams Bouitik, Mazyad Mall, and Abu Dhabi Marina Mall are among a few shopping centers. Other destinations you can take a look at are The Heritage House, UAE University of Natural Museum, different Parks in Abu Dhabi, etc. Abu Dhabi is a destination that gives all types of opportunities for their visitor.