If you're looking for an adrenalin rush like no other, then skydiving while you're in Dubai is an absolute must. In this post, we're going to bring you all the travel information and packing lists that are essential for this heart-racing experience.
So are you ready for the extreme adventure of a lifetime? Here is everything you need to know about skydiving in Dubai. Just read on and be prepared to feel the rush of the wind in your hair, adrenaline pumping through your veins, and the thrill of speeding down to earth. Dubai is waiting for you.
What to Wear for Skydiving in Dubai?
If you're not a regular skydiver, then you don't need to buy specific gear as this will be given to you at the skydiving facility. As a general rule, you'll want to wear clothing that's easy to move around in (so avoiding jeans and restrictive clothing is a must). Wear the same sort of clothing you would to a workout class.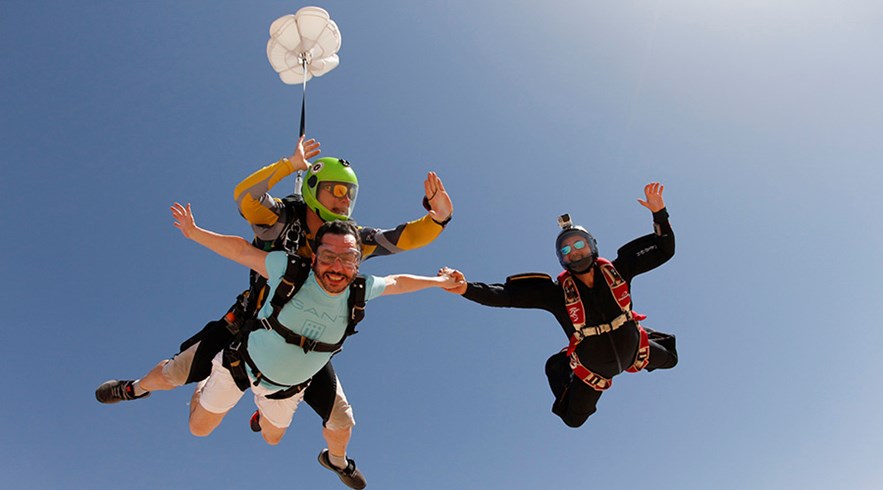 At the skydiving facility, you may be given a skydiving jumpsuit that fits over your clothes.
Comfortable shoes should be worn during your jump. Sneakers are preferable. Make sure they're tight enough to stay on your feet during a 120 mile per hour free fall.
No jewelry should be worn during the jump. It can come off very easily, in which case it would be almost impossible to find. Most skydiving facilities provide lockers for those who accidentally brought jewelry along with them.
Goggles are provided by the skydiving facility. This protects your eyes from the wind during your jump. If you wear glasses, you can either leave them off or wear them underneath the goggles. You can also keep contacts during the jump, but be sure to tell your instructor so they can make sure the goggles are tight enough on your face.
What to Expect from Skydiving Dubai?
What you should expect from skydiving in Dubai will be wildly different and largely depend on the type of jump you've chosen. Here are a few different types of skydiving you can do in Dubai.
Types of Dubai Skydiving Experiences
There are three main ways to experience skydiving. Each has its own requirements. So choose the one that suits your needs, budget, and time restrictions best.
1.Tandem Freefall
If you're looking for a once-off thrilling experience, then a tandem freefall is a great option. During tandem skydiving, you'll be strapped to your instructor the entire time, so there's little in the way of things to remember.
Once jumping from the plane, you'll freefall for around 20 seconds (this will vary a little depending on the combined weight of you and your instructor). Your instructor will then pull the parachute chord and you'll glide down to the ground in a graceful manner.
This experience usually takes around half an hour – 20 minutes in the plane to get to the correct altitude, and 10 minutes down. However, you'll need to get to the skydiving facility at least half an hour before you start, so your instructor can brief you on the experience you're about to have.
2.Solo Freefall
If you'd like to fall at 120 miles per hour through the air by yourself, you'll need to complete a 10 jump course in training. This varies depending on where you complete the course, but 10 jumps are the usual minimum.
During these 10 jumps, you'll complete different exercises to ensure you know what to do in case of a variety of different emergencies. By the end of the course, you'll be able to do a forward flip out of the plane and a backward roll out of the plane, along with spinning out of control and regaining control mid-flight.
AS part of skydiving in Dubai, you'll get to experience one of the biggest skydiving schools in the world, which is located at the desert dropzone (see below).
Skydive Locations in Dubai
If you're looking to skydive during your time in Dubai, you should know where to go. This includes:
1.The Palm Zone
This is one of the most, if not the most prestigious skydiving locations in Dubai. It's right in the heart of Dubai, and is sure to feast you with the most unobstructed and the grandest ever views over the iconic palm-tree shaped Palm Jumeirah islands.
2.Desert Drop Zone
The desert location is close to Margham, just 35 kilometers from the city. So whether you're dreaming of unequalled cityscape views or awe-inspiring desert landscapes, Skydive Dubai has you covered.
Skydiving Requirements
To ensure the safety of the jumper, there are a few requirements that need to be met.
1. Weight
To ensure that the jumper is fit enough for this adventure, there are certain weight requirements that need to be met. Jumpers must fit the weight requirement as well as the BMI requirement.
a.Women
Women need to be less than 198 lbs and should have a BMI of 27.5 or less.
b.Men
Men need to weigh less than 220 lbs and should have a BMI of less than 30.
c.Age
You must be at least 12 years of age to skydive. It's important that you bring along your ID on the day of the jump. If you're between the ages of 12 and 17, you'll need to have your parents' signed consent in order to skydive.
If you're over the age of 70, you can still jump, but you'll need to fill in a Declaration of Fitness form and this should be signed by a doctor.
2. Drugs and Alcohol
There is a zero-tolerance for drugs and alcohol in Dubai. So don't attempt to bring any onto the premise. You'll also not be allowed to have drugs or alcohol in your system for at least 24 hours before the jump.
3. Medical Conditions
If you suffer from, or have previously suffered from any of the conditions listed below, you'll need to fill in a Declaration of Fitness form. This will need to be signed by a doctor before you'll be allowed to jump.
Epilepsy
Fits
Severe head injury
Recurrent blackouts or giddiness
Disease of the brain or nervous system
High blood pressure
Heart or lung disease
Dislocated shoulder or other limb(s)
Recurrent weakness
Diabetes
Mental illness
Drug or alcohol addiction
Any past or present medical conditions
It's also important to note that if you are pregnant you should not skydive. Note that you won't be allowed to jump if you have been scuba diving within 24 hours before your jump.